Cr Colleen Doyle
Contact Details
Business phone: 13 48 10
Mobile phone: 0418 273 817
Email: colleen.doyle@townsville.qld.gov.au
Committee Chairperson
Community and Cultural Development
Arts and Cultural Advisory Committee
Inclusive Community Advisory Committee
Art Acquisition Working Group
Human/Social Sub-Group (recovery committee)
Committee Member
Governance and Finance
Townsville Water and Waste
Financial Assistance and Events Group (FAEG)
Divisional Newsletter - Division 9
We respect your privacy.
Townsville City Council (Council, we, our, us) collects and manages personal information in the course of performing its activities, functions and duties. We respect the privacy of the personal information held by us. The way in which council manages personal information is governed by the Information Privacy Act 2009 (Qld). We are collecting your personal information in accordance with Local Government Act 2009 so that we can contact you regarding your enquiry. We will not disclose your personal information outside of Council unless we are required to do so by law, or unless you have given us your consent to such disclosure. For further information about how we manage your personal information please see our Information Privacy Policy.
Divisional Map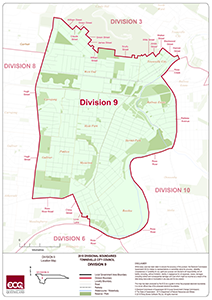 Divisional Boundary as at March 2020
Council divisions were reviewed by the Local Government Change Commission in 2019, with the boundary changes commencing at the March 2020 elections.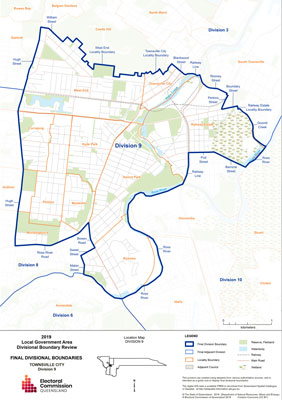 Profile
Townsville born and bred, Colleen is passionate about this city and believes there is no better place in the world to live.
With over 30 years' experience in community services and planning and development, Colleen brings to Council extensive knowledge and an understanding of the issues facing our seniors, people with a disability and their families as well as issues affecting marginalised groups within the community. She works hard to ensure all members of the community have equal access to information and services.
Colleen has a Bachelor Degree in Community Welfare. She has held the positions of Manager, Community Services with the Townsville City Council and Regional Respite Services and Allied Health Manager with Blue Care North Queensland.
She and her husband own three small businesses within the retail, venue and motor industry sectors and she understands the challenges facing local small business operators. She is also very aware of the social and economic value local businesses have in Townsville.
Colleen has three sons aged between 16 and 24 years. She has a keen interest in all sport with a particular passion for netball and body building.