Cr Colleen Doyle
Contact Details
Business phone: 13 48 10
Mobile phone: 0418 273 817
Email: colleen.doyle@townsville.qld.gov.au
Committee Chairperson
Community and Cultural Development
Arts and Cultural Advisory Committee
Inclusive Community Advisory Committee
Art Acquisition Working Group
Human/Social Sub-Group (recovery committee)
Committee Member
Governance and Finance
Townsville Water and Waste
Financial Assistance and Events Group (FAEG)
Divisional Newsletter
We respect your privacy.
View our privacy policy.
While we always try to ensure the information we publish in our e-newsletters is accurate, the information is subject to change. Council is not responsible for any loss or inconvenience arising from the use of our e-newsletters or social media channels.
Similarly, links to external websites and other social media accounts are provided as a convenience to users and such sites and associated content may not be under the control of the Townsville City Council and the use of these respective third party links does not imply endorsement of that website, service or person by council.
Divisional Map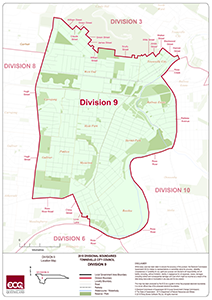 Profile
Townsville born and bred, Colleen is passionate about this city and believes there is no better place in the world to live.
With over 30 years' experience in community services and planning and development, Colleen brings to Council extensive knowledge and an understanding of the issues facing our seniors, people with a disability and their families as well as issues affecting marginalised groups within the community. She works hard to ensure all members of the community have equal access to information and services.
Colleen has a Bachelor Degree in Community Welfare. She has held the positions of Manager, Community Services with the Townsville City Council and Regional Respite Services and Allied Health Manager with Blue Care North Queensland.
She and her husband own three small businesses within the retail, venue and motor industry sectors and she understands the challenges facing local small business operators. She is also very aware of the social and economic value local businesses have in Townsville.
Colleen has three sons aged between 16 and 24 years. She has a keen interest in all sport with a particular passion for netball and body building.