Cr Fran O'Callaghan
Contact Details
Business phone: 13 48 10
Mobile phone: 0418 297 134
Email: fran.o'callaghan@townsville.qld.gov.au

Committee Member
Planning and Development
Community Health, Safety and Environmental Sustainability
Divisional Newsletter - Division 10
We respect your privacy.
Townsville City Council (Council, we, our, us) collects and manages personal information in the course of performing its activities, functions and duties. We respect the privacy of the personal information held by us. The way in which council manages personal information is governed by the Information Privacy Act 2009 (Qld). We are collecting your personal information in accordance with Local Government Act 2009 so that we can contact you regarding your enquiry. We will not disclose your personal information outside of Council unless we are required to do so by law, or unless you have given us your consent to such disclosure. For further information about how we manage your personal information please see our Information Privacy Policy.
Divisional Map
Council divisions were reviewed by the Local Government Change Commission in 2019, with the boundary changes commencing at the March 2020 elections.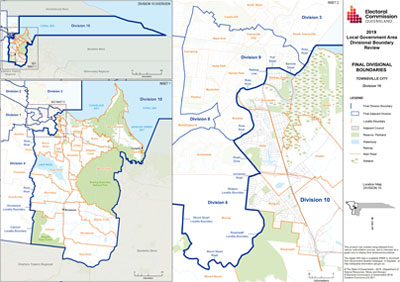 Profile
Cr O'Callaghan was born and raised in London of Irish parents. She travelled to Australia in 1991 after completing her education and met her husband on a grazing property in Richmond, NW Queensland. In 1996 they moved to a property near Woodstock on which they still live and breed beef cattle. Cr O'Callaghan also worked in the public and private sector as a Quantity Surveyor in Townsville for many years.