Cr Les Walker - Deputy Mayor of Townsville
Contact Details
Business phone: 13 48 10
Mobile phone: 0418 315 705
Email: cr.les.walker@townsville.qld.gov.au
Committee Chairperson
Planning and Development
Local Recovery Group
Committee Member
Infrastructure Services
Townsville Water and Waste
Financial Assistance and Events Group (FAEG)
Townsville Breakwater Entertainment Centre Management Commit
Advisory Committee
Heritage Advisory Committee – attendant
Divisional Newsletter - Division 10
We respect your privacy.
Townsville City Council (Council, we, our, us) collects and manages personal information in the course of performing its activities, functions and duties. We respect the privacy of the personal information held by us. The way in which council manages personal information is governed by the Information Privacy Act 2009 (Qld). We are collecting your personal information in accordance with Local Government Act 2009 so that we can contact you regarding your enquiry. We will not disclose your personal information outside of Council unless we are required to do so by law, or unless you have given us your consent to such disclosure. For further information about how we manage your personal information please see our Information Privacy Policy.
Divisional Map - current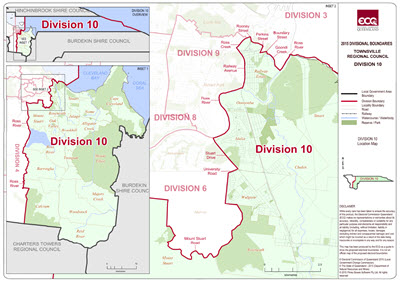 Divisional Boundary as at March 2020
Council divisions were reviewed by the Local Government Change Commission in 2019, with the boundary changes commencing at the March 2020 elections.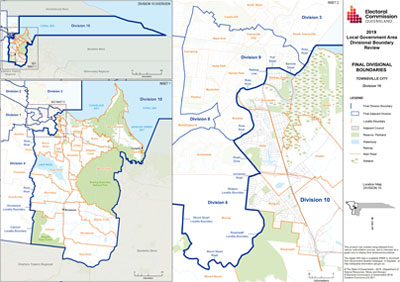 Profile
Les was born and raised in Townsville and has 14 years' experience as a city Councillor.
Before joining the council, one of Les's first jobs was as an apprentice plumber on the Burdekin Dam project - the largest dam in Queensland. He also worked at Townsville Correctional Centre for five years with adult offenders and for eighteen years at Cleveland Youth Detention Centre managing young offenders.
Les and his wife have also owned and operated several small businesses in Townsville and are the proud parents of two adult children.
Les is a member of the North Queensland Sports Foundation, has been a past champion in the sport of cycling and has played football (soccer) as well. As a football fan, Les would like to see an Asian team based in Townsville and competing in the Football Federation Australia competition.
He loves the Townsville lifestyle and enjoys the great outdoors, fishing, boating and camping with family and friends. Les believes that Townsville's great lifestyle must be protected for future generations.
Les has a genuine interest in renewables and helped secure Townsville's bid as a "Solar Cities" recipient in 2007 - this program was completed in 2013.
Les has completed a Diploma in Management and is currently the Community Ambassador for RUOK!