Cr Margie Ryder
Contact Details
Business phone: 13 48 10
Mobile phone: 0439 915 033
Email: Margie.Ryder@townsville.qld.gov.au
Committee Chairperson
Financial Assistance and Events Group
Committee Member
Planning and Development
Community Health and Environment
Community and Cultural Development
Townsville Breakwater Entertainment Centre Management Committee
Advisory Committee
Inclusive Community Advisory Committee – member
Murray Users Sports Advisory Committee – member
Divisional Newsletter
We respect your privacy.
View our privacy policy.
While we always try to ensure the information we publish in our e-newsletters is accurate, the information is subject to change. Council is not responsible for any loss or inconvenience arising from the use of our e-newsletters or social media channels.
Similarly, links to external websites and other social media accounts are provided as a convenience to users and such sites and associated content may not be under the control of the Townsville City Council and the use of these respective third party links does not imply endorsement of that website, service or person by council.
Divisional Map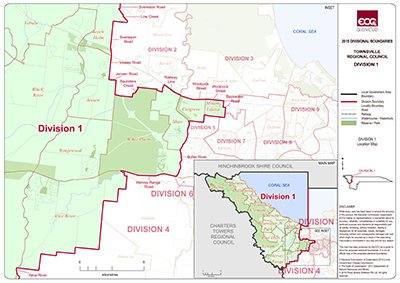 Profile
As a local, experienced business owner, Margie Ryder understands the importance of creating more jobs for locals.
A Councillor for the McKinley Shire Council for 10 years, Margie has experience in serving the community and her work in events and tourism has earned her Queensland Tourism Awards and national recognition. Educated at St Margaret Mary's College, she has completed a Diploma in Frontline Management and a Certificate in Events Management from QUT.
Margie and her husband have raised and educated their two sons in Townsville and she is looking forward to delivering more opportunities for young people in our city.
As a partner in a family-owned engineering firm that employs 30 locals, and owner of a promotion company managed by a local and employing four local residents, Margie also understands the needs and challenges of small to medium size businesses in Townsville.
Margie's passion is looking after grassroots volunteers and volunteer community organisations.