Cr Margie Ryder
Contact Details
Business phone: 13 48 10
Mobile phone: 0439 915 033
Email: Margie.Ryder@townsville.qld.gov.au

Committee Chairperson
Business Services and Finance
Committee Member
Community Health, Safety and Environmental Sustainability
Infrastructure Services
Representative
Townsville Breakwater Entertainment Centre Management
Mount Isa, Townsville Economic Development Zone (MITEZ)
Overlanders Way Tourism Group
Reef Guardian Council Steering
Divisional Newsletter - Division 1
We respect your privacy.
Townsville City Council (Council, we, our, us) collects and manages personal information in the course of performing its activities, functions and duties. We respect the privacy of the personal information held by us. The way in which council manages personal information is governed by the Information Privacy Act 2009 (Qld). We are collecting your personal information in accordance with Local Government Act 2009 so that we can contact you regarding your enquiry. We will not disclose your personal information outside of Council unless we are required to do so by law, or unless you have given us your consent to such disclosure. For further information about how we manage your personal information please see our Information Privacy Policy.
Divisional Map
Council divisions were reviewed by the Local Government Change Commission in 2019, with the boundary changes commencing at the March 2020 elections.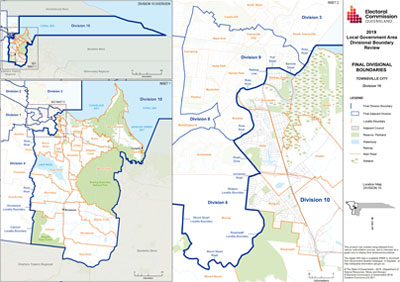 Profile
As a local, experienced business owner, Margie Ryder understands the importance of creating more jobs for locals.
A Councillor for the McKinley Shire Council for 10 years, Margie has experience in serving the community and her work in events and tourism has earned her Queensland Tourism Awards and national recognition. Educated at St Margaret Mary's College, she has completed a Diploma of Business, Cert IV in Tourism (Operations), Cert IV in Frontline Management, and a Certificate in Events Management from QUT.
Margie and her husband have raised and educated their two sons in Townsville and she is looking forward to delivering more opportunities for young people in our city.
As a partner in a family-owned engineering firm of over 28 years that now employs 40 locals, Margie understands the needs and challenges of small to medium size businesses in Townsville.
Margie's passion is looking after grassroots volunteers and volunteer community organisations.