Cr Maurie Soars
Contact Details
Business phone: 13 48 10
Mobile phone: 0439 849 622
Email: Maurie.Soars@townsville.qld.gov.au

Committee Chairperson
Community Health, Safety and Environmental Sustainability
Committee Member
Infrastructure Services
Business Services and Finance
Representative
Townsville Breakwater Entertainment Centre Management
Food Relief North Queensland
North Queensland Sports Foundation
Divisional Newsletter - Division 8
We respect your privacy.
Townsville City Council (Council, we, our, us) collects and manages personal information in the course of performing its activities, functions and duties. We respect the privacy of the personal information held by us. The way in which council manages personal information is governed by the Information Privacy Act 2009 (Qld). We are collecting your personal information in accordance with Local Government Act 2009 so that we can contact you regarding your enquiry. We will not disclose your personal information outside of Council unless we are required to do so by law, or unless you have given us your consent to such disclosure. For further information about how we manage your personal information please see our Information Privacy Policy.
Past newsletters
Divisional Map
Council divisions were reviewed by the Local Government Change Commission in 2019, with the boundary changes commencing at the March 2020 elections.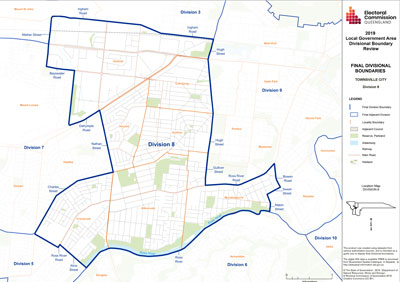 Profile
Maurie Soars has lived in Townsville with his wife and children for over 30 years.
He has successfully operated his own businesses with an employee profile of over 150 staff. He has managed branches for a number of national and international companies over 30 years, holding positions up to National Manager.
Maurie has a Diploma of Business Management, holds Directorships with a number of organisations, leads several other community groups and provides governance direction.
His interests outside business focus on sport and raising funds for various charities and supporting volunteers across Townsville.