Cr Sue Blom
Contact Details
Business phone: 13 48 10
Mobile phone: 0435 260 342
Email: Sue.Blom@townsville.qld.gov.au

Committee Member
Community and Cultural Development
Business Services and Finance
Townsville Water and Waste
Representative
Australian Local Government Women's Association
North Queensland Competitive Employment Services
Divisional Newsletter - Division 2
We respect your privacy.
Townsville City Council (Council, we, our, us) collects and manages personal information in the course of performing its activities, functions and duties. We respect the privacy of the personal information held by us. The way in which council manages personal information is governed by the Information Privacy Act 2009 (Qld). We are collecting your personal information in accordance with Local Government Act 2009 so that we can contact you regarding your enquiry. We will not disclose your personal information outside of Council unless we are required to do so by law, or unless you have given us your consent to such disclosure. For further information about how we manage your personal information please see our Information Privacy Policy.
Past newsletters
Divisional Map
Council divisions were reviewed by the Local Government Change Commission in 2019, with the boundary changes commencing at the March 2020 elections.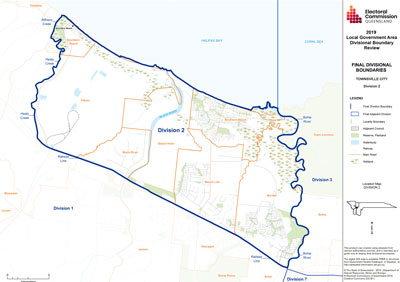 Profile
Sue Blom has worked and lived in the Northern Beaches of Townsville since 1976, prior to this Sue grew up in Currajong.
Sue served 2 terms as a Councillor in Local Government from 2008 until 2016, representing the then Division 1 area of the Northern Beaches of Townsville.
Sue is a third generation Townsvillian and loves the city she lives, works and plays in.
Sue is committed to her community and is looking forward to achieving outcomes as the Councillor for Division 2.
Sue is married to Derek, has two adult children, and has 8 grandchildren.