Cr Verena Coombe
Contact Details
Business phone: 13 48 10
Mobile phone: 0439 854 820
Email: Verena.Coombe@townsville.qld.gov.au
Committee Chairperson
Governance and Finance
Economic Sub-Group (recovery committee)
Committee Member
Infrastructure Services
Community and Cultural Development
Audit Committee
Financial Assistance and Events Group (FAEG)
Advisory Committee
Arts and Cultural Advisory Committee – member
Innovation and Business Advisory Group – representative
Divisional Newsletter - Division 6
We respect your privacy.
Townsville City Council (Council, we, our, us) collects and manages personal information in the course of performing its activities, functions and duties. We respect the privacy of the personal information held by us. The way in which council manages personal information is governed by the Information Privacy Act 2009 (Qld). We are collecting your personal information in accordance with Local Government Act 2009 so that we can contact you regarding your enquiry. We will not disclose your personal information outside of Council unless we are required to do so by law, or unless you have given us your consent to such disclosure. For further information about how we manage your personal information please see our Information Privacy Policy.
Past newsletters
Divisional Map - current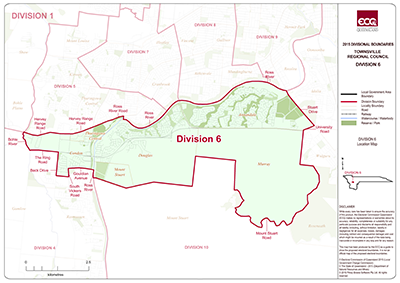 Divisional Boundary as at March 2020
Council divisions were reviewed by the Local Government Change Commission in 2019, with the boundary changes commencing at the March 2020 elections.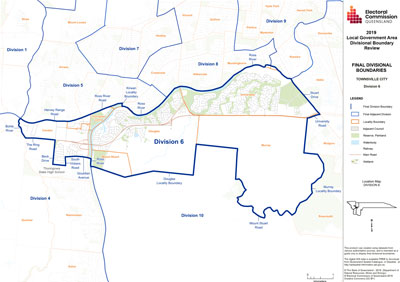 Profile
Verena Coombe's vision of Townsville is of a vibrant community with a thriving economy offering broad based business, employment, education and lifestyle opportunities.
Verena's career has spanned both the corporate and not-for-profit sectors. She enjoys contributing to the local community by volunteering with many organisations including the RSL, Arcadian Surf Lifesaving Club and as immediate past President of the Hermit Park Tigers AFL Club.
With a passion for inclusive economic development, Verena works to bring focus to events, tourism and local arts and culture that grow both our economic and social capital, while showcasing our city's lifestyle.