Castle Hill Catering and Events Space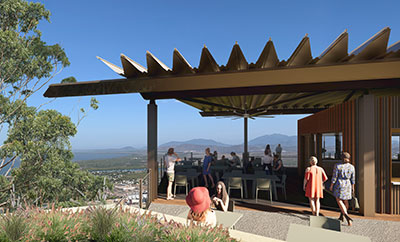 Townsville City Council has received Australian Government funding under the Building Better Regions Fund (BBRF) Infrastructure Projects Stream round 4.
As part of this funding, Council will construct a Catering and Events Space at the former Panorama House location near the top of the hill.
The whole site is 800 square metres and will be a flexible space that can host wedding receptions, comedians, food vans or perhaps intimate concerts.
This Australian Government BBRF project will help Townsville unlock its tourism potential and help stimulate local economies by investing in the tourism sector.
The tender for this project opens Saturday 21 December and closes 5pm, Wednesday 29 January. All tender documents can be accessed and downloaded from Tenderlink.