What's New
Inside Together Townsville
Although it is a tough economic year, the city is indeed very lucky to have many organisations continue to support a number of community initiatives. Together Townsville would like to make special mention of the Rotary Clubs, Thuringowa and Sunrise who, combined will this year, contribute in excess of $100,000 to great infrastructure projects such as the Castle Hill Emergency Markers, Peggy Banfield Park and Lappin Park.
Together Townsville receives a number of in-kind supports as par prizes from Reading Cinemas, JCU and Telstra Townsville Stores. These prizes provide an incentive in garnering support and participation in the many activities around the community.
It is also that time of the year where the Together Townsville Team is busy fundraising for the Mayor's Christmas Tree Appeal, so please, if you can, donate now.
If you would like to review your sponsorship options please contact the Together Townsville Team.
Welcome to New Sponsors and Partners
Philip Leong Youth Foundation for sponsoring Entrepreneur Mentoring Program
Maidment Developments for sponsoring the Summer Reading Program
Achieve Exercise Physiologists for sponsoring the Seniors Expo and Luncheon
Absolute Dentures for sponsoring the Seniors Expo and Luncheon
Star 106.3 for sponsoring the Heatley Community Family Movie Night
Together Townsville Initiatives
Further information on council events can be found here.
Initiatives in the Spotlight
Stadium Naming Rights Opportunities for the Murray Sports Stadium
The Stadium located in the Murray Sports Precinct is a multi-purpose air-conditioned sports arena with versatile facilities to cater for a diverse range of events. The Stadium as a whole venue, including the various individual meeting rooms or courts is available for hire by the general public. It is currently the home game Stadium for the JCU Townsville Fire Women's Basketball team.
The Stadium features
2,000 seating capacity
3 indoor courts
Designed for 'Disaster Recovery Centre'
Genesis Gym
310 onsite parking with 6 dedicated handicapped spaces
The Stadium is home to in excess of 300 events per year. These range from community groups which use the court on a weekly basis, to meetings and functions as well as international conferences, expos, major sporting events, gala dinners and school formals/graduations. As previously mentioned it is also the home venue for two time WNBL Champions the JCU Townsville Fire. The WNBL season runs from October to March.
For more information on how to support these great initiatives, please contact Together Townsville.
News from our Partners and Sponsors
North Queensland Cowboys Field of Dreams Competition
The Field of Dreams competition gives members of the community who would not ordinarily have the opportunity to attend a Cowboys game the chance to watch their heroes live in action at 1300SMILES Stadium. Council is giving three incorporated charity organisations the opportunity to win 30 Eastern Grand Stand Tickets. Entries close 5pm 13 April.
To enter this competition, make a submission using the Field of Dreams form with a brief outline for why your charity organisation should win the tickets.
Townsville RSL
With over 20,000 membership base, the Townsville RSL continues to grow its facilities and services to meet demand, but also continues to support many worthwhile community initiatives from the Mayor's Christmas Tree Appeal to RSL Youth Awards and Bursaries. If you haven't visited yet, check out the recently refurbished Lavarack Restaurant and the Spectators Sports Bar with its massive 4.5m x 2.5m LED Screen. Townsville RSL is proud to be part of the Townsville community.
James Cook University
James Cook University is proud to sponsor the Townsville T150 Celebrations. JCU was recently awarded 5 stars for graduate job success for the sixth year in a row (Good Universities Guide).
If you are a Together Townsville partner, and have some news you would like to share, please contact Together Townsville to have it included in the next update.
Highlights
Mayor's Christmas Tree Appeal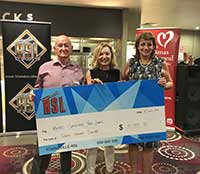 For over 25 years Townsville residence and businesses see the importance of helping those less fortunate – this year is no exception with the Appeal needing to raise over $110,000 in cash, gifts and food donations.
Townsville RSL General Manager Karla Malouf said the appeal was an important one for the RSL.
"With the economic issues facing an ever growing number of Townsville residents, the Mayors Christmas Tree Appeal brings a smile and a much welcome sigh of relief to many families," Ms Malouf said.
"We at the Townsville RSL are proud to continue our long time support of the Mayors Christmas Tree Appeal and look forward to helping many families at such an important time of the year."
100% of profits go to purchasing food hampers and essential food vouchers for Townsville residents in need.
The Appeal needs your help – What can you give?
To find out how you can help visit the Appeal website.
Annual Together Townsville Event
Together Townsville's 2016 Event was held at Tobruk Memorial Pool. View the Image Gallery below.