Dream Palisade
Winner - 2019 Award for Artistic Excellence
Dominique & Samuel Chen

Dream Palisade

Sand, pillow cases, steel, solar LED lights

70 x 400 x 400 cm
About the work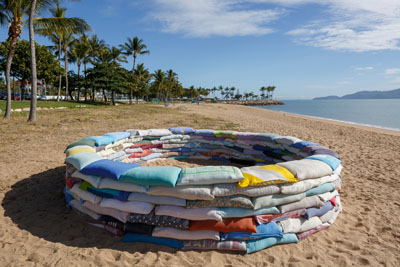 Dream Palisade is an expression of how we can all be fortified by hope in light of changing climates and rising sea levels. The work houses buried aspirations, forming a barricade against the incoming tide, wind and rain.
Biography
Dominique and Samuel Chen are interdisciplinary artists currently based in Brisbane. Their work is reflective of contemporary Australian social and cultural concepts of the environment, connection and identity.
* The caliber of work presented at Strand Ephemera 2019 was at such high standard that the judges wished to name a Highly Commended, along with the major award winner.