Galax-sea
Robert Crispe and Clayton Tonkin

Galax - sea

Multimedia projection
About the work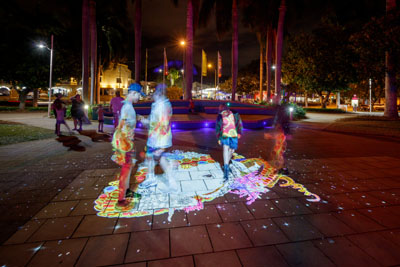 Galax-sea is a motion-triggered installation work exploring an environment that's both deep sea and galaxy alike. This project is motivated by an emotional response towards the known and delicate existence of our reality within a universe motivated by the unknown.
Galax-sea is a contradiction. Do we care to know as much about the deep sea as we want to know about deep space?
Biography
Robert Crispe is a director, filmmaker and multidisciplinary creator. After working in advertising while living in London and Sydney, Crispe moved on to live and create back home in regional Queensland. Passionate about experimenting with do-it-yourself visual imagery and motivated in finding a voice within storytelling that's inspired by isolation, the human condition and the unknown.