Gunduy Midja (Cassowary Shelter)
Leonard Andy & Nina Dawson

Gunduy Midja (Cassowary Shelter)

Lawyercane, (calamus sp.), palm fronds, plant materials, paper, natural pigments, acrylic paint

700 x 600 x 600 cm
About the work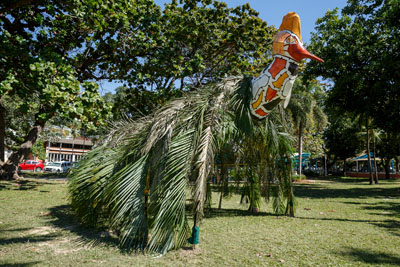 Gunduy Midja (Cassowary Shelter) is collaboration between Dirju artist Leonard Andy, and textile artist Nina Dawson. Gunduy is the Djiru name for cassowary and Midja is the traditional shelter made by the Djiru and Rainforest Aboriginal people of the Wet Tropics of North Queensland. The sculpture aims to highlight the importance of the endangered cassowary to the Dirju and Rainforest Aboriginal people and their culture, and to educate about its important role in the rainforest ecosystem.
Biography
Leonard Andy and Nina Dawson have worked together for many years and decided to collaborate on the Gunduy Midja (Cassowary Shelter) to help bring Andy's vision to life and to raise awareness about the plight of the endangered cassowary.
* The caliber of work presented at Strand Ephemera 2019 was at such high standard that the judges wished to name a Highly Commended, along with the major award winner.