Hand In The Sand
Winner - 2019 People's Choice Award
Karl Meyer

Hand In The Sand

Glass fibre reinforced concrete

240 x 240 x 180 cm
About the work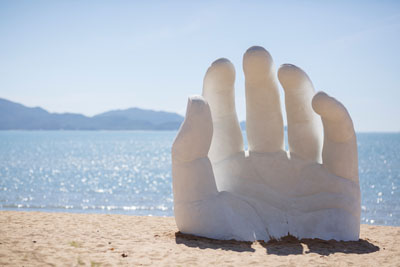 Hands are a means of contact and communication. With touch being a powerful metaphor for conveying meaning and warmth, gestures can show strength, power and protection.
Biography
Karl Meyer has a reputation for bringing originality and fascination to his approaches, always encouraging engagement, interaction and a sense of curiosity to the work.
* The caliber of work presented at Strand Ephemera 2019 was at such high standard that the judges wished to name a Highly Commended, along with the major award winner.