I've been everywhere Man
Runner-up - 2019 People's Choice Award
Karl De Waal

I've been everywhere Man

Rubber tyre, souvenir spoons, plastic, steel

200 x 100 x 40cm
About the work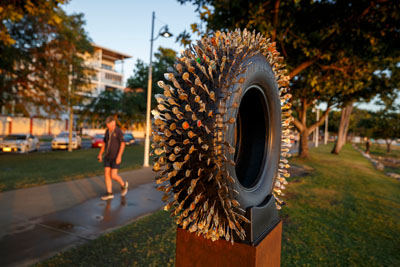 Souvenir spoons are kitsch at their best; signifiers of places we have travelled and experienced. Tyres being the only part of a car that connect with the ground become the conduit to these places. Combined, this artwork takes a new look at nostalgia and the great Australian road trip.
Biography
"I have been making art for most of my life. I just didn't know that's what I was doing for the first 25 years."
* The caliber of work presented at Strand Ephemera 2019 was at such high standard that the judges wished to name a Highly Commended, along with the major award winner.