Polyrhythm
Hannah Quinlivan

Polyrhythm

LED lights, welded aluminum rods

Dimensions variable
About the work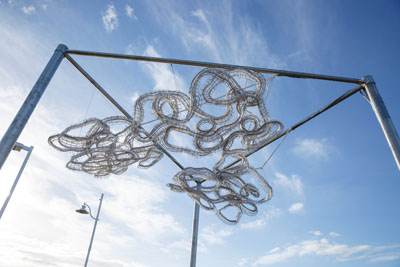 Beat, beat and counter beat, rhythm is more than metre. Rhythm is pulse and breath and gait and sleep, the symphonies of our systems. Stop and go, summer and winter: rhythms regulate and synchronise, reconstruct and synthesise.
No rhythm of the present is free from echoes of its past, no quotidian without miracles. Habits sustain and recreate, yet weigh like nightmares on the mind. Each day has a momentum of its own, built on foundations of mistakes and triumphs and banalities, erupting into the present to the beat of a silent drum.
Biography
Hannah Quinlivan's practice spans drawing, sculpture and installation, mimicking complex biological and natural formations in the micro and the macro.
Often working with ephemeral materials such as salt and sand, in conjunction with more traditional materials such as paper, thread and wire, Quinlivan's practice conjures habitat and biology, with each work responding intuitively to the site of installation. Each work is incredibly labour intensive, requiring many hours in an almost meditative state, deepening the intimacy of such projects. This is instantly recognizable in Polyrhythm, with its incredible, glowing detail and intricacy.
* The caliber of work presented at Strand Ephemera 2019 was at such high standard that the judges wished to name a Highly Commended, along with the major award winner.