Sweet Barrier Reef
Ken + Julia Yonetani

Sweet Barrier Reef

Sugar, sugar paste, vegetable gum and polystrene foam

700 x 250 x 70 cm
About the work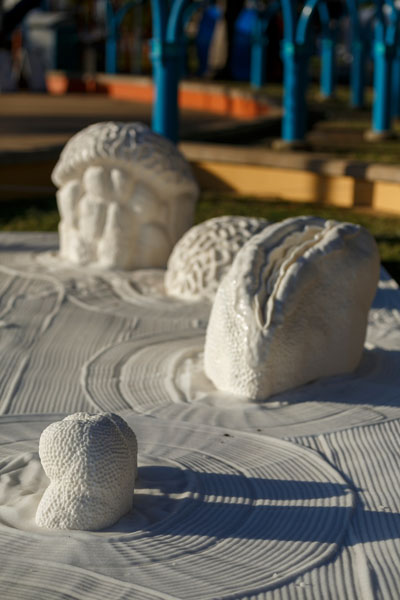 Sweet Barrier Reef is a response to the devastating coral bleaching events occurring in the Great Barrier Reef with increasing frequency as a result of climate change, river run off, dredging and over fishing.
A version of this work was exhibited in the 2009 Venice Biennale as part of the Australian contingent. This is the first time Sweet Barrier Reef has been exhibited in Queensland. This location is pertinent given proximity to the Reef, and at the research stage, the project was developed in close collaboration with scientists at the Australian Institute of Marine Science in Townsville. The artists thought this was a timely topic and perfect opportunity to reproduce the work outdoors for Strand Ephemera 2019.
Biography
Ken + Julia Yonetani are a collaborative artist duo based in Sydney and Kyoto. Their work has attracted attention for its combination of unusual materials and dramatic beauty, and for tying historical connections with contemporary issues in work that is both highly conceptual yet visually stunning.