Wing Defence
Bruce Reynolds

Wing Defence

Plaster, steel mesh, formply

260 x 260 x 100 cm
About the work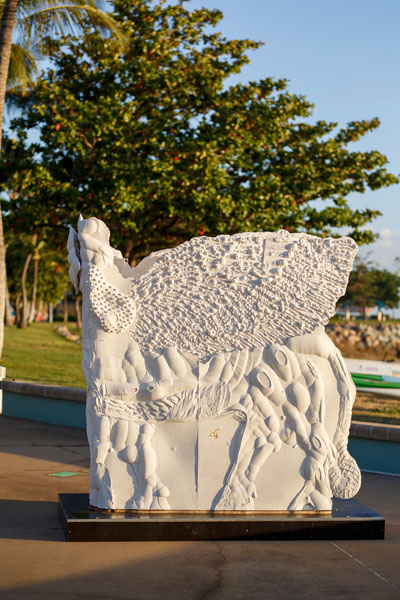 Based on the Assyrian Lamassu from antiquity, this hybrid sentinel titled Wing Defence represents the complexity of invasion and defence, and provokes questions regarding our values in an increasingly connected world.
Biography
Bruce Reynolds was born in the modernist, migrant city of Canberra, with an awareness of new beginnings and severed histories. He has been working and teaching temporarily in Queensland since 1987, with occasional periods in Europe, particularly Rome. In 2018 Reynolds received a Doctorate in Visual Art; his thesis topic relating to the creation and destruction in the contemporary and the archaic.
Reynold describes his approach to sculpture like that of a painter- from the surface in. His most recent work has been exploring a range of techniques including printing, painting, and photography on an architectural and domestic scale. Though Reynolds' lino-based collage works are instantly recognizable, a second strand of practice has been developing in earnest over the last few years, based on the process of relief casting. His work Wing Defence, promises to be one of the most impressive of these to date. Based on the Assyrian Lamassu from antiquity, a larger than life hybrid of human and animal forms, takes Reynolds' collage aesthetic to new heights.
* The caliber of work presented at Strand Ephemera 2019 was at such high standard that the judges wished to name a Highly Commended, along with the major award winner.