Wooden Deity
Daniel Popper

Wooden Deity

Timber, steel

400 x 500 x 400 cm
About the work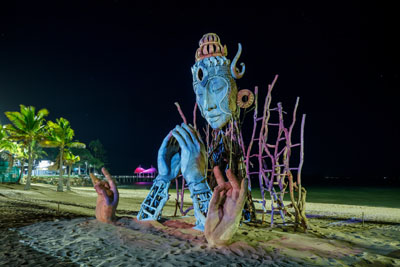 Taking inspiration from Hindu and Tibetan Buddhist imagery, Daniel Popper has created a five meter high wooden female deity, depicted as though she is rising from the earth, and her four hands resting in mudras. One set rest in anjali, the mudra of greeting and gesture of respect throughout the Buddhist world, and the other rests in shuni, the mudra known to reflect patience, intuition, alertness, and sensory powers. Popper's Wooden Deity welcomes viewers and embraces the beauty of her surroundings. Make sure to visit the sculpture after dark to view her all-encompassing glowing aura.
Biography
Daniel Popper is a multidisciplinary artist known globally for his larger-than-life sculptures, and spectacular public art installations. From Cape Town, South Africa, Daniel has travelled the globe creating an array of sculptures, installations and stages. Popper specialises in interactive art, public art, stage design, installation, and interior design.
* The caliber of work presented at Strand Ephemera 2019 was at such high standard that the judges wished to name a Highly Commended, along with the major award winner.