Location
The artwork of Ephemera: Seaside Sculptures can be admired along The Strand in Townsville, Australia. The Strand is a 2.2km world-class beachfront open space custom-built for enjoyment. This iconic beachfront forms part of a 10.9km stretch of palm tree lined bike and walkway paths, safe swimming beaches, picturesque picnic spots, playgrounds, exercise stations, a water park and restaurants and bars with spectacular water views.
You can enjoy the free family fun of The Strand Water Park, fish off the pier, choose to get active with a leisurely walk, an invigorating run, or a scenic cycling adventure, or simply laze on the beach and enjoy the million-dollar views of Magnetic Island. The Strand offers the best of all worlds.
For the avid photographers and nature enthusiasts, The Strand is a haven for capturing unforgettable moments. With its awe-inspiring sunsets, shimmering blue waters, and the distant Magnetic Island as a backdrop, this is a photographer's paradise, offering endless opportunities for breathtaking shots.
Meet Nelly the Jelly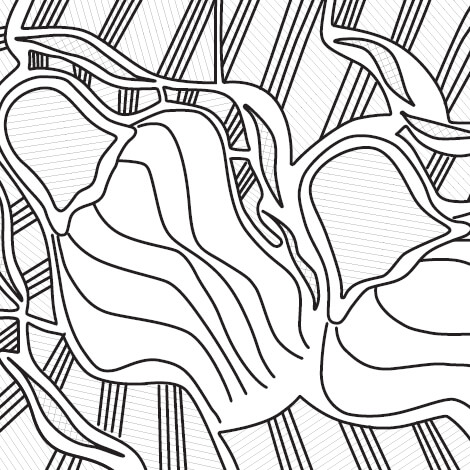 Wulgurukaba elders were asked to identify an animal that is local to The Strand and nominate a local First Nations artist to conceptualise their chosen animal. The animal chosen was a box jellyfish, drawn by Selwyn Johnson.
Selwyn's artwork was digitised so that it could be used throughout Ephemera: Seaside Sculptures 2023.
This box jellyfish has been affectionately named Nelly the Jelly and is the mascot for Ephemera: Seaside Sculptures 2023.
Selwyn Johnson has lived in Townsville his whole life and is a proud Aboriginal artist. He is a Traditional Owner of Townsville and Magnetic Island, the Wulgurukaba People, (Wulgurukaba meaning "canoe people"). The Wulgurukaba People call their Country Gurambilbarra (Townsville), and Yunbenun (Magnetic Island). The artworks Selwyn Johnson creates draw heavily from his cultural identity.