Get Active Clubs
Program
Get Active Clubs program provides our sporting clubs with a professionally managed club development and support program. This program allows sporting clubs, no matter their size, to have professional assistance in everything from starting a club to managing a club successfully.
The Get Active Clubs program assists and empowers clubs to:
Increase levels of participation in their sport
Be well managed and governed
Achieve good practice and minimum operating standards
Develop an environment that will promote growth and development
Provide an atmosphere and culture that is attractive to current and future club members
Registration
The Get Active Clubs program is all about information sharing and sustaining self-sufficient community clubs. Registration to the Get Active Clubs program enables access to range of resources, information and additional council support.
The information collected for registration will only be used by council to:
Assist in service delivery/consultation
Send you material for your for clubs to use
Update clubs with information relating to Sport and Recreation events and activities
Update clubs with information about grant opportunities
To register for the Get Active Clubs program fill out the Registration form.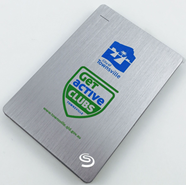 Register before 9 June to be in the draw to win a 500GB portable storage device!
Terms and Conditions
I agree to the competition terms and conditions:
Entry to the competition is open to residents of Townsville, except employees of Townsville City Council and their immediate family. Immediate family means spouse, parents, grandparents, siblings and children.
To qualify to enter, sporting groups complete an online Get Active Clubs registration form.
The major prize is:
One of two 500 GB storage devices
The prize is not redeemable for cash and is not transferable. Proof of identity will be required when claiming prizes.
Competition entries close at 5pm on Friday 9 June.
Instructions on how to enter form part of these conditions.
A random draw will be conducted, at which stage two clubs will be judged the prize winners and no further correspondence will be entered into.
By entering the competition each entrant consents to the Townsville City Council to hold, use and disclose information about entrants for research, marketing and promotional purposes of the Townsville City Council, including publishing of their image. Please contact the Townsville City Council if you later wish to correct information it holds.
By claiming the prize the winner consents to the Townsville City Council using the winner's name, address and photograph for promotional, marketing and publicity purposes.
The Townsville City Council shall not be liable for any loss or damage whatsoever which is suffered including but not limited to indirect or consequential loss or for any personal injury suffered or sustained as a result of the prize except for any liability which cannot be excluded by law.
Resources
The Get Active Clubs program has a range of information, support and guidance to clubs and their volunteers.
Planning and development
Club management
Committee management
Club policies
Financial management
Governance
Grants – funding – sponsorship
Risk management
Volunteer management
Marketing and promotions
Best Practice
Here are some of the example resources in the above topics you can access:
Workshops
Council delivers workshops that are specifically designed for sport and recreation organisations to increase skills and knowledge within their clubs. There are a wide range of workshops that provide education and training opportunities for administrators, coaches, parents and officials that focus on important issues relevant to their clubs.
Register for the Get Active Clubs program or visit council's What's On website for more details.
E-newsletter
Communication between council and clubs is an integral part of the Get Active Clubs program.
To receive the latest and most relevant information for sport and recreation organisations sign up to the Get Active Clubs E-newsletter.