Aquarium adds a splash of colour to waterfront
Date published: 14 May 2018
A massive new street art piece on the Reef HQ building has revitalised a key waterfront site thanks to a partnership between Townsville City Council and the Great Barrier Reef Marine Park Authority.
The artwork is the creation of Wosnan – an internationally renowned street artist from Columbia who helped create the 'Uncontained' shipping container art installation.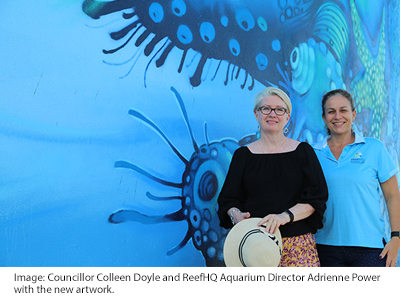 Wosnan spent a week at Reef HQ Aquarium completing a series of murals on the walls overlooking Ross Creek.
The three-phase street-art project – made possible through $100,000 in joint funding between Council and GBRMPA – also includes local and national artists in the remaining two installations.
The street art program – managed by Perc Tucker Regional Gallery – aims to enliven the CBD through Council's Street Art Activation Framework.
Community and Cultural Development Committee Chair Councillor Colleen Doyle said Council was committed to fostering Townsville's growing street art scene.
"Townsville is quickly gaining a name for itself with the impressive collection of street art emerging around our city; these murals are a fantastic way of giving life to spaces again and engaging the community," Cr Doyle said.
"It's great to have Wosnan begin this project, which will help transform this part of the CBD."
Reef HQ Aquarium Director Adrienne Power welcomed the addition of the murals and said it would help to improve the overall appearance of Townsville City.
"As the waterfront and CBD continue to develop, freshening up the external appearance of an iconic attraction like Reef HQ Aquarium adds a vibrant and attractive element to the space," she said.
"We are elated to work with Perc Tucker Regional Gallery during International Year of the Reef to create street-art that showcases the amazing experiences available when visiting us at Reef HQ Aquarium – the National Education Centre for the Great Barrier Reef."
Phase two of the street-art project will involve sourcing a local artist to create an iconic piece on the adjoining exterior wall space. Expressions of interest for phase two are expected to open in late 2018.
The best position to view Wosnan's mural is from across the river on Palmer Street.
During International Year of the Reef, Council and Reef HQ invite locals and visitors to pledge their support to the Reef through the #LoveTheReef campaign.