Bins and Collections
Attention residents in Heatley, Vincent, Gulliver, Kirwan and Aitkenvale.
Recycled waste collection may be delayed by up to 24 hours this week while some collection trucks undergo minor repairs.
All bins should be left kerbside until collected.
Collection in other suburbs this week will continue as normal.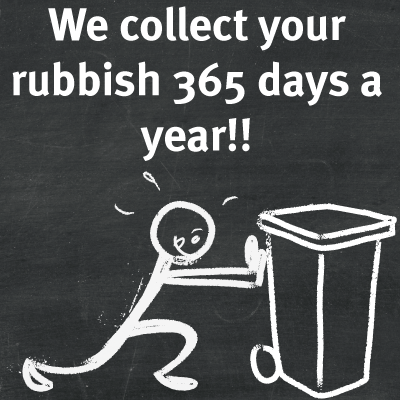 Find out the collection days for your waste and recycling bins, and how to order a new bin or report damaged bins and missed collections.
Remember to always:
Put your bin(s) out by 6am
Leave a 0.5m space between your bins
Ensure your bin is facing the road, with the wheels closest to your property or house
Your bin is not overloaded (max weight 50kg)
Your bin lid should be able to close.
Collections on public holidays
Waste and recycling is collected on all public holidays. Our kerbside collection service runs 365 days a year.
New bins
Residential waste and recycle bins can be ordered by contacting our customer service team.
Standard issue is 240L waste/240L recycle bin, but you also have the option to upgrade to a 360L recycle bin or opt for a more landfill-friendly 140L waste bin*.
Commercial non-residential customers may also opt for these alternatives (conditions apply).
Damaged bins
Waste and recycle bins are the property of the residence and their care and maintenance is the responsibility of the resident. Damaged bins may be inspected by our Waste Services team and may be repaired or replaced at their discretion.
How to order bin replacement parts
If you need a replacement lid, pin, wheel or axle you can:
Collect the part from either the

Customer Service Centre at 103 Walker Street,
Customer Service Point – CityLibraries Thuringowa at 86 Thuringowa Drive

and fit it yourself.

Order it over the phone by contacting our Customer Service team on 13 48 10.
Replacing bin parts
Follow these simple instructions to change a part on your bin yourself:
Replacing pins (to hold the lid on the bin)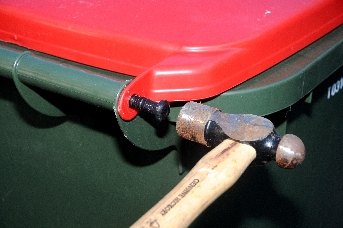 If any portion of the old pin is left in the handle, take a screwdriver and knock the pin into the handle;
Take a hammer and tap the new pin into place to hold lid to the bin.
Replacing lids
If any portion of the old pin is left in the handle, take a screwdriver and knock the pin into the handle;
Position the lid and take a hammer to tap the new pins into place to hold the lid to the bin.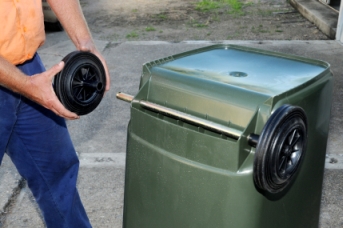 Replacing wheels
Lay the bin on its side;
Position the new wheel on the end of the axle and push into place.
(There is a small spring pin inside the wheel that locks wheel into place).
Replacing axles
Lay the bin on its front;
Thread axle through the casing at the bottom of the bin;
Position a wheel on each end of the axle and push into place.
Missed bin collections
A sticker may be placed on your bin if there was a reason why it couldn't be collected; for example, if the bin contained inappropriate material. The sticker will include instructions about what to do next and how to arrange another collection. Fees and charges may apply.

If your collection was missed for an unknown reason, you can report via our Customer Services Team on 13 48 10.
What to do when you move
If you move home, please leave your waste and recycle bin at the property for the next resident to use. All waste and recycle bins carry a unique identity number registered to the address it was allocated to.
What's your bin collection day?