Disability
Mobility in Townsville
Townsville City Council is committed to providing infrastructure that is accessible by all. With modern mapping technology, we can provide an accessibility rating system for our town.
Our mobility maps show the effort required to navigate the route. The effort maps are relevant to the elderly, frail and walkers, as well as users of wheelchairs, strollers and mobility scooters.
For more information, see Mobility in Townsville.
Dog Registration and Cat Approval
Council offers a concession to eligible owners who are the holder of an approved pensioner concession card*. Annual dog registration and cat approval costs for pensioners differ depending on whether the animal is desexed or entire and whether the cat is microchipped. Annual registration and approvals need to be renewed by 31 August each year.
For more information, visit Animal Registration and Legislation.
Approved Pension - is a person who: * is and remains the holder of a Queensland "Pensioner Concession Card" issued by Centrelink or the Department of Veterans' Affairs Health Card (All conditions within Australia) or Department of Veterans Affairs Health Card (Totally and Permanently incapacitated).
Accessible Beaches
Beach access mats have been rolled out on The Strand to help improve accessibility for anyone in the community with a mobility issue. The beach mats allow people who use a wheelchair or parents pushing a pram or stroller to get onto the beach without assistance. The project cost almost $20,000 and was funded under the Queensland Government's Works For Queensland program.
Going down to the beach and sitting on the sand with your family is something that a lot of people really take for granted.
These beach mats will allow anyone who uses a wheelchair or mobility device to be able to get down on to the beach and be with their friends and family.
It's going to change people's lives just by making it possible for people to get on to the beach unassisted. The Strand is one of our most iconic locations and now it is going to be accessible for everyone in our community.
The project is really important in making our community more accessible for everyone living here.
Council has been working with the Lifeguard Services to roll out the mats on a regular basis on the Strand Beach.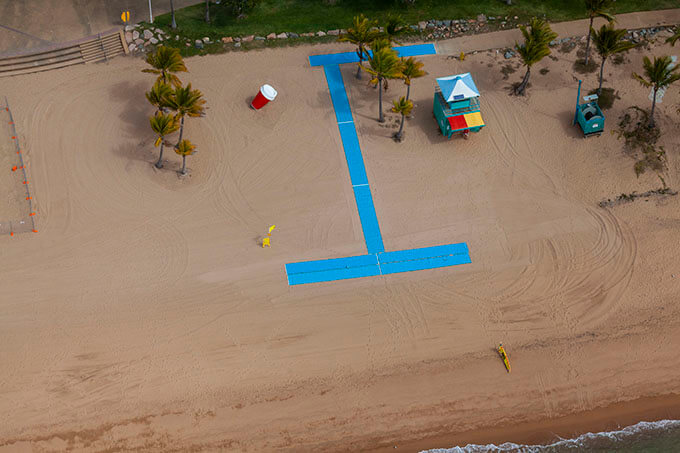 Beach Access Mats
Wheelchairs, prams and strollers can access Townsville's beaches on mats in the following locations:
| Beach | Mat Availability |
| --- | --- |
| The Strand | Every day on the Strand Beach (in front of Strand Park). |
| Pallarenda | TBA |