Waste & Recycling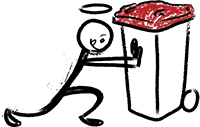 We collect your rubbish 365 days a year!!
Find out the collection days for your waste and recycling bins, and how to order a new bin or report damaged bins and missed collections.
Townsville Waste Services is responsible for providing solid waste and recycling services to the Townsville area.
The Townsville Waste Services Customer Service Standard outlines the rights, obligations and performance targets of Townsville Waste Services to its customers.
Kerbside refuse service runs 365 days a year, regardless of public holidays.
Remember it is your responsibility to ensure your bin is out by 6am and accessible at all times for our drivers.