What Goes in Your Bins
Find out what can go in your yellow lid recycling bin, and what material should be placed into the red lid general waste bin.
For quick reference, download the resources below to find out where you can dispose of your waste items:
General waste and recycling fridge magnets and bin stickers are available for free from any of our Customer Service Centres or from any Townsville Citylibraries location.
Recycling Bins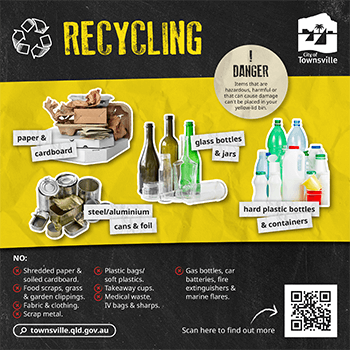 The yellow-lid recycling bin is for common household packaging materials.
Recyclable items must be put in the recycling bin loose. Do not put them into plastic bags. If you put bottles, cans and other recyclable materials into plastic bags when you put them into the recycling bin, they will not be recycled.
Used plastic bags can be:
Reused for your grocery shopping or as a lunch bag
Reused as bin liners for your household waste
Disposed of in the general waste bin.
Let's get it sorted at home:
Make sure you know what you can and can't recycle.
Always separate your recycling from your rubbish.
Store your recyclables in a box or container until you are ready to visit the recycling bin.
Never put your recycling into the waste bin.
Recyclable items must be placed into the recycling bin loose – don't use plastic bags.
Visit our Let's Get it Sorted page for more information on recycling.
What Can Go in My Recycling Bin?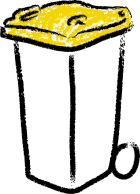 You can put the following things in your recycling bin (remember to place items in loosely to assist in the sorting process).
Cardboard boxes and packaging
cardboard (including corrugated cardboard)
cereal boxes and egg cartons
laundry detergent boxes
long-life and alternatives milks, fruit juice cartons
manilla folders
pizza boxes (greasy stains and food scraps to be removed)
removalist boxes
tissue boxes and toilet rolls.
Firm plastic containers and bottles
biscuit, sushi trays
cleaning product bottles (domestic only)
margarine containers
milk, juice, cordial bottles
shampoo and conditioner bottles
soft drink bottles*
strawberry and other fruit punnet containers
takeaway containers
yoghurt tubs.
Glass bottles and jars
beer, wine and spirits bottles*
beverage bottles
jam jars
sauce bottles and jars
vitamin jars.
Paper
envelopes (including window envelopes)
glossy magazines
greeting cards
junk mail and brochures
newspapers
notepaper and scrap paper
office paper (white and coloured)
paper bags
phone books
receipts
wrapping and packaging paper.
Steel and aluminium
aerosol cans (empty)
aluminium foil (scrunched into a fist-sized ball)
food cans (aluminium or steel)
soft drink cans*
paint tins (empty and dry).
* Drinking cans and bottles may also be accepted with Container Exchange program, with wine and spirit bottles accepted from 1 November 2023.
What Can't Go in My Recycle Bin?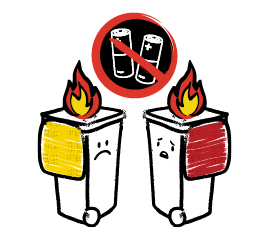 Do not put the following items in your recycle bin:
appliances
batteries - all types including vapes
broken miscellaneous items
Biopak cups and containers (biodegradable hard plastics)
blister packs
bread clips
coat hangers (plastic, metal)
coffee cups and pods
ceramics and crockery, pots, pans and heatproof dishes (e.g. Pyrex)
drinking glasses
e-waste (CDs, DVDs, fluorescent tubes, kitchen appliances)
garden waste, including timber, bricks and soil
glass from broken drinkware, windows or mirrors
Non-packaging plastic items (CD cases, plastic plant pots, Tupperware containers, Toys) 2
light bulbs
medical waste including needles
needles, syringes
polystyrene (expanded foam - e.g. packaging) 3
rubber items
scrap metal
soft plastics - If you can scrunch plastic into a ball place it in the red-lidded bin (bubble wrap, chip packaging, plastic shopping bags, zip lock bags).
surgical face masks
textiles (clothes, fabric, linen, towels)
toilet paper, tissues, wax-coated paper (baking paper) and wax-coated boxes
toothpaste tubes
vapes and e-cigarettes
wetsuits.
1 – E-waste, gas bottles, fluorescent light tubes and white goods can be dropped off to our waste transfer stations year-round for free.
2 – These types of plastics cannot be recycled through the kerbside yellow bin.
3 – Clean Polystyrene from packaging can be dropped off to Hervey Range Waste Transfer Station to be recycled year-round for free.
Waste Bins
What Can Go in My Waste Bin?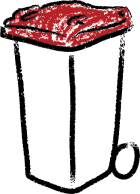 You can put the following things in your waste bin:
Broken ceramics and crockery
Food scraps
General rubbish
Grass clippings and other green waste (must fit inside your bin, and grass clippings must be bagged)
Light globes
Meat and bones
Nappies and sanitary waste
Non-recyclable plastics can also go in your waste bin.
Examples of non-recyclable plastics include:
CDs, DVDs and VCR tapes
Plastic bags
Polystyrene
Soft plastics like bubble wrap and cling film
What Can't Go in My Waste Bin?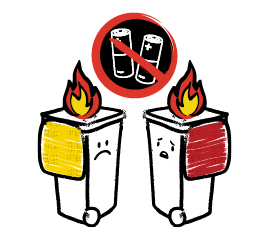 Do not put the following items into your waste bin:
Batteries
Car parts, including batteries (batteries can be disposed for free at transfer stations)
Chemicals, paints and solvents (Hervey Range only - Up to 100L in containers of 20L or less can be disposed of for free at transfer stations)
Gas bottles, and any other corrosive and flammable items (gas bottles up to 9kg can be disposed of for free at transfer stations)
Hot ashes and liquids
Oil (up to 20L can be disposed of for free at transfer stations)
Recyclable products that should be placed in your recycle bin
Sharps and needles
TVs and computers (up to 20 pieces can be disposed of for free at transfer stations)
Vapes and e-cigarettes
Neither Bin
Disposing of batteries and other combustible and hazardous waste through general waste bins or recycling bins puts our people and equipment in danger due to the risk of fire. Please help protect our people and environment by correctly disposing of combustible and hazardous items.
Transfer Stations and Landfill
If you are a domestic customer it's free to drop off a selection of household items at our waste facilities year-round. For information about which items are accepted at each waste facility, visit our Transfer Stations and Landfill page.
Some of these accepted items are:
asbestos
air conditioners
batteries and vapes
clean cardboard and metals
electronic waste (e-waste)
fluorescent light tubes
gas bottles
green waste
paint
polystyrene (Hervey Range Transfer Station only)
reusable items for the tip shops
used motor oil
white goods.
B-cycle your Batteries and Vapes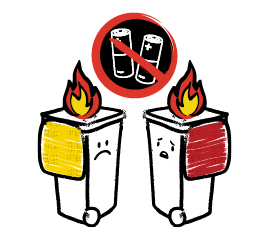 We are an accredited B-cycle battery steward and so household batteries and vapes can be dropped off for free at B-Cycle points at over 30 locations across Townsville, including all Townsville Citylibraries, the Stuart Waste Facility, and the Hervey Range Waste Transfer Station.
Batteries are the most common form of hazardous household waste in Australia. When disposed of in household or workplace bins, batteries (including the ones in vapes) can cause fires in our collection trucks, material recovery facilities, and in landfills.
When safely recycled through the B-cycle scheme, up to 95% of a battery's components can be turned into new batteries or used in other industries. Help us make a positive impact by responsibly recycling your household batteries.
Removable batteries from a range of household items can be B-cycled, including:
batteries from vapes and e-cigarettes. (No need to dismantle, just drop them in whole)
button batteries that power small electronic items such as watches and hearing aids
easily removable batteries from items such as cameras, power tools, e-bikes and e-scooters*
rechargeable batteries up to 5kg
standard sized household batteries used to power everyday items including AA, AAA, AAAA, C, D, 9V and 6V batteries.
Visit the B-cycle website to find your nearest drop-off point.
* Batteries from power tools, e-bikes and e-scooters can only be dropped off at select B-cycle points. Search by battery type and location for these batteries.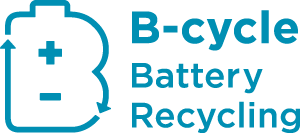 Disposing of Liquids and Hazardous Waste
We do not accept solvents, liquids, chemical waste, flares, explosives or combustible materials. However, Cleanaway Bohle offers collection and treatment of liquid and hazardous waste closely managed by their onsite industrial chemists and analysts. This ensures that the waste is processed and managed responsibly and safely.
The following items can be taken to Cleanaway for disposal:
chemical waste
flares, explosives or combustible materials
liquids and solvents
paint.
Minimising Waste
Just because something can't go into your recycling or waste bin doesn't mean it has to end up in a landfill. Many items can be recycled through other means or even sold or donated if they're in good condition.
Head to your local charity store to re-home unwanted clothes, toys and household furniture. These items can be donated to op shops, men's or women's shelters, the RSPCA or church organisations.
If donating bulky items, like furniture, call before dropping them off to make sure the charity has the capacity to accept the item/s. Some can even pick up donations from your home.
For more information on what you can do, visit our Minimising Waste page.