Liveability in Townsville
Liveability survey 2020 - Rate your neighbourhood
Townsville City Council has teamed up again with PlaceScore to conduct a Liveability Study throughout Townsville. Inviting residents to participate by completing the survey and rating their neighbourhood. In return, going into the draw to win 1 out of 10, $100 vouchers.
WIN – fill out the survey and win 1 of 10 $100 vouchers*
This study will assist in the planning and development of both your suburb and the city as a whole, Council encourages you to take part in the survey and share your brilliant ideas so we can create an even better Townsville for tomorrow!
*Terms and conditions apply.
View the Liveability Study 2020 - Rate your neighbourhood flyer (PDF, 1022.1 KB)
Liveability Strategy
Townsville City Council invited residents to participate and have their say on the Liveability Strategy. Community consultation took place from 11 December 2019 to 28 January 2020.
Community feedback helped to shape the final version of this document ahead of its adoption.
The Liveability Strategy seeks to strengthen Townsville's liveability assets and improve Townsville's liveability challenges through a comprehensive and citizen-centric approach.
This will be achieved through the strategic alignment of land-use planning, infrastructure investment, environment protection, sustainable design and community development strategies.
View the Liveability Strategy 2020-2024 (PDF, 2.2 MB).
Townsville Liveability Barometer
The Townsville Liveability Strategy/Diversity and Inclusion Strategy recognises the importance of data and targets in order to effectively plan and deliver outcomes that have the greatest impact. Evidence-informed planning and better monitoring of local government policy and projects can assist in assessing progress towards maintaining and strengthening the liveability of our city.
The Townsville Liveability Barometer, developed under the Smart City Strategy, is to be used to monitor performance in achieving the liveability goals outlined within this strategy. The Liveability Barometer is a tool which measures and benchmarks liveability indicators relevant to our city via three dials of measure: National Indicators, Community Values and Local Indicators.
The Barometer is a virtual and open data source accessed through the Townsville Dashboard which supports the Open Government data principles.
Liveability Study
Townsville City Council teamed up with PlaceScore to conduct a Liveability Study throughout Townsville between April 16 – May 26 2019.
Two surveys were completed, highlighting what people value in their ideal neighbourhood (Care Factor Survey) and how the community rates five neighbourhoods across Townsville (PX Assessment).
The Liveability Study revealed nature, open spaces and neighbourhood safety are the top three things Townsville residents value in their suburbs.
The results from the survey have given Council a clear way to prioritise investments and make sure we're delivering works that align with what the community values. See below for the full results.
Council reengaged the Gulliver community during June 2020 and has undertaken a second Care Factor and Neighbourhood PX survey to reveal changes in community values and neighbourhood performance and provide recommendations on what Council can do now and in the long-term to respond to the community's priorities post-crisis.
To read the full report see below.
Top Local Government Area Care Factors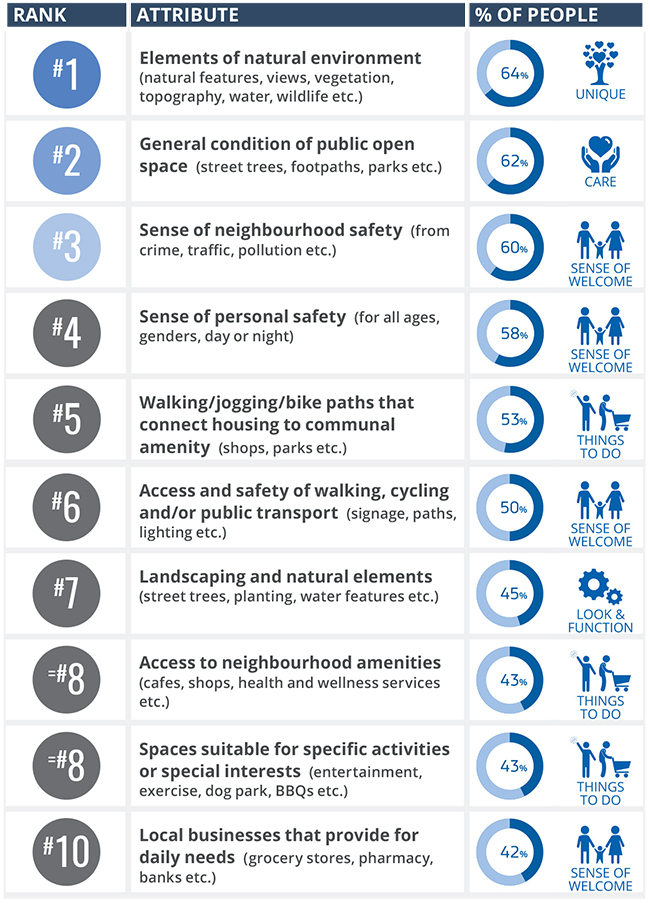 View the Townsville City Council Community Insights full report ( PDF, 7.3 MB)