Water and the Dry Tropics
Townsville has a dry tropical climate with two distinct seasons: the wet season is in summer (November to April) and the dry season is in winter (May to October).
As Townsville residents know, the wet season is not guaranteed. Back-to-back failed wet seasons, high temperatures and high evaporation rates can stretch our water supplies.
That's why it is so important to value our water and use it wisely.
Water Sensitive Townsville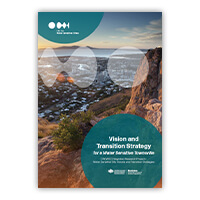 Townsville City Council has a vision for a water sensitive future. A Water Sensitive City incorporates innovative infrastructure, design, and governance solutions. For example:
Water recycling at different scales through wastewater recovery and stormwater harvesting provides a diversity of water sources and improves the health of downstream rivers and creeks by reducing pollution and flow impacts.
Water sensitive urban designs integrate nature-based infrastructure into the landscape to provide hydraulic and water treatment functions, as well as amenity benefits such as an aesthetic environment and mitigation of urban heat island effects.
Integrated and collaborative land use and water planning results in catchment-scale approaches to enhancing flood resilience and connecting areas of green and blue to create ecosystem and recreation corridors throughout the city footprint.
Citizens are active in caring for water and the environment, and there is cohesion amongst the community as their sense of place and collective identity is nurtured through their connection with water.
"Townsville is an attractive, resilient city that manages water to enhance healthy ecosystems, embrace dramatic natural water cycles, drive world-leading innovation, and support citizens who are proud of their dry tropical identity."
Read the full Vision and Transition Strategy for a Water Sensitive Townsville.
Townsville's Water History
Townsville's relationship with water has been shaped by its unique dry tropical climate and extreme weather patterns and events.
Pre-1800AD
Caring for Country
The Traditional Owners of this land, the Wulgurukaba of Gurambilbarra and Yunbenun, Bindal, Gugu Badhun and Nywaigi people, relied on the region's waterways and adapted their way of life to the dramatic seasonal variations.
They lived connected to the water cycle.

1800s - 1900s
European Settlement
As the area became settled by Europeans and the town began to grow and settlers began to adjust to the tropical weather while having only basic water supply services.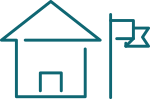 1900s - 1950
Early Industrialisation
Industry grows to support a new economy - water supply, sanitation and drainage services were provided through infrastructure solutions to suit the needs of a growing population.
The population here was around 4,000 people.

1950 - 1990
Post-War
Post-war population and mining boom. There were more frequent droughts and cyclones as a result of a changing climate, and pressures on surrounding marine and other natural environments.
The population here was around 90,000 people.

1990 - 2008
Green Transformation
Community pride. More people caring about social, amenity and environmental issues.
The extreme weather of the proceeding years led to the increased focus on climate resilience, urban liveability, and ecosystem health.

2008 - 2017
A Thirsty City
There was an increase in social anxiety about the future. Droughts and high water demand.
The population here was around 187, 525 people.

Urban Water Transitions Framework
The Urban Water Transitions Framework identifies six distinct developmental states that cities may move through on their path towards increased water sensitivity. A city's journey through these states is not linear and may involve leapfrogging, a concept that allows developing cities to learn from more developed cities in order to accelerate their transition to more desirable states.
Townsville's score in the key parts of becoming a water sensitive city is shown below, as well as how these scores can be maintained or improved:
1 - Water Supply City (City Need)
A water supply city is one that has water supply access and security.
Townsville's Score: 100%
Goal: Maintain efficient water supply.

2 - Sewered City (City Need)
A sewered city is one that has public health protection.
Townsville's Score: 100%
Goal: Maintain efficient water sanitation.

3 - Drained City (City Need)
A drained city is one that has flood protection.
Townsville's Score: 83%
Goal: Improve drainage.

4 - Waterway City (City Value)
A waterway city is one that has quality public spaces and environmental protection.
Townsville's Score: 94%
Goal: Quality public spaces and environmental protection.

5 - Water Cycle City (City Value)
A water cycle city is one that is optimising all water sources.
Townsville's Score: 34%
Goal: More efficient water use and awareness.

6 - Water Sensitive City (City Value)
A water sensitive city is one that is sustainable, resilient, liveable and productive communities.
Townsville's Score: 3%
Goal: Better water sensitive values and behaviours.