Our Water Smart City
Townsville continues to experience the impact of variable climate and uncertain wet seasons. For our city to grow sustainably, it is important we ensure our water services meet future demands and empower our community to create lasting waterwise changes.
Dry Season Lawn Guide
Together we can be a water smart city.
Did you know that more than 70% of total household water in Townsville is used on our lawns and gardens.
We are currently in our dry season. Water no more than twice a week in the dry and never when it's wet.
Waterwise Videos
With more than 70% of total household water consumption being used on gardens and outside the home, there are a lot of ways we can all play a part in reducing water use and helping Townsville to become a water smart city.
One Song Shower Challenge
Take the One Song Shower Challenge and start saving water one tune at a time.
Every minute less in the shower saves around 7,000 litres of drinking water per year!
To get started, check out our One Song Shower Challenge playlist.
Water Smart Plants with Helen
Learn about the benefits of using native plants in your garden and how it can help save water and attract local wildlife.
Get a Wriggle on with Eco Joe
Worm farming and composting tips and tricks!
Maintaining your Irrigation System with Dan
What's involved with Irrigation Optimisation?
Top 5 Water Saving Tips
Learn about the best ways to save water around your home from Jamie Durie and Chris Johnstone.
Get your Wobble on with Eco Joe
The Australian Made Wobble T sprinkler is one of the best water saving sprinklers on the market.
Water Smart Garden – Anderson Gardens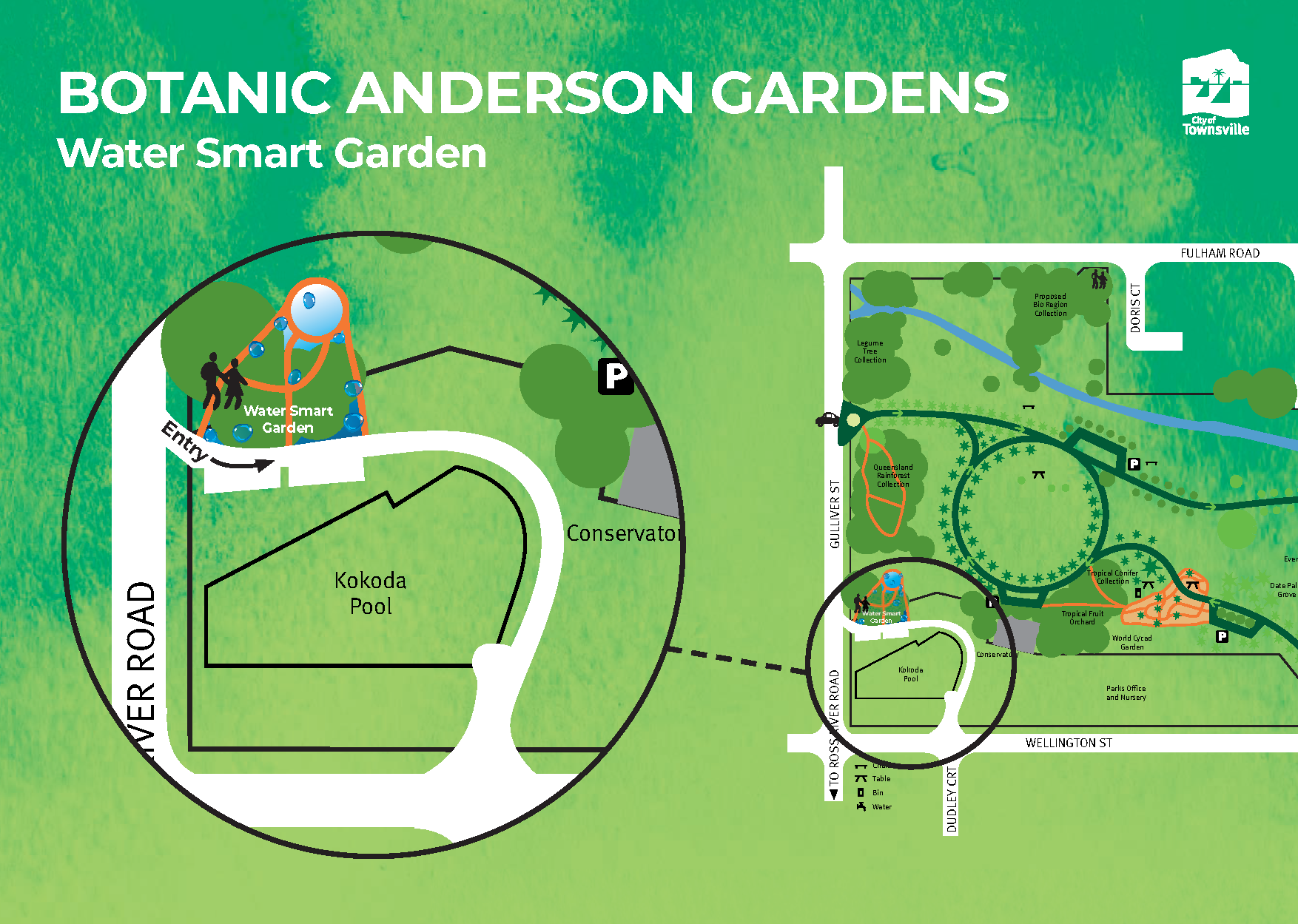 The Water Smart Garden was created to show just how easy it is to achieve your own water smart garden at home.
The garden contains four zones that will teach you how to become a sustainability giant! These include: water, energy, waste and biodiversity.
You'll learn how small changes can make a big difference – like reducing your water use, carbon footprint and household waste.
The Water Smart Garden is located in Anderson Gardens, across from Kokoda Memorial Pool.
☟
---
Factsheets
Our water smart factsheets provide great advice about water behaviours and water efficiency ideas for both inside and outside of the home.