Reef Guardian Councils
Townsville City Council is proud to be recognised as a Reef Guardian Council, for our efforts to help protect, conserve and enhance the values of the Great Barrier Reef World Heritage Area.
The Reef Guardian Council program is an initiative of the Great Barrier Reef Marine Park Authority, involving the coastal councils of the Great Barrier Reef region. The program aims to protect and conserve the Great Barrier Reef for future generations by encouraging, promoting and recognising improved environmental practices by local government. These actions lead to improved environmental outcomes for the Great Barrier Reef, including improving water quality and helping build its resilience in the face of climate change impacts.
Townsville City Council Action Plan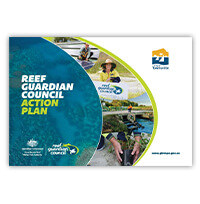 Townsville City Council has been a Reef Guardian Council since the program's inception. Our Townsville City Council Reef Guardian Council Action Plan outlines the steps we are taking to protect the outstanding universal value of the Great Barrier Reef Marine Park.
The Creek to Coral team provides reporting for the Action Plan to the Great Barrier Reef Marine Park Authority and collaborates with other councils to improve management practices that may impact the Reef. The Action Plan includes initiatives in the following areas for the period 2020-2024:
Water management - waterways rehabilitation, water monitoring, urban stormwater treatment, wastewater, and trade waste treatment.
Waste management - source reduction, waste avoidance, waste reuse and recycling.
Land management - vegetation and pest management, resource assessment, erosion control, and land planning and management.
Climate change - planning and policy, energy and resource efficiency, and community education.
Community - education, capacity building and developing partnerships.
Reef 2050 Plan
The Reef 2050 Plan outlines the steps that must be taken by key stakeholders to achieve water quality targets. Townsville City Council is working to reduce impacts to reef water quality using innovative new approaches.
Key local government priorities for the Reef 2050 Plan, includes:
Strengthening programs to understand and promote the Reef's values and threats; and
Supporting communities in monitoring, protecting, managing, and sustainably using the Reef.
Townsville City council supports our community to undertake citizen science initiatives through Creekwatch, Adopt-A-Creek and Reef Check Australia. If you'd like to get involved with these citizen science initiatives, you can find out more on the Community Partnerships page.