Safe Places
A safe Townsville is everyone's responsibility. To see how you can help contribute to crime prevention and safety in a positive way, please read below.
Community Safety Plan 2019 – 2020



The Community Safety Plan 2019 – 2020 was created to highlight the different levels of engagement and involvement that Townsville City Council has in community safety within Townsville. The Safer Townsville Action Plan 2021 – 2024 is currently being created.

Community Safety Plan 2019 - 2020 (PDF, 691.5 KB)
Graffiti Action Plan 2021 – 2024



The Townsville City Council Graffiti Action Plan 2021 – 2024 has been developed to provide Council with a clear direction in the prevention and management of illegal graffiti. This prosocial response will work in conjunction with community and organisations to facilitate better outcomes for all parties.

Townsville City Council Graffiti Action Plan 2021 – 2024 (PDF, 5.2 MB)
Council and Community Safety
Security Network
With over 500 individual static Closed-Circuit Television (CCTV) stations throughout Townsville and five mobile CCTV towers (which can be moved around the city), Townsville has an extensive formal surveillance network covering public spaces and infrastructure. The location of the cameras can be viewed in our CCTV Camera Justification document.
Council also has a Community Response Vehicle (CRV) which patrols identified public spaces daily.
And did you know that a public duress button is located at Riverway along the pathway near the lagoon? The public duress button is monitored 24/7 and can be used in the event of an emergency when a person needs assistance. See below map for the location.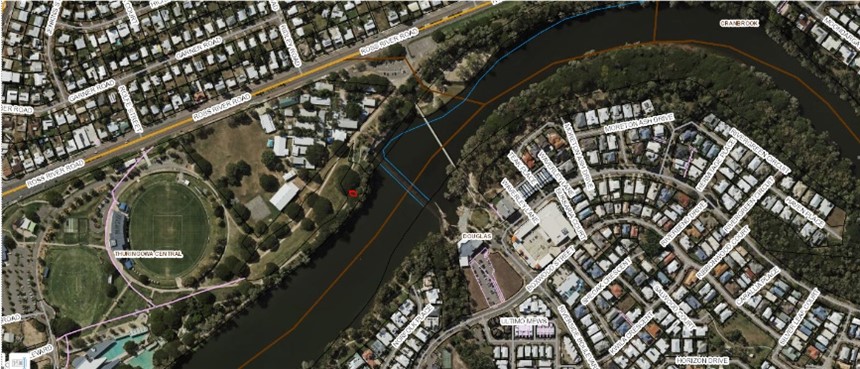 Needle and Syringe disposal
Council has a needle and syringe all hours pick up service. If a member of the public locates a needle or syringe at or on a Council owned or managed space, they can contact Council at any time and a Council Officer will come and remove the item.
When reporting a syringe or needle at a Council owned or managed location please be specific about the items location so it can be easily found by the Officer.
Contact can be made the following ways:
Domestic and Family Abuse Prevention
Townsville City Council now has White Ribbon Australia accreditation to better support staff and increase the awareness around Domestic and Family Violence (DFV).
If you or someone you know is experiencing DFV please refer to the below contacts or visit Council's Domestic and Family Violence Awareness page.
North Queensland Domestic Violence Resource Service (Townsville) - Ph: 4721 2888 - Monday to Friday 8:30am – 4:30pm
DV Connect: https://www.dvconnect.org/ or phone 1800 811 811 (support for all genders)
DV connect Women's line – for anyone who identifies as a woman, call 1800 811 811 any time
DV connect Men's Line – for anyone who identifies as a man, call 1800 600 636 from 9am to midnight 7 days
In an Emergency call 000 (triple zero)
Crime Prevention Through Environmental Design & Public Spaces
Council undertakes proactive Community Safety Audits at public parks and spaces using Crime Prevention Through Environmental Design (CPTED) principles. The purpose of the audits is to identify ways to reduce hazards, antisocial behaviours and opportunistic crime in public parks and spaces. Ten locations have been audited since May 2020.
If you would like to consider implementing CPTED for your residence or business, information can be sourced at Queensland Police Safety in Public Places website.
Mental Health First Aid Training
With a focus on Mental Health and Wellbeing, Council encourages community to upskill in this area. Mental Health First Aid offers a range of courses that can help you to assist an individual who is developing mental health problems, experiencing a worsening of an existing mental health problem or are in a mental health crisis, until appropriate professional help is received or the crisis resolves. For more information to find a Mental Health First Aid course being offered in your location please go to www.mhfa.com.au
If you would like more information in relation to suicide prevention go to CORES Queensland. CORES training is designed to provide individuals and communities with the essential skills and resources required to identify and respond to a person at risk of suicide and build on a community's capacity to eliminate suicide.
Training course dates available here.
Reparation Projects
Townsville City Council actively participates in Community Service Orders (CSO) and Restorative Justice Conferencing. Individuals that are court ordered to participate in CSO's can participate through several different Council CSO programs to provide reparation back to the community. Restorative Justice Conferencing is appointed by the courts to young offenders and requires them to face the victims of their crimes in a controlled environment to work out a reparation response.
DID YOU KNOW that Community groups and clubs can also access CSO participants to assist with things like painting and landscaping of their locations? If you are interested in getting more information on this process, please email our contact:
Townsville Community Corrections
Email: DMTownsville@corrections.qld.gov.au
Phone: 4430 5100 (and ask to speak with a Supervisor)
Address: 303 Ross River Road, Aitkenvale (and ask to speak with a Supervisor)
Building Resilience
There are lots of different ways to participate in your community which will build resilience and connectedness. Following are some useful tips for making you and Townsville Safer:
Get to know your neighbours – neighbours can help ensure your home and street is safe and can be a support network. A resource that can help you connect with your neighbour is the G 'Day Neighbour postcard as well as Neighbour Day options which is located at our Being Neighbourly page.
Know how to report an issue quickly – have important contacts handy, this might include Emergency Services, Police Link, Crime Stoppers or Council's Report a Problem online apps for your phone.
Remove illegal graffiti on your property quickly – if you notice illegal graffiti on your property (including a fence) remove it as quickly as possible. Research has shown that leaving illegal graffiti for an extended period can encourage additional graffiti and vandalism in that location.
Lock up your stuff – locking your car, bike and home properly can be a deterrent to opportunistic crimes occurring.
Crime Prevention and Other Organisations
For crime prevention information from organisations and groups other than Council, please see below.
Neighbourhood Watch
If you are interested in being involved in a Townsville Neighbourhood Watch group or to get tips on personal safety, please visit their website.
Emergency Services
Should you require immediate assistance from the Police, Ambulance or Fire Service, please ring 000 (triple zero).
Policelink
If you require non urgent assistance from the police, Policelink can assist.
Call 131 444 or submit an online report here.
Crime Stoppers Queensland
Crime Stoppers Queensland is a registered charity and volunteer community organisation. Their purpose is to empower the community to provide information that supports the solving and prevention of crime.
Crime Stoppers allows people to report on criminal or suspicious behaviour they may have witnessed or heard about. This service is confidential and can be reported over the phone or online.
There is also the option to join Crime Stoppers and be involved in raising awareness.
For more information, call 1800 333 000 or visit their website.
Victims Assist Qld
Provides information and advice for victims of crime, including information about support services, victims' rights, and financial assistance.
For more information, visit their website.
Safe Night Precinct
The Safe Night Precinct is centred around Flinders Street and the inner city and promotes the responsible consumption of alcohol in the precinct and minimises risk and harm.
To see the boundaries of the Safe Night Precinct in Townsville visit the Queensland Government website.
Liquor Accord Townsville Incorporated
This group has members from the local suburban commercial hotels and several commercial clubs that meet to encourage and promote best practice in licenced premises in Townsville. This group promotes responsible service of alcohol and information sharing with the aim of reducing alcohol related crime and antisocial behaviours.