Mayor praises selfless efforts of Water Pipeline contractors
Date published: 1 October 2019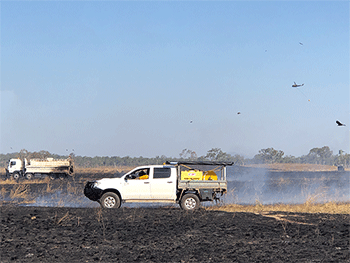 Townsville Mayor Jenny Hill has praised the efforts of contractors working on the Water Pipeline for their response to fires at neighbouring properties.
On Saturday 14 September fires broke out along Woodstock Giru Road and threatened two properties.
Cr Hill said contractors from AECOM, BMD and Civil Plus selflessly acted as first responders alongside local fire brigades.
"This is another example of our community coming together and helping each other on what these workers thought would be another day on site.
"AECOM, BMD and Civil Plus provided assistance to local fire fighters and the Rural Fire Brigade and offered up their equipment to help contain the fires.
"I am so proud of every person that was on site and played an important role in keeping other members of the community and their homes and businesses safe.
"Their help also ensured that the construction of our Water Pipeline wasn't hindered, and that work could continue.
"We know that North Queenslanders have a strong sense of community – we saw it in the monsoon earlier in the year and again now – and it fills me with so much admiration for our city."
AECOM helped provide coordination of equipment, BMD provided 3 water carts and a front-end loader and Civil Plus provided 1 water cart.