Community barbecues to start cooking again
Date published: 21 May 2020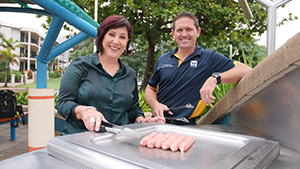 The skies are set to remain grey at the weekend, but that hasn't stopped Townsville City Council from getting its barbecues ready to sizzle again from Saturday.

Mayor Jenny Hill said about 100 barbecues were disconnected in late March following state government direction to help slow the spread of coronavirus.

"Throwing a snag on one of our barbecues on The Strand or in many community parks across our city is a very popular past time for Townsville residents and visitors alike," Cr Hill said.

"In late-March, acting on the advice of the Chief Medical Officer, Council disconnected our barbecues in an effort to ensure social distancing in response to COVID-19 global pandemic.

"With the gradual easing of restrictions, it is great that we can now reconnect our barbecues and make them available to the community once again.
"The weather forecast for Saturday looks a bit wet but hopefully the sun will be out on Sunday and people can enjoy a barbecue."

The community is expected to self-regulate and continue to observe social distancing and enhanced hygiene practices.

"We have done a fantastic job slowing the spread of COVID-19 in our community however we cannot afford to become complacent," Cr Hill said.

"I again urge the Townsville community to keep maintaining social distancing and enhanced hygiene practices and if you're feeling sick stay home and call 13HEALTH or your doctor for advice."