New citizens welcomed at dinky-di Aussie location
Date published: 17 September 2021
Townsville City Council has used an iconic Aussie location to officially welcome 57 of our nation's newest citizens to the community today.
To mark National Citizenship Day, Council held its latest citizenship ceremony at Billabong Sanctuary, giving nine families and 32 individuals the opportunity to take the oath surrounded by native flora and fauna.
Deputy Mayor Mark Molachino said hosting the event at Billabong was a great way to celebrate becoming an Aussie.
"Council hosts citizenship ceremonies monthly, usually at the Mayoral Reception Room at City Hall in the CBD," Cr Molachino said.
"As today is National Citizenship Day, we thought it would be a great idea to host the ceremony at Billabong, which provides a uniquely Australian backdrop for our new citizens as they take their oath."
So far this year, 374 people have taken the oath and become Australian citizens in ceremonies held locally.
Cr Molachino said citizenship ceremonies were one of the best parts of being a councillor.
"Our national anthem, Advance Australia Fair, sums it up the best – "For those who've come across the seas, we've boundless plains to share"," he said.
"Australia is a great place to call home and we're a welcoming society.
"Our newest citizens are already contributing to our city in a variety of ways and its great that they have made the choice to become official Aussies."
Cara Horsfield is one of the Townsville residents who became an Australian citizen at the event.
Cara and her husband Ben, who is also becoming a citizen, moved to Australia from the Ontario province of Canada in July 2013. Joining them at the ceremony was their five-month-old daughter Adelaide.
"Ben was offered a three-year graduate engineer position with a mining company and we just loved it here so much that we decided to stay," Mrs Horsfield said.
"Becoming a citizen makes Australia our home. The Australian people have been so welcoming to us and we have such a wonderful quality of life here in Townsville."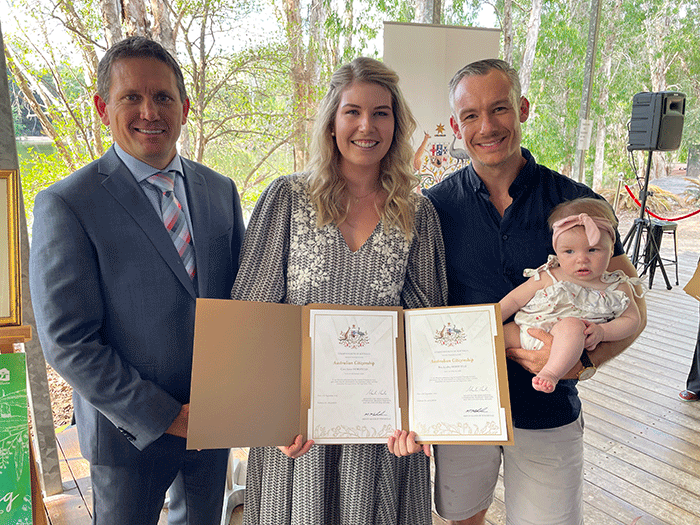 Watch the video below: