Townsville Street Libraries Competition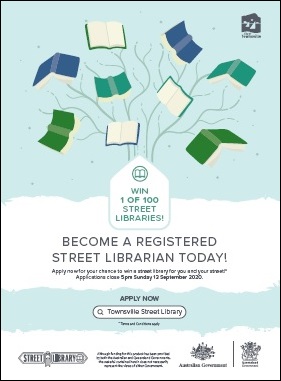 Become a registered Street Librarian today!
Apply now for your chance to win 1 of 100 street libraries for you and your street to decorate and get sharing!
How does a Street Library work?
A Street Library provides a publicly-accessible space for sharing books that teach, intrigue and engage. The books come and go; you don't need to check them in or out.
Take a book. If you see a book you'd like to read from a street library, take it.
Give a book. Not going to read that book again? Leave it at any street library for others to enjoy.
Share a book. Return your book to a street library around the city, or pass it on to a friend, neighbour or relative.
Building a love of books and reading in your community can begin in your front garden.
From Monday 12 October 2020 you will be able to locate a Street Library near you.
2020 Street Library Winners
SUBURB
NAME
SUBURB
NAME
Aitkenvale
Carmen Thorman
Kelso
Alison Brennan
Aitkenvale
Laurie McDougall
Kelso
Gwen Bryans
Alice River
Bernadette Stennett
Kelso
Jen Sperring
Alice River
Lorna Fisher
Kelso
Marian Manser
Alligator Creek
Helen Holmes
Kelso
Rebecca Bevan
Annandale
Christie Mains
Kelso
Sonia Hope
Annandale
R Sheehan
Kelso
Talissha Wagner
Annandale
Tania Smith
Kirwan
Alison Watson
Balgal Beach
Allison Gough
Kirwan
Donna Goni
Balgal Beach
Suzi Vincent
Kirwan
Kerry Watene
Bohle Plains
Kimberly Brann
Kirwan
Kylie Hammond
Bohle Plains
Rachelle Munro
Kirwan
Leeanne Colquhoun
Bohle Plains
Shaun McLaren
Kirwan
Nicole Thomas
Burdell
Angela McCarthy
Kirwan
Siobhan James
Burdell
Jess Wilson
Kirwan
Winnie Mulherin
Bushland Beach
Amy Bridson
Mount Louisa
Robyn Long
Bushland Beach
Lisa Jordan
Mount Louisa
Shona Bauer
Bushland Beach
Shannon Delaney
Mount Low
Clarissa Dirie
Bushland Beach
Taine Rickerby
Mount Low
Lauren Newman
Condon
Charmaine Burry
Mundingburra
Jan Flynn
Condon
Janeen Shaw
Mundingburra
Janelle O'Farrell
Cosgrove
Reece Schmidt
Mundingburra
Katy Marhin
Cranbrook
Jean Iverson
Mundingburra
Simone Low
Cranbrook
Holly Fayers
Mysterton
Kerry Strickland
Cranbrook
Sally Thain
Mysterton
Matthew Campbell
Cranbrook
Stacey Harker
Nelly Bay
Kate Wheatley
Currajong
Desley Alexander
Nelly Bay
Tracey Shelton
Currajong
Mhairi King
North Ward
Brianna & Michael Morgan
Deeragun
Janet Jackson
North Ward
Carol Jack
Deeragun
Martha Kusetic
North Ward
Jessica Hay
Douglas
Deborah Pratchett
North Ward
Vanessa Dunbar
Douglas
Jenny Leahy
Oonoonba
Daniel Taylor
Douglas
Megan Marmont
Oonoonba
Debbie Davis
Douglas
Melody Taylor
Oonoonba
Meagan Campbell
Garbutt
Lou Searle
Oonoonba
Taylor Walker
Gulliver
Georgia Lynch
Pallarenda
Rachel Baglin
Gulliver
Margarita Gornalle
Picnic Bay
Jenny Lee
Heatley
Keely Christie
Pimlico
Lyn Johnson
Heatley
Tegan Jarvis
Railway Estate
Diana Condylas
Horseshoe Bay
Simone Wall
Railway Estate
Erin Lenti
Horseshoe Bay
Suzy Gilmour
Rangewood
Nikita Frazer
Horseshoe Bay
Vicki Dorgelo
Rangewood
Robyn Grant
Hyde Park
Carol Bocking
Rasmussen
Jill Sutcliffe
Hyde Park
Hannah Cameron
Rosslea
Maree McCahon
Hyde Park
Maureen Dougherty
Rowes Bay
Laura Cotterall
Hyde Park
Natalia Smithson
South Townsville
Laura Orsi Espeleta
Idalia
Naomi Murchie
Thuringowa Central
Tracey Thomson
Idalia
Suparna Chakrabarty
West End
Lauren Cook
Jensen
Donna Fenech
West End
Teneale Howard
Julago
Kate Annetts
Woodstock
Jenny Saxby
For more information on this initiative, visit Street Library Australia.