Waterways & Wetlands
Council has a range of programs that assist us in ensuring sustainability of our waterways and coastal areas. These include:
Fairfield Freshwater Wetlands - Environmental Management Plan
This document is a summary of our Wetland Management of School Lagoon at Fairfield, and we aim to educate about the importance of this local wetland, its diverse array of native wetland birds, fish and aquatic biota and complex vegetation.
Furthermore, Council's Environmental Management Plan (EMP) for this locally important and historic natural wetlands intends to share our annual maintenance works for the two nutrient basins and what Council is doing to help the wetland remain in place.
As an oasis that is constantly changing, it can sometimes appear a little bit messy, and we actively manage the wetland for this fact. We share how you as a neighbour can help this wetland too, with your own backyard and street behaviours.
You can view or download the Environmental Management Plan below:
Environmental Management Plan (PDF, 3.4 MB)
Creek to Coral
The Creek to Coral program aims to maintain and enhance healthy waterways within the coastal dry tropics of the Townsville region. The program focuses on Total Water Cycle Management (TWCM) and the provision of community education and involvement (see Creekwatch and Reef Health Monitoring below). TWCM is a partnership across a number of Townsville City Council sections and local organisations.
For further information please contact the Creek to Coral Team Leader.
Creekwatch
Creekwatch is a community program that offers volunteer opportunities to help connect people to nature, contribute to improving waterways, and encourage stewardship of waterways by the local community.
Interested community members are invited to adopt their local creek and learn from our Creekwatch project partners at OzFish to undertake waterway monitoring including:
Fish sampling
Water Quality monitoring (pH, TSS, Temp, Conductivity, Dissolved Oxygen)
Macroinvertebrate sampling.
Creekwatch is also an excellent opportunity for interested schools to foster curiosity and learning about our local environment.
For more information on how to participate in this program, please contact creekwatch@ozfish.org.au.
Creekwatch Adopt a Creek Guide (PDF, 13.8 MB)
Reef Health Monitoring
Townsville City Council proudly support Reef Check Australia to lead volunteers in the annual monitoring of our nearshore Reef at Magnetic Island. Volunteers collect reef health data whilst SCUBA diving. The data is then shared with the Dry Tropics Partnership for Healthy Waters to include in their annual report card on waterway health. To find out more or get involved, please contact seqsurveys@reefcheckaustralia.org.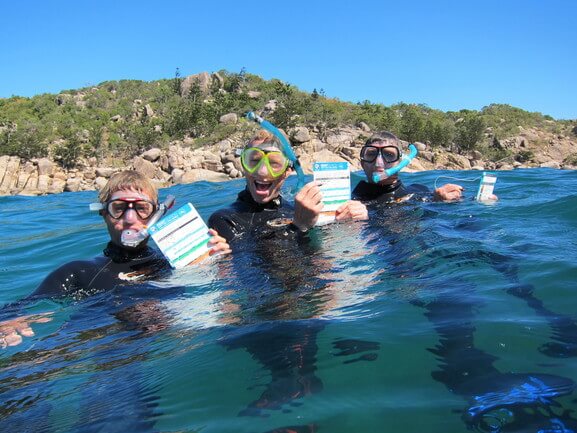 Townsville's Water Quality Improvement Plan
The Black Ross (Townsville) Water Quality Improvement Plan (WQIP) has been prepared by Creek to Coral and its partners with funding from the Australian Government's Coastal Catchments Initiative (CCI) program. The WQIP is based on Total Water Cycle Management principles and focuses principally on the management of urban and peri-urban stormwater related issues.
You can view or download the Water Quality Improvement Plan below:
Water Quality Improvement Plan (PDF 12.3 MB)
Townsville City Council: A Reef Guardian Council
Townsville City Council is proud to be recognised as a Reef Guardian Council, for our efforts to help protect, conserve, and enhance the values of the Great Barrier Reef World Heritage Area.
The Reef Guardian Council program is an initiative of the Great Barrier Reef Marine Park Authority, involving the coastal councils of the Great Barrier Reef region. The program aims to protect and conserve the Great Barrier Reef for future generations by encouraging, promoting and recognising improved environmental practices by local government. These actions lead to improved environmental outcomes for the Great Barrier Reef, including improving water quality and helping build its resilience in the face of climate change impacts.
The 2020-2024 program recognises local government actions across 5 key areas:
climate change
coastal development
land-based run-off
direct use (of the marine park)
reef heritage and social values.
Visit the Reef Guardian Councils website for further information.
Dry Tropics Water Smart - Residential Outdoor Water Conservation Program
Encouraging residents of Townsville to reduce outdoor water consumption
What is the Dry Tropics Water Smart Program?
The 'Dry Tropics Water Smart - Residential Outdoor Water Conservation Program' is an initiative of Townsville City Council, Townsville Water and the Queensland Government. Through the program, Townsville City Council is investigating ways to assist residents to reduce their outdoor water use, while also ensuring healthy and resilient gardens and lawns in Townsville. It is expected the program will help inform Council's strategies for ensuring Townsville remains water secure in the future.
The program being developed in partnership with our research partners at the University of Adelaide and is based on the behaviour change principles of 'Community Based Social Marketing' (CBSM) and 'Thematic Interpretation' (TI). The program aims to encourage residents to 'adjust watering schedules to match weather conditions and landscape requirements' through the investigation of methods to encourage this behaviour and the quantification of the resultant household water savings.
What can you get out of it?
Average household water use in Townsville is amongst the highest in Australia (544kL/yr/household in 2009/10) with a significant proportion of this being used outdoors. By reducing outdoor water consumption residents may:
increase the health and resilience of their garden and lawns through stronger root growth
reduce the time spent watering
reduce the loss of fertiliser and organic matter which can be washed out of root zones through over-watering, and
receive lower water bills (for those on the water watchers plan or those on the standard plan but paying the excess charge)
What has happened so far?
Council in partnership with the research team identified 71 behaviours that residents could adopt that may reduce outdoor water use. These behaviours were investigated for their potential for water savings (in kL) and their likelihood of uptake. This yielded a short list of 12 behaviours (see below) that were further investigated for the potential barriers and benefits for each to inform the community engagement.
Add organic matter to the soil (including top dressing the lawn) to improve moisture and nutrient holding capacity.
Adjust watering schedule to match seasonal weather conditions and landscape requirements.
Group plants with similar water needs together (Hydro-Zoning).
Ensure outdoor taps, hoses, water meters and irrigation systems do not leak.
Install and use drip irrigation rather than handheld hoses or sprinkler systems.
Lightly fertilise lawns to reduce watering needs.
Improve the water absorption of clay soils by treating with gypsum products.
Take the catcher off the mower and leave the grass clippings on the lawn to protect against evaporation.
Place mulch on garden beds and potted plants to reduce evaporation and increase organic matter in the soils.
Plant vegetation suitable to the climatic conditions.
Grow plants best suited to the soil.
Reduce lawn area to reduce watering requirement.
Download the full list of behaviours (PDF)
What are the next steps?
The overall community pilot program will consist of three discrete trials, with the first two trials focusing on the provision of water saving aids while the third trial will focus on the use of behaviour change communication methods. Details of three pilots are:
'Rain-Switch Pilot – Automatic Systems': This trail is currently being rolled out over the 2011/12 wet season. This trial provides a rain-switch to residents (60 households) with automatic watering systems (which automatically switch off irrigation systems after rainfall). Invitations to participate were offered to residents on the Standard Plan who are consuming more than 772kL/yr (some 9%). A local irrigation specialist visits participants home to install the rain-switch and optimise their irrigation system to suit the requirements of their garden and lawn (based on soil, plant types etc).
'Soil Moisture Sensor Pilot – Manual Waterers': This trail will be conducted over the 2012 dry season and will provide two wireless soil moisture sensors and a wireless LED display unit to residents who water manually. Invitations to participate will be offered to residents using less than 350kL/yr with the aim of voluntarily transitioning them into the Water Watchers Plan where relevant. Residents will be invited to participate via mail and once registered a representative of the program will visit the home to provide a briefing on the use of the sensors, and
'Water Smart Education Pilot': This trail will be conducted over the 2012 dry season and is focused on the development and dissemination of education and capacity building materials to empower residents to reduce outdoor water consumption. The trial will use a range of tools including thematic communications, online resources, and community sessions. Participation in the pilot will be offered to residents on the Standard Plan that are consuming between 350 and 772kL/yr.
The pilot program is being conducted in accordance with University of Adelaide's research commitment to the National Statement on Ethical Conduct in Human Research. All information gathered will be treated as confidential and participant responses will remain anonymous with no personal information or household specific information (including water use) to be disclosed.
As well as being in accordance with the Townsville City Council Privacy Statement.