Waterways & Wetlands
Council has a range of programs that assist us in ensuring sustainability of our waterways and coastal areas. These include:
Fairfield Freshwater Wetlands - Environmental Management Plan
This document is a summary of our Wetland Management of School Lagoon at Fairfield, and we aim to educate about the importance of this local wetland, its diverse array of native wetland birds, fish and aquatic biota and complex vegetation.
Furthermore, Council's Environmental Management Plan (EMP) for this locally important and historic natural wetlands intends to share our annual maintenance works for the two nutrient basins and what Council is doing to help the wetland remain in place.
As an oasis that is constantly changing, it can sometimes appear a little bit messy, and we actively manage the wetland for this fact. We share how you as a neighbour can help this wetland too, with your own backyard and street behaviours.
You can view or download the Environmental Management Plan below:
Environmental Management Plan (PDF, 3.4 MB)
Creek to Coral
The Creek to Coral program aims to maintain and enhance healthy waterways within the coastal dry tropics of the Townsville region. The program focuses on Total Water Cycle Management (TWCM) and the provision of community education and involvement (see Creekwatch and Reef Health Monitoring below). TWCM is a partnership across a number of Townsville City Council sections and local organisations.
For further information please contact the Creek to Coral Team Leader.
Creekwatch
Creekwatch is a community program that offers volunteer opportunities to help connect people to nature, contribute to improving waterways, and encourage stewardship of waterways by the local community.
Interested community members are invited to adopt their local creek and learn from our Creekwatch project partners at OzFish to undertake waterway monitoring including:
Fish sampling
Water Quality monitoring (pH, TSS, Temp, Conductivity, Dissolved Oxygen)
Macroinvertebrate sampling.
Creekwatch is also an excellent opportunity for interested schools to foster curiosity and learning about our local environment.
For more information on how to participate in this program, please contact creekwatch@ozfish.org.au.
Creekwatch Adopt a Creek Guide (PDF, 13.8 MB)
Reef Health Monitoring
Townsville City Council proudly support Reef Check Australia to lead volunteers in the annual monitoring of our nearshore Reef at Magnetic Island. Volunteers collect reef health data whilst SCUBA diving. The data is then shared with the Dry Tropics Partnership for Healthy Waters to include in their annual report card on waterway health. To find out more or get involved, please contact seqsurveys@reefcheckaustralia.org.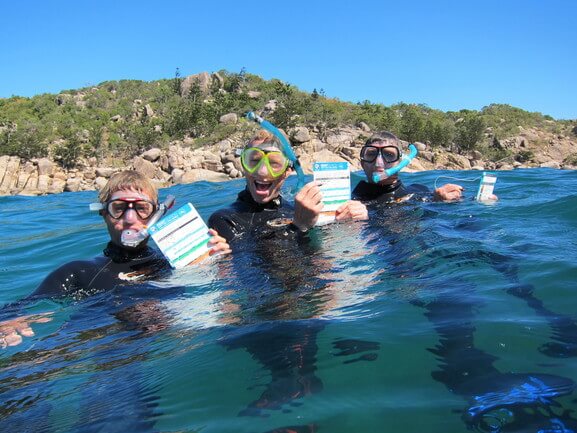 Townsville's Water Quality Improvement Plan
The Black Ross (Townsville) Water Quality Improvement Plan (WQIP) has been prepared by Creek to Coral and its partners with funding from the Australian Government's Coastal Catchments Initiative (CCI) program. The WQIP is based on Total Water Cycle Management principles and focuses principally on the management of urban and peri-urban stormwater related issues.
You can view or download the Water Quality Improvement Plan below:
Water Quality Improvement Plan (PDF 12.3 MB)
Townsville City Council: A Reef Guardian Council
Townsville City Council is proud to be recognised as a Reef Guardian Council, for our efforts to help protect, conserve, and enhance the values of the Great Barrier Reef World Heritage Area.
The Reef Guardian Council program is an initiative of the Great Barrier Reef Marine Park Authority, involving the coastal councils of the Great Barrier Reef region. The program aims to protect and conserve the Great Barrier Reef for future generations by encouraging, promoting and recognising improved environmental practices by local government. These actions lead to improved environmental outcomes for the Great Barrier Reef, including improving water quality and helping build its resilience in the face of climate change impacts.
The 2020-2024 program recognises local government actions across 5 key areas:
climate change
coastal development
land-based run-off
direct use (of the marine park)
reef heritage and social values.
Visit the Reef Guardian Councils website for further information.