Water Restrictions
The Townsville Service area is currently on Level 2 restrictions, this excludes Cungulla and Paluma service areas.
Why are restrictions needed?
You may have noticed things are pretty dry around Townsville at the moment. We've had two failed wet seasons, and experts are predicting another dry summer. With the huge amount of water we use and no new rain to fill it our dam is getting very low, and we need to do everything we can to make sure it doesn't go dry. It's never been more important for us all to Love Every Drop.
Want to know how our water supply is doing? Keep an eye on the water levels in the Ross River Dam.
Find out the water restrictions for:
Want to know more? Everything else you need to know about water restrictions.
Quick facts about our city's water
Townsville residents use over four times more water per person than in most major cities
The average Townsville household uses 1,700 litres of water per day, while in Brisbane, Sydney and Melbourne households use around 210 to 285 litres per day
More than 70% of Townsville's water supply is currently being used on residential lawns and gardens
We are currently going through one of the driest periods on record. The weather bureau forecasts that the strong El Nino cycle we're in means the dry spell is likely to continue for a while
What level 2 water restrictions mean to you
Level 2 water restrictions mean our water supply has fallen to 30%. Under Level 2 water restrictions, water patrol officers will be monitoring water use and will issue fines to those found to be repeatedly not complying with the restrictions. Any previous exemptions to restrictions no longer apply under Level 2.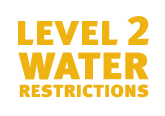 Details of what is allowed under Level 2 restrictions is below:
R

esidential, rural and commercial lawns and gardens (including school grounds/gardens)
Sprinkler and irrigation systems only to be used between 6pm and 8pm (Odd and evens system applies)
Handheld watering at any time on any day
Even houses - Tuesday and Saturday
Odd houses - Wednesday and Sunday
Washing vehicles and boats (other than flushing boat motors) by bucket or water efficient car wash only
Washing hard surfaces by pressure washers only
C

ouncil
24% reduction in irrigation
No watering between 9am and 4pm
To find out more about restrictions on council's water use, read the Frequently Asked Questions about Water Restrictions.
S

ports fields (including school sports fields)
Sprinklers and irrigation systems only to be used between 6pm and 8pm
Handheld watering at any time
C

ommercial nurseries and market gardens
No watering between 9am and 4pm
Watering outside of 9am to 4pm only by:

Water efficient sprinkler
Handheld trigger or twist nozzle
Irrigation system
Watering can or bucket
E

verything else you need to know about water restrictions

Water restrictions and managing our city's water supply and demand are very complicated issues. Below are some documents that cover all of the most common questions we get about water restrictions.

Council has reviewed its water restrictions policy and it was approved on 24 August, 2015. Read the policy to find out more detail.

For more information, please phone the Customer Service Centre on 1300 878 001 or email Townsville Water.