Water Restrictions
The Townsville Service area is currently on Level 2 restrictions, this excludes Cungulla and Paluma service areas.
What Level 2 means for you
Level 2 water restrictions mean our water supply has fallen to 30%. Under Level 2 water restrictions, water patrol officers will be monitoring water use and will issue fines to those found to be repeatedly not complying with the restrictions. Any previous exemptions to restrictions no longer apply under Level 2.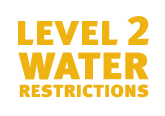 R

esidential, rural and commercial lawns and gardens (including school grounds/gardens)
Sprinkler and irrigation systems only to be used between 6pm and 8pm (Odd and evens system applies)
Handheld watering at any time on any day
Even houses - Tuesday and Saturday
Odd houses - Wednesday and Sunday
Washing vehicles and boats (other than flushing boat motors) by bucket or water efficient car wash only
Washing hard surfaces by pressure washers only
C

ouncil
56% reduction in irrigation
No watering between 9am and 4pm
To find out more about restrictions on council's water use, read the Frequently Asked Questions about Water Restrictions.
S

ports fields (including school sports fields), commercial nurseries and market gardens
Special considerations have been made for Townsville's sporting clubs which rely heavily on water for their day to day operations
New turf exemptions (for levels 2 and 3)
Council has approved for exemptions for new turf to continue into Level 3 restrictions.
The 14-day exemption is for newly laid turf on new properties only
There should only be one exemption granted per turfed area/property
Water is permitted for a maximum of two hours during the day only
Watering at night is not permitted
Watering system is to comply with restrictions after the 14 days or when the turf is established (whichever is the lesser)
Please note: Level 3 exemptions will cease to be available at a nominated time prior to the implementation of Level 4 restrictions (actual date to be determined by Ross Dam levels)
Townsville's water
Townsville residents use four times more water per person than in most major cities.
Water restrictions and managing our city's water supply and demand are very complicated issues. Below are some documents that cover all of the most common questions we get about water restrictions.
Read council's water policy to find out more or or email Townsville Water.