How to save water at home
Our water use
Townsville residents use about four times more water per person than our counterparts in most major cities. On average, about 70% of total household water in Townsville is used on our lawns and gardens.
To see how much water you use around the home, check the graphs and data on your next rates notice. You will be able to see comparisons of average daily water consumption from the current billing period to the previous year and the local area residential average.
If you are renting, you can find out how much water you are using at home by checking your water meter on the 14th of every month.
How to save water at home
We all have a range of water appliances in our homes. Have you ever wondered how much water they might use?
Below are estimates of typical water consumption to help you understand how much water is being consumed for different purposes and how you can save this precious resource by making some really simple changes.
In the garden
A common sprinkler uses up to 2,100 litres per hour.
A low flow sprinkler uses less than 600 litres per hour and is better for your lawn.
You can make a difference by switching off your automatic system in the rainy season to save thousands of litres!
In the bathroom
Showers
A normal showerhead uses 17 litres per minute.
A water saving showerhead uses 8 litres per minute.
Toilet
An old-style single flush uses 12 litres per flush.
A modern dual flush uses three litres for a half flush and six litres for a full flush.
You can make a difference by showering for less than four minutes and save up to 21,353 litres per year!
In the kitchen
Washing dishes by hand uses 18 litres of water.
Using an old dishwasher uses 60 litres per cycle.
Using a modern dishwasher uses 18 litres per cycle.
You can make a difference by rinsing dishes in a plugged sink and washing fruit and vegetables in a tub and then using water on the garden.
Leaks
A dripping tap uses 30 to 50 litres per day
A leaking pipe uses more than 7,000 per day
A leaking toilet uses 10 to 260 litres per day
You can make a difference by regularly checking your property for water leaks and save about 76,650 litres a year!
How to check for underground leaks
Turn off all taps on your property including the irrigation shut-off valve next to your water meter (if you have one)
Make sure no one is using water
Take a reading of the water meter
Check to see if the far right hand dial on the water meter is moving
Take another reading in one hour - this will be your leakage per hour
See how it compares with your Level 3 target of 1,000 litres per household per day
If the reading has not changed, repeat the process with the irrigation shut-off valve open (if you have one)
If the reading has changed or the dial is moving, contact a licensed plumber to locate and repair the leak.
If the self check doesn't indicate an underground leak and you believe the meter is faulty, you can contact the Customer Service Centre or email Townsville Water to arrange to have the meter tested. Please note that a fee applies for this service.
Water saving tips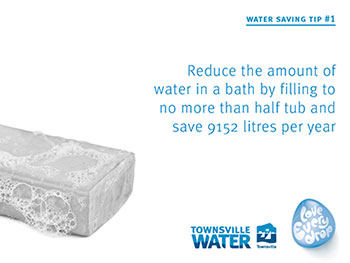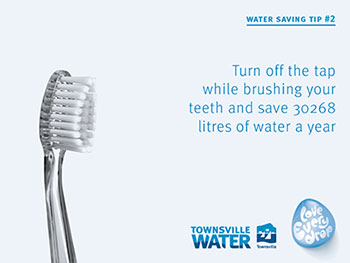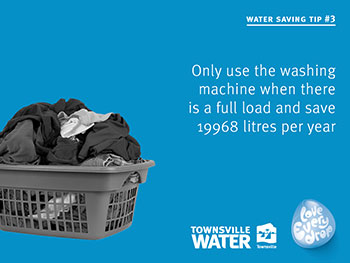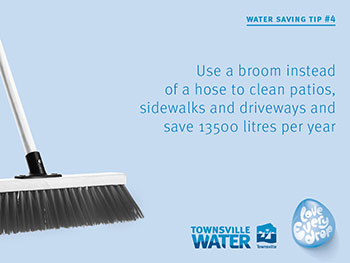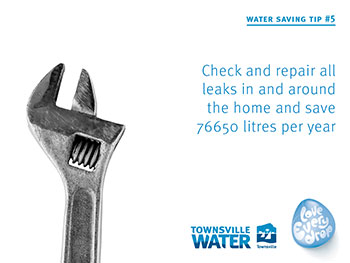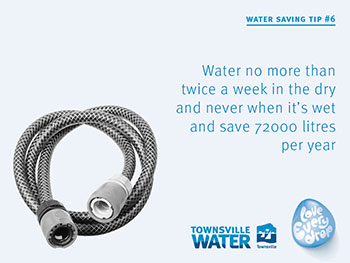 Useful links
The following websites provide useful information and water saving ideas: