Budget 2022/23
Townsville City Council has handed down its budget and operational plan for the 2022/23 period.
This budget builds on the 5-year investment horizon established last financial year to ensure long term growth and liveability of the city.
The Townsville City Council 2022/23 Budget and Operational Plan is a sustainable plan of investments that builds on the successes of 2021 and was adopted at the Ordinary Council Meeting on Tuesday 21 June 2022.
Mayor's Speech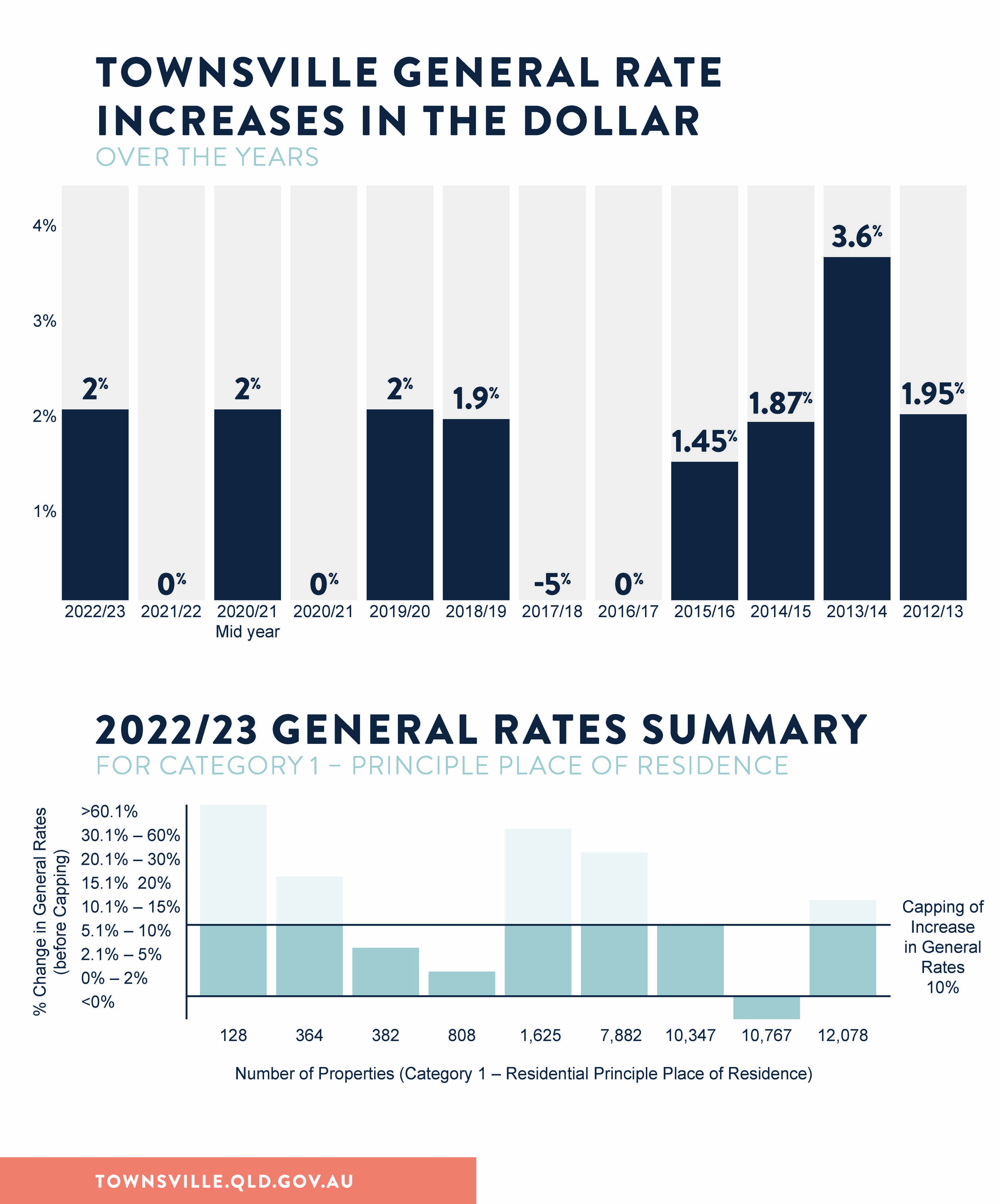 Themes
Investment in Growth and Liveability
Townsville City Council is investing a record $957.5 million into delivering essential services, infrastructure upgrades and major projects to help the city and local economy grow.
Council is positioning Townsville as a key location for economic development in Northern Australia by investing in growth industries, water security and economic diversification projects.
This budget includes an $80 million investment for enabling infrastructure to support the Lansdown Eco-Industrial Precinct; $22 million for the city's recycled water treatment facility; $74.5 million for the Haughton Pipeline Project Stage 2 and $50,000 to advance the Townsville North Queensland Defence Strategy.
These are transformational projects for the region and will position Townsville for future prosperity.
Investment in Community Safety
Townsville City Council is continuing to play its part in keeping the community safe, with its 2022/23 Budget including a $33.8 million investment in safety infrastructure.
This is a $19.2 million increase from 2021/22 and will go towards increased operating of security and surveillance, CCTV systems and street lighting, as well as the ongoing investment into youth services and the Community Response Vehicle.
The investment highlights Council's proactive response to enhancing the safety and liveability for the community.
Investment in Safe Connected City
Townsville City Council will invest $201 million into roads and active transport infrastructure across Townsville over the next 12 months.
Council recognises the importance of a safely connected city and currently maintains about 1700kms of road and 540kms of pathways across the region.
This budget prioritises the investment in new and enhanced roads and designs to expand the city's footpath and cycleway networks.
Investment in Clean and Tidy City
Townsville City Council will spend $96 million in 2022/23 to ensure our parks and open spaces look great and Townsville remains an attractive and liveable destination.
This includes upgrading and maintaining 424 parks and open spaces, 118 grassed drains, 372 road reserves and three cemeteries, a footprint equivalent to maintaining 5200 football fields.
Council's 2022/23 Budget has also dedicated close-to $2 million to ensure the city's four street sweepers can operate seven days a week to keep the region's streets stay clean and tidy.
Investment in Affordability
Townsville City Council's 2022/23 Budget supports some of the region's most vulnerable residents with a $33 million commitment to discounts, grants, partnership funding, sponsorship and foregoing of revenue.
Council has committed to helping residents as much as possible in this environment of rising costs and affordability challenges.
Through this budget, seniors, community groups, sporting organisations, residents facing financial hardship and first home buyers are among those who may be eligible receive to assistance from Council.
Investment in Water Security
Townsville City Council's 2022/23 Budget continues its focus on water security with a record $214.9 million invested in critical water infrastructure projects over the next 12 months.
Water is fast becoming one of the world's most valuable commodities and Council is investing in water security projects with a focus on population and industry growth.
Council has committed money to projects like the pipeline duplication project between Ross River Dam and the Douglas Water Treatment Plan, an innovative recycled water treatment plant, Haughton Pipeline Project Stage 2 and upgrading of the underground water network across the city.
Capital Highlights
Townsville City Council continues with its 3-year capital investment plan to deliver critical services cross Townsville through $498.7 million for infrastructure services and major projects like Lansdown, NQ Spark and the Haughton Pipeline.