Healthy recipes given out at Get Active Expo
Date published: 11 January 2019
Healthy eating will take centre stage for the first time at this week's Get Active Expo at Townsville Stadium.
More than 100 sporting clubs and associations will be promoting a healthier lifestyle at the Townsville City Council event on Sunday between 10am and 2pm.
Dietitian Vivienne Salu will show people how to use more fruit and vegetables in the kitchen and create affordable healthy meals at three workshops at this year's event.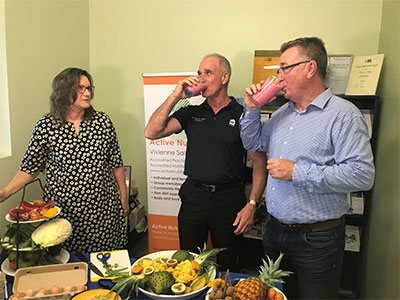 Attendees can take home recipe cards for the meals prepared in the sessions.
Ms Salu has helped local families and elite athletes at the North Queensland Cowboys, the Townsville Fire, the Townsville Crocodiles and the North Queensland Fury.
Acting Mayor Les Walker said the Get Active Expo will be a great opportunity for locals to learn how to improve their diet.
"Vivienne will be doing quite a few different things and some really simple things that anyone can do," Cr Walker said.
"It's good timing given a lot of people are looking for inspiration after setting new year's resolutions.
"People will learn how easy it is to include more vegetables in every day meals."
Councillor Maurie Soars – a veteran sports administrator – said Council is committed to building a healthier community.
"We focussed on sport, recreation, health and fitness options for the first three years of the event but food is an important ingredient in a better life," Cr Greaney said.
"The kitchen is just as important as the gym when you're trying to lose weight."
Community and Cultural Development Committee Chair Councillor Colleen Doyle said it's a great opportunity for exhibitors.
"We will have 118 clubs and associations showcasing their sport and activities," Cr Doyle said.
"It's a great day for residents who are looking to get fit or try a new sport."
Residents can get more information from Townsville City Council's Active Townsville website.