Riverway Library
| | |
| --- | --- |
| Investment | $8.5 million |
| Jobs | 12 |
| Goal | 4. A sustainable destination that embraces and participates in the arts, sports and events and recreational activities. |
| Strategic Purpose | To co-locate a modern and innovative library facility with the Pinnacles Art Gallery and outside amenities including free public swimming pools. |
| Status | Construction commenced mid-June |
Riverway Upper Lagoon Closure
Riverway upper lagoon will temporarily close to enable the installation of scaffold to safely access the building roof perimeter, allowing the removal and replacement of cladding materials to comply with recent legislation changes driven by the Safer Buildings register.
The replacement of cladding materials now identified as combustible as part of the Riverway Library Fit Out Project is the most cost-effective long-term management option to address this building compliance issue.
Public access to the lower changerooms and lower lagoon via riverside path will remain open.
Closed: Tuesday 4 October 2022
Open: Wednesday 30 November 2022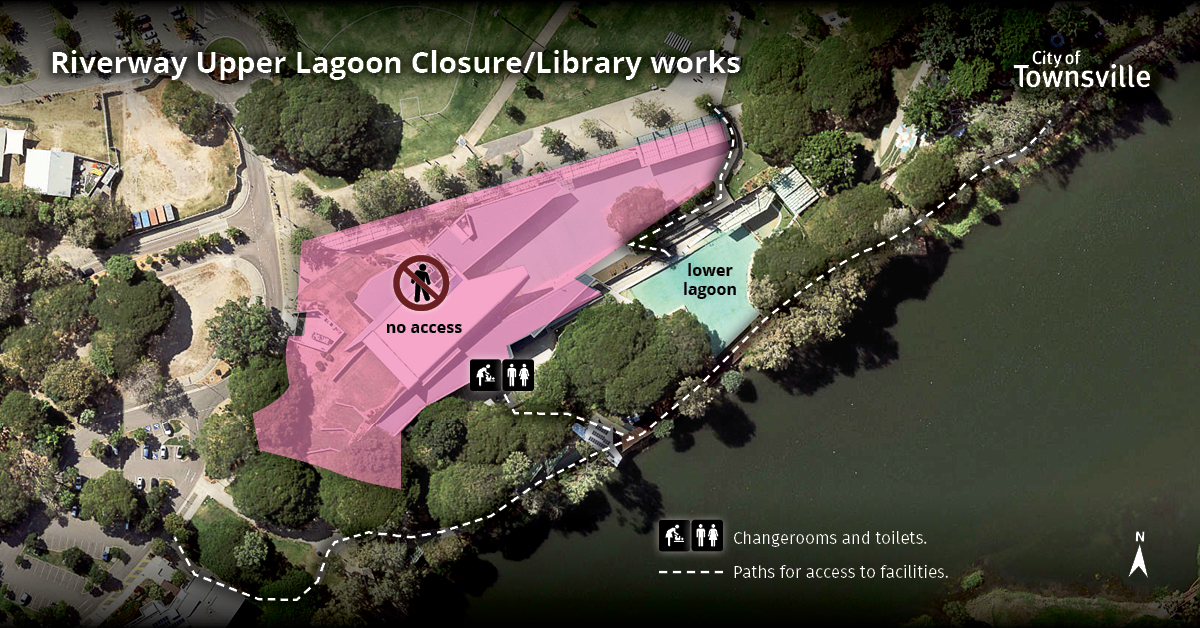 Construction is commencing to relocate the Thuringowa Library into the Riverway Arts Precinct.
The move encompasses an overhaul of the current Riverway Arts Centre, creating a future focused, mixed-use facility that catalyses new industries, provides safe 24-hour community facilities and a space for local businesses to operate and innovate.
The relocation will co-locate a modern and innovative library facility with outside amenities including free public swimming pools, a 'creative hub' supporting physical fabrication and digital production (audio, music and video podcasting), experimentation, collaboration and knowledge sharing, 24-hour community facilities and safe spaces for at-risk young people, parenting rooms, business lounge and 24-hour meeting rooms to support the growing remote workforce.
Along with the library, Council is also refurbishing the Ecoactive Centre near the children's playground.
The multi-million-dollar project will be funded across two financial years and once complete, will further establish the Riverway precinct's reputation as Townsville's premier community space.
The new library is expected to be completed by end of December 2022, weather and conditions permitting.
Pinnacles Gallery, located within Riverway Arts Centre, will be closed during construction.