Exhibitions
Pinnacles is open to the public without needing a booking.
A maximum of 90 people will be allowed inside the Gallery.
---
2023 Exhibitions Calendar
---
Current Exhibitions
Leftover Love – New Directions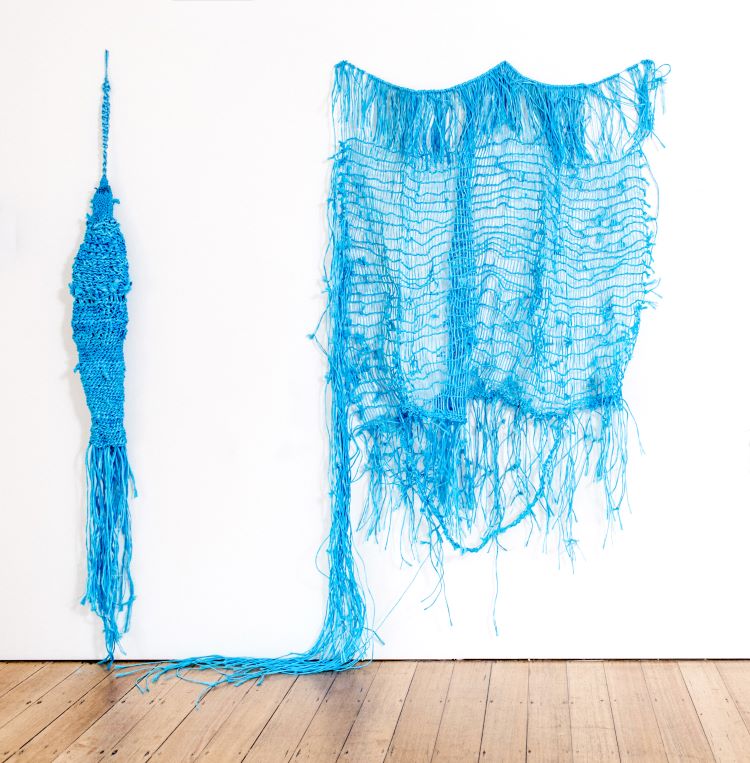 Exhibition Dates: 29 April – 18 June
Pinnacles Gallery
Leftover Love – New Directions brings together contemporary artists who use textiles or textile techniques to create sculptural forms that engage with ideas around sustainability, environment, and material culture.
This exhibition has evolved from the 2021 show Leftover Love, curated by the Australian Tapestry Workshop.
These artists are driven by a desire to have a sustainable practice; all reuse, repurpose and remake using found and discarded materials. Techniques such as stitching, knitting, weaving, and quilting are used to create textural and sculptural forms that coexist together within a shared space.

Image: Carolyn Cardinet, Fish Trap and Dredging , 2021, found baling twine, installation view (detail). Photographer: Marie-Luise Skibbe.
---
Upcoming Exhibitions
One foot on the ground, one foot in the water
Exhibition Dates: 24 June - 27 August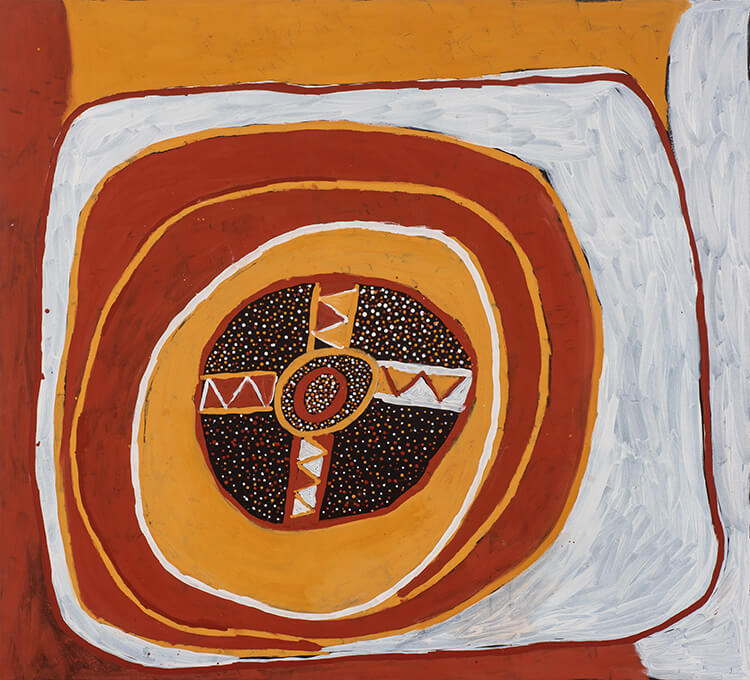 Pinnacles Gallery
At a time when many are experiencing complex feelings about the frailty of life and future uncertainty, the exhibition One foot on the ground, one foot in the water turns to the subject of our own mortality. Eleven contemporary artists present paintings, sculptures, installations and sound works that invoke experiences of loss, impermanence, transience, remembrance, memorialisation and their own expressions of grief.
Each artist offers insight into the ways we let go of death, or hold it close, as a continuing living presence in the world. Artworks and other objects can reflect these kinds of present-absences, allowing the departed to continue to resonate in our memory, and in objects that outlive them.
Curator's Talk
Saturday 24 June 2023
4 - 5pm
Pinnacles Gallery
Join One foot on the ground, one foot in the water Curator Travis Curtin as he gives us an insight in this thought-provoking exhibition.
Free, no bookings required.
Launch
Saturday 24 June 2023
5pm for 5:30pm speeches
Pinnacles Gallery
Guest Speaker: Curator Travis Curtin.
Free, no bookings required.
Artist Forum
Saturday 26 August 2023
10:30am
Pinnacles Gallery
Join One foot on the ground, one foot in the water guest speakers, Pedro Wonaeamirri, Timothy Cook, and Patrick Freddy Puruntatamiri as they discuss their artworks on display with the Townsville Community.
Free, no bookings required.
---
One foot on the ground, one foot in the water is a La Trobe Art Institute exhibition toured by NETS Victoria.
Curated by Travis Curtin.
Image: Timothy Cook, Kulama 2013, natural earth pigments on linen, 200 x 220 cm, Courtesy of the artist, Jilamara Arts and Crafts Association, Milikapiti, and Vivien Anderson Gallery, Melbourne, Photographer: Ian Hill.
Groundswell: Recent Movements within Art and Territory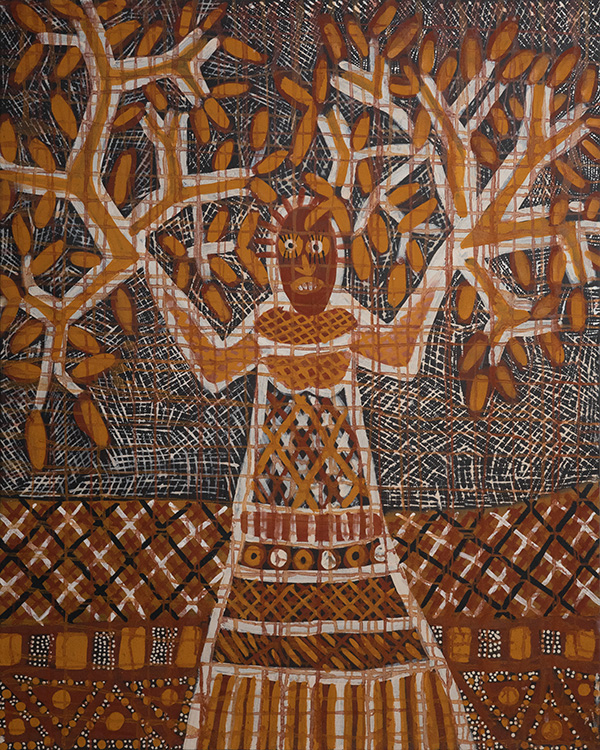 Pinnacles Gallery
Exhibition dates: 29 January - 23 April 2022
Groundswell showcases the diversity, technical mastery and social importance of Northern Territory artists whilst foregrounding the wider role art plays in the process of mass social, political and cultural change. The stirring momentum of the exhibition's title exudes from each of the works on display as the artists give voice to their concerns about water sustainability and its impact on our collective futures. Groundswell features over twenty works by Northern Territory artists including Jacky Green, Kelly Lee Hickey, June Mills, Aly de Groot, Patricia Phillipus Napurrula, Lee Harrop, Maicie Lalara, Mel Robson, Jennifer Taylor and Tarzan JungleQueen. The works in Groundswell extend through vast geographies, perspectives and artistic mediums to stake their claim, spanning moving image, visualised data, painting, printmaking, ceramics and sculpture. These works find commonality in their shared determination to bridge the message of each individual artist to our collectively shared concerns as Northern Territory citizens. In this way, visual culture is harnessed to agitate for the paradigm shift we so desperately need if we are to preserve our most precious resource into an uncertain future.
Curated by Carmen Ansaldo, SPARK NT Curator.
Image: Johnathon World Peace Bush, Bush Family Tree, 2020, ochre on canvas, 150 x 120 cm. Image courtesy of The Macquarie Group Collection.
Activist Toolkit
Click the image below to download the Activist Toolkit, which has been created to highlight the key issues at stake. It provides simple, concrete tactics to equip you as an active participant moving within the same currents of change.

Virtual Tour
Cultural Warning
Aboriginal and Torres Strait Islander visitors are advised that this exhibition may contain images, names and accounts of people who have passed away. We also wish to advise that some of the topics discussed may be distressing. Pinnacles Gallery is committed to helping our audiences understand the experiences, both past and ongoing, of Australian First Nations people as part of our commitment to truth and reconciliation.
ARRYN SNOWBALL: SLACK WATER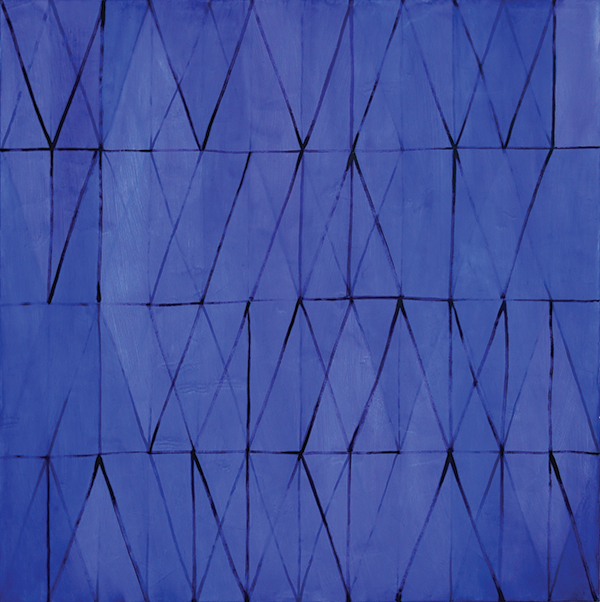 Pinnacles Gallery
Exhibition dates: 26 November - 22 January 2022
Hailing from Innisfail, Arryn Snowball's artistic career has been hard to predict. After leaving North Queensland for study and then work in Brisbane, Snowball then undertook a sustained residency in Tokyo, before deciding to split his time between his Berlin studio, and the New South Wales hinterlands, where he is building a modest studio and living space. Slack Water is a suite of new and recent works partially inspired by the poetry of Nathan Shepherdson, a long-time friend of the artist, as well as a growing understanding of what scientists have dubbed the Anthropocene, a term used to describe the present epoch, in which the changes to climate and ecology caused by the human race are at least as significant as any other cause.
Slack Water brings together the artist's recent paintings, gouache studies, and experimental, performance-based drawings usually executed in response to music with chalk on blackboards. The dark walls of the Pinnacles Gallery, of course, offers a far larger field for this project and promises to be a highlight of the exhibition. Slack Water will also be exhibited at the University of the Sunshine Coast Art Gallery in 2022.
Exhibition Launch
6 - 8pm
Friday, 26 November 2021
Pinnacles Gallery
Floor Talk with poet Nathan Shepherdson
10 - 11am
Saturday, 27 November 2021
Pinnacles Gallery
Image: Arryn Snowball, Deep above, 2020 tempera on linen 190 x 190 cm
21: TAFE QLD Visual Art Students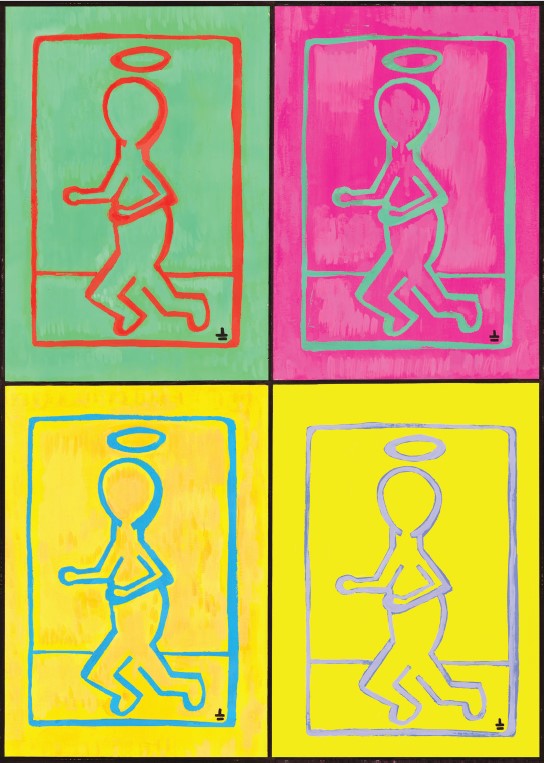 Pinnacles Gallery
Exhibition dates: 29 October - 20 November 2021
The annual exhibition of TAFE Queensland visual art student's works. Boasting an array of approaches and media, this year's exhibition once again promises to be an exciting glimpse into the future of Townsville's emerging artists.
Exhibition Launch
6-8pm
Friday, 29 October 2021
To be officially launched by Cr Ann-Maree Greaney
Pinnacles Gallery
Image: Tenielle Edmonson, Saints 2021, gouache and stencil, 53 x 73 cm. Image courtesy of the Artist.
UP CLOSE: Wearable Art Creatives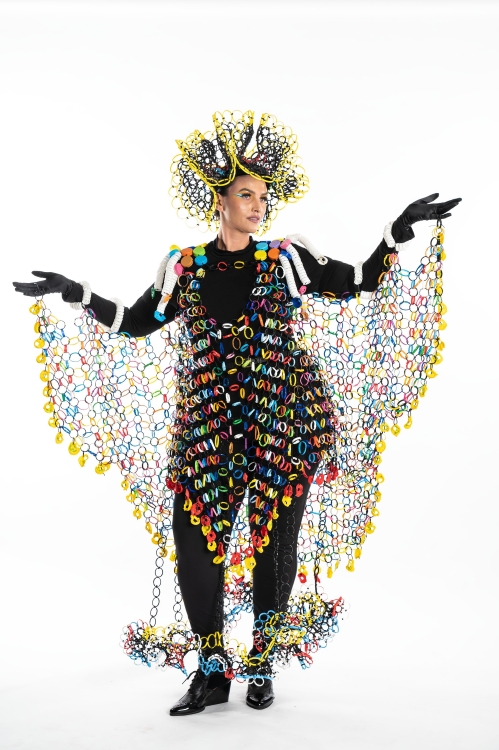 Pinnacles Gallery
Exhibition dates: 29 October - 20 November 2021
Wearable Art occupies an exciting and innovative space that fuses many art forms and techniques, from the use of recycled or high-tech materials and industrial design, through to millinery, sculpture and traditional craft and weaving techniques. Wearable Art Creatives (WAC) was established in 2019 and aims to grow and promote wearable art as an innovative, vibrant, and creative art form in Townsville, its surrounding areas, and beyond. The 2021 WAC Show was presented at the inaugural POSE event as part of the North Australian Festival of Arts (NAFA) in Townsville, in August 2021. This exhibition will feature a selection of the wearable artworks presented at the POSE event, so that you can get an 'UP CLOSE' look at these spectacular creations.
Exhibition Launch
6-8pm
Friday, 29 October 2021
To be officially launched by Cr Ann-Maree Greaney
Pinnacles Gallery
Image: Alison McDonald, Ring Cycle 2021, reused plastics (from bottles) and cable ties, dimensions variable. Image Courtesy of Wearable Art Creatives. Photographer: Fiona Cochrane.
IN CAHOOTS: Artists Collaborate Across Country, presented by Fremantle Arts Centre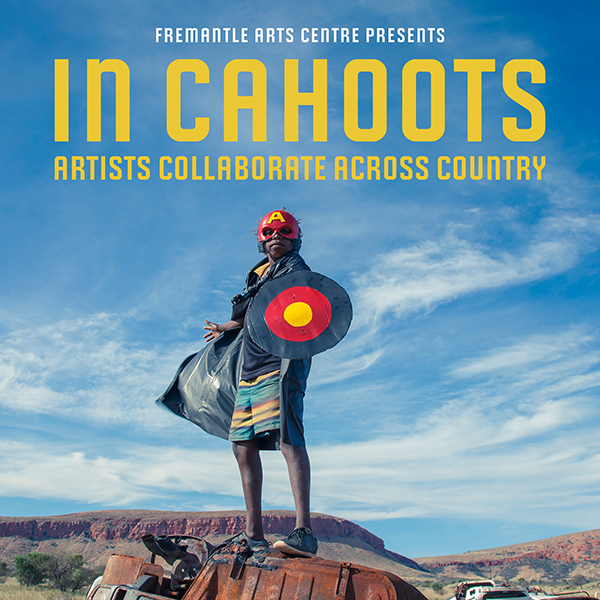 Pinnacles Gallery
Exhibition dates: 20 August - 22 October 2021
Almost two years in the making and spanning the nation, In Cahoots celebrates the unique and energised artistic works that emerge when artists collaborate across cultures. The exhibition is the result of six residencies with remote and regional Aboriginal Arts Centres, undertaken by independent Aboriginal and non-Aboriginal artists from across Australia.
In the spirit of artists working together and under the radar, In Cahoots is an apt, if slightly mischievous banner for these partnerships. Such camaraderie was vital in the face of challenges such as washed out roads, flat tyres and extreme weather – in addition to the immense personal and creative energy and logistical efforts that have gone into these collaborative projects. At the heart of these collaborations is an exceptional willingness to explore, experiment, learn and share across cultures.
Participating Artists and Arts Centres: Tony Albert & Warakurna Artists, Neil Aldum & Baluk Arts, Louise Haselton & Papulankutja Artists, Claire Healy & Sean Cordeiro & Martumili Artists, Trent Jansen & Mangkaja Arts Resource Agency, Curtis Taylor & Buku-Larrnggay Mulka Arts Centre.
Curated by Erin Coates, Fremantle Arts Centre.
Exhibition Launch
6 - 8pm
Friday, 20 August 2021
Pinnacles Gallery
Image: Tony Albert, Kieran Lawson and David C Collins, Warakurna Superhero #1 (detail), 2017, C-type print, 100 x 150 cm. Image courtesy of the artists, Sullivan & Strumpf and Warakurna Artists
Graphic Tendencies: Works from the City of Townsville Art Collection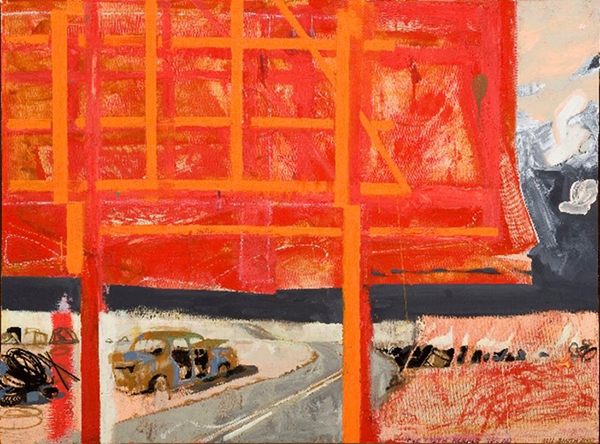 Pinnacles Gallery
Exhibition dates: 30 April - 8 August 2021
The Townsville region has long been the home of many artists deeply invested in graphic practices, art which uses the visual elements for immediate and satisfying results. With a strong commitment to drawing, which has been translated into disciplines such as printmaking, painting and photography, Townsville and North Queensland artists and collectors have helped shape the City of Townsville Art Collection to include a range of visually dynamic works. a selection of which are presented here. Graphic Tendencies includes works by Davida Allen, Garry Andrews, Vincent Bray, George Baldessin, Barbara Cheshire, John Firth-Smith, Christian Flynn, George Gittoes, Robert Jacks, Scott Redford, Margaret Wilson and many more.
Curated by Jonathan McBurnie.
Exhibition Launch
6 - 8pm
Friday, 30 April 2021
Pinnacles Gallery
Image: Ian Smith, The Meaning Beyond the Sign – The Truth Behind the Ad, 2002, oil and synthetic polymer paint on canvas, 107 x 144cm.
Collection of the City of Townsville. Purchased from Heiser Gallery, 2011. Image courtesy of the artist.
Patricia Piccinini: Curious Affection on Tour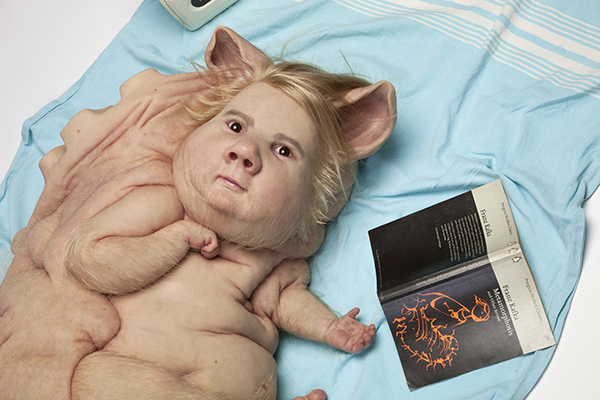 Pinnacles Gallery
Exhibition dates: 19 February - 16 April 2021
Patricia Piccinini (b.1965) invites audiences to think about their place in a world where advances in biotechnology and digital technologies blur the lines between human, nature and the artificial world. The artist's fascination with these boundaries and relationships led The New York Times to describe her creations as 'sculptures of life forms that don't exist' – her lifelike hybrid creatures seamlessly blend human, animal and machine elements to reveal life forms that are extraordinarily familiar.
Piccinini said, 'I am interested in relations: the relationship between the artificial and the natural, between humans and the environment. The relationships between beings, within families and between strangers. And the relationship between the audience and the artwork.'
Influenced by science, nature, Surrealism and the unconscious, Piccinini's collisions of forms are sometimes startling but rarely fearsome. While her artwork explores the implications of new technological developments, her fantastic creations also engage audiences on an emotional level, eliciting empathy and challenging conventional notions of beauty, perfection and ideal forms.
Piccinini said, 'over the years, I have built up a sort of alternative world that exists just beyond the real world we live in. It is strange, but familiar at the same time. It exists as moments, objects and images that overlap with the real world in the gallery space.'
Exhibition Launch
6 - 8pm
Friday, 19 February 2021
Pinnacles Gallery
Image: Patricia Piccinini, Teenage Metamorphosis (detail) 2017. Silicone, fibreglass, human hair, found objects, 25 x 137 x 75 cm
Purchased 2018 Queensland Art Gallery | Gallery of Modern Art Foundation. Collection: Queensland Art Gallery
MAKE, an exhibition of TAFE students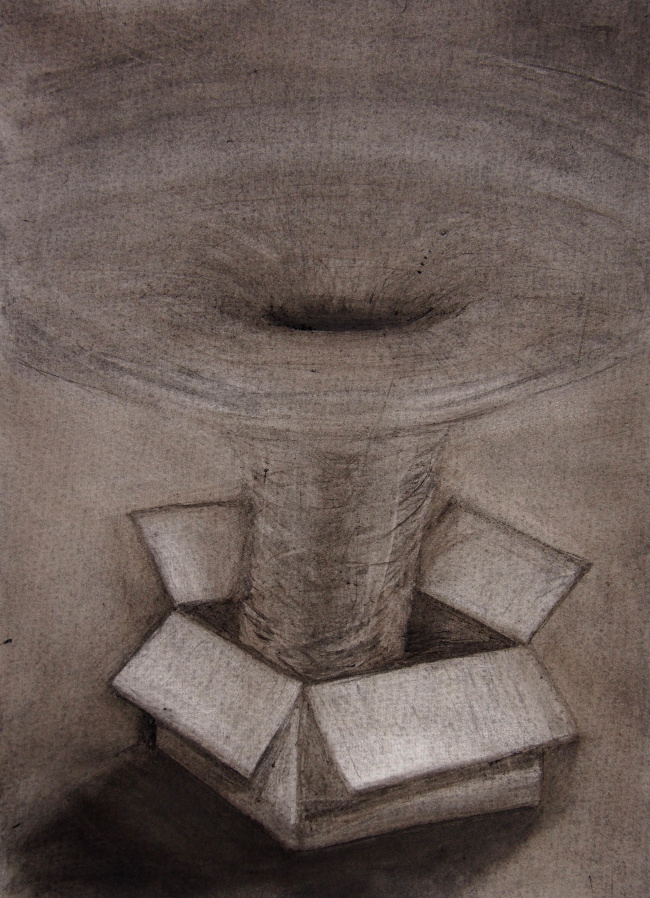 Pinnacles Gallery
Exhibition dates: 6 November – 4 December 2020
Townsville City Galleries is happy to be reopening Pinnacles Gallery to the public, in time for MAKE, an exhibition of TAFE students. Boasting an array of approaches and media, MAKE promises to be a wonderful return to the long-missed gallery space, and an exciting glimpse into the future of Townsville's emerging artists.
EXHIBITION LAUNCH | Friday 6 November 2020 | 4-6pm
To be officially launched by Susan Kinobe, Executive Director, Corporate Services TAFE Queensland
No RSVP, however, COVID Safe implementations are in place including capacity restrictions. Attendance will be on a first come, first serve basis.
Enquiries: 07 4727 9011 or galleries@townsville.qld.gov.au
Image: Jamie Banks, Out of the Box [detail] 2020, charcoal on cartridge paper, 59 x 42 cm. Courtesy of the Artist
Past exhibitions
We have delivered many high calibre exhibitions over the years. Take a look at some of the previous exhibitions below.