Exhibitions
Current exhibition
Graphic Tendencies: Works from the City of Townsville Art Collection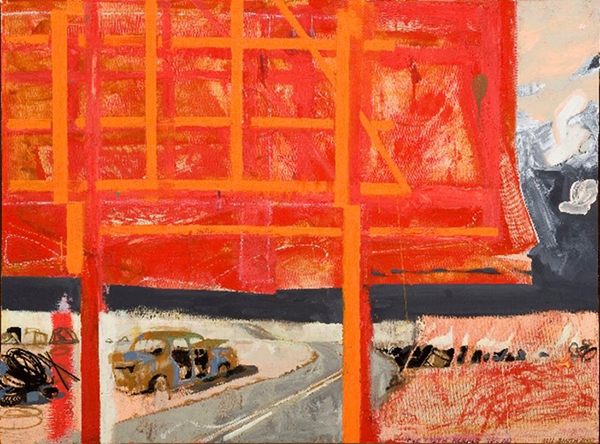 Pinnacles Gallery
Exhibition dates: 30 April - 8 August 2021
The Townsville region has long been the home of many artists deeply invested in graphic practices, art which uses the visual elements for immediate and satisfying results. With a strong commitment to drawing, which has been translated into disciplines such as printmaking, painting and photography, Townsville and North Queensland artists and collectors have helped shape the City of Townsville Art Collection to include a range of visually dynamic works. a selection of which are presented here. Graphic Tendencies includes works by Davida Allen, Garry Andrews, Vincent Bray, George Baldessin, Barbara Cheshire, John Firth-Smith, Christian Flynn, George Gittoes, Robert Jacks, Scott Redford, Margaret Wilson and many more.
Curated by Jonathan McBurnie.
Exhibition Launch
6 - 8pm
Friday, 30 April 2021
Pinnacles Gallery
Image: Ian Smith, The Meaning Beyond the Sign – The Truth Behind the Ad, 2002, oil and synthetic polymer paint on canvas, 107 x 144cm.
Collection of the City of Townsville. Purchased from Heiser Gallery, 2011. Image courtesy of the artist.
Upcoming Exhibitions
IN CAHOOTS: Artists Collaborate Across Country, presented by Fremantle Arts Centre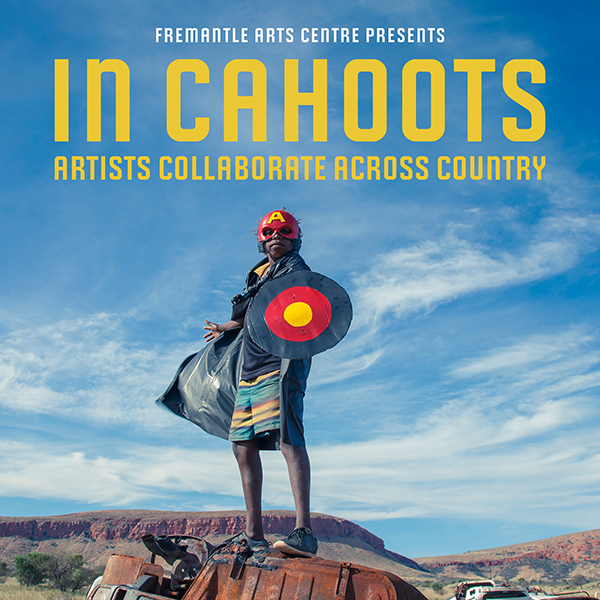 Pinnacles Gallery
Exhibition dates: 20 August - 22 October 2021
Almost two years in the making and spanning the nation, In Cahoots celebrates the unique and energised artistic works that emerge when artists collaborate across cultures. The exhibition is the result of six residencies with remote and regional Aboriginal Arts Centres, undertaken by independent Aboriginal and non-Aboriginal artists from across Australia.
In the spirit of artists working together and under the radar, In Cahoots is an apt, if slightly mischievous banner for these partnerships. Such camaraderie was vital in the face of challenges such as washed out roads, flat tyres and extreme weather – in addition to the immense personal and creative energy and logistical efforts that have gone into these collaborative projects. At the heart of these collaborations is an exceptional willingness to explore, experiment, learn and share across cultures.
Participating Artists and Arts Centres: Tony Albert & Warakurna Artists, Neil Aldum & Baluk Arts, Louise Haselton & Papulankutja Artists, Claire Healy & Sean Cordeiro & Martumili Artists, Trent Jansen & Mangkaja Arts Resource Agency, Curtis Taylor & Buku-Larrnggay Mulka Arts Centre.
Curated by Erin Coates, Fremantle Arts Centre
Exhibition Launch
6 - 8pm
Friday, 20 August 2021
Pinnacles Gallery
Image: Tony Albert, Kieran Lawson and David C Collins, Warakurna Superhero #1 (detail), 2017, C-type print, 100 x 150 cm. Image courtesy of the artists, Sullivan & Strumpf and Warakurna Artists
TAFE 2021 Exhibition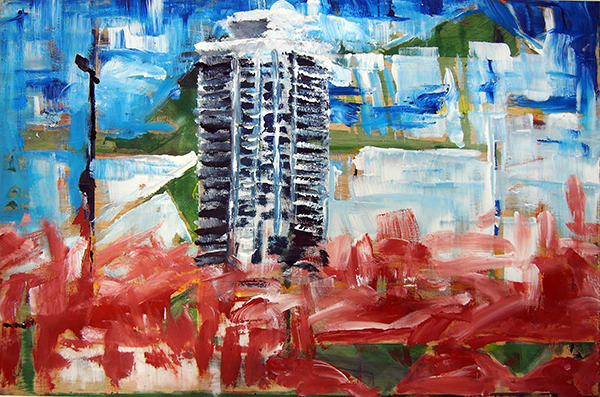 Pinnacles Gallery
Exhibition dates: 29 October - 19 November 2021
The annual exhibition of TAFE Queensland visual art student's works. Boasting an array of approaches and media, this year's exhibition once again promises to be an exciting glimpse into the future of Townsville's emerging artists.
Exhibition Launch
4 - 6pm
Friday, 29 October 2021
Pinnacles Gallery
Image: Stephen Terry, Arcology, 2020, Acrylic paint on board, 60 x 90 cm. From MAKE, an exhibition of TAFE students 2020.
ARRYN SNOWBALL: SLACK WATER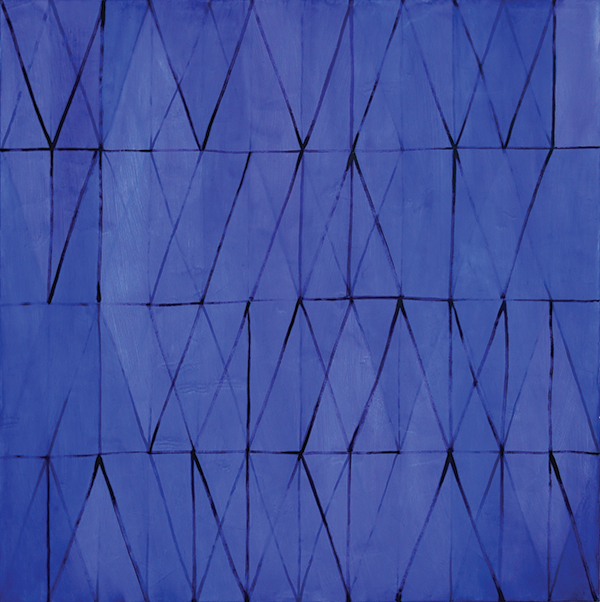 Pinnacles Gallery
Exhibition dates: 24 November - 4 February 2021
Hailing from Innisfail, Arryn Snowball's artistic career has been hard to predict. After leaving North Queensland for study and then work in Brisbane, Snowball then undertook a sustained residency in Tokyo, before deciding to split his time between his Berlin studio, and the New South Wales hinterlands, where he is building a modest studio and living space. Slack Water is a suite of new and recent works partially inspired by the poetry of Nathan Shepardson, a long-time friend of the artist, as well as a growing understanding of what scientists have dubbed the Anthropocene, a term used to describe the present epoch, in which the changes to climate and ecology caused by the human race are at least as significant as any other cause.
Slack Water brings together the artist's recent paintings, gouache studies, and experimental, performance-based drawings usually executed in response to music with chalk on blackboards. The dark walls of the Pinnacles Gallery, of course, offers a far larger field for this project and promises to be a highlight of the exhibition. Slack Water will also be exhibited at the University of the Sunshine Coast Art Gallery in 2022.
Exhibition Launch
6 - 8pm
Friday, 24 November 2021
Pinnacles Gallery
Image: Arryn Snowball, Deep above, 2020 tempera on linen 190 x 190 cm
Patricia Piccinini: Curious Affection on Tour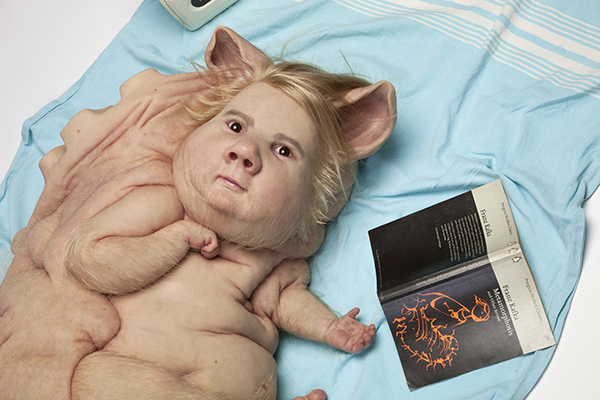 Pinnacles Gallery
Exhibition dates: 19 February - 16 April 2021
Patricia Piccinini (b.1965) invites audiences to think about their place in a world where advances in biotechnology and digital technologies blur the lines between human, nature and the artificial world. The artist's fascination with these boundaries and relationships led The New York Times to describe her creations as 'sculptures of life forms that don't exist' – her lifelike hybrid creatures seamlessly blend human, animal and machine elements to reveal life forms that are extraordinarily familiar.
Piccinini said, 'I am interested in relations: the relationship between the artificial and the natural, between humans and the environment. The relationships between beings, within families and between strangers. And the relationship between the audience and the artwork.'
Influenced by science, nature, Surrealism and the unconscious, Piccinini's collisions of forms are sometimes startling but rarely fearsome. While her artwork explores the implications of new technological developments, her fantastic creations also engage audiences on an emotional level, eliciting empathy and challenging conventional notions of beauty, perfection and ideal forms.
Piccinini said, 'over the years, I have built up a sort of alternative world that exists just beyond the real world we live in. It is strange, but familiar at the same time. It exists as moments, objects and images that overlap with the real world in the gallery space.'
Exhibition Launch
6 - 8pm
Friday, 19 February 2021
Pinnacles Gallery
Image: Patricia Piccinini, Teenage Metamorphosis (detail) 2017. Silicone, fibreglass, human hair, found objects, 25 x 137 x 75 cm
Purchased 2018 Queensland Art Gallery | Gallery of Modern Art Foundation. Collection: Queensland Art Gallery
MAKE, an exhibition of TAFE students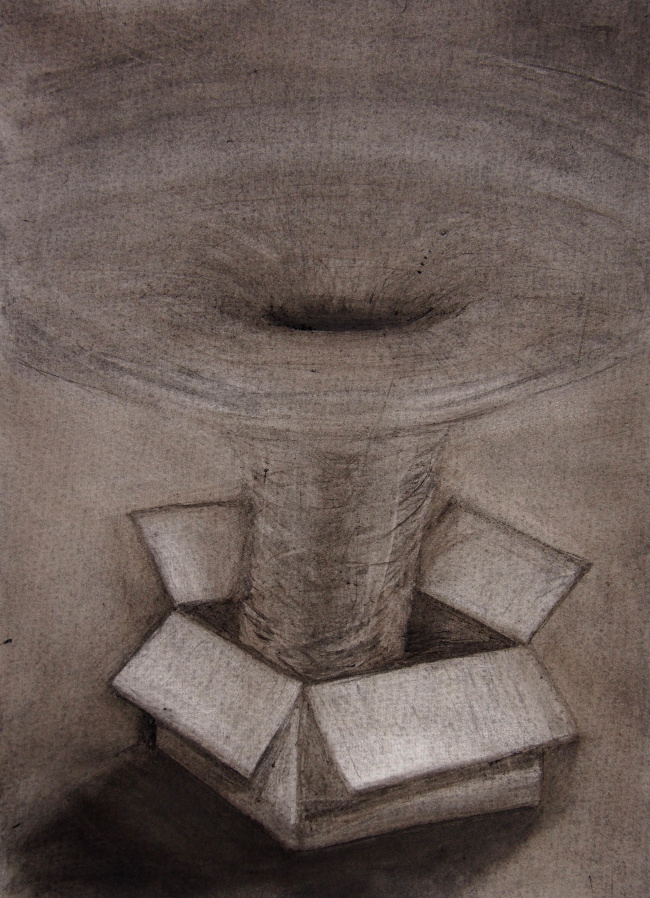 Pinnacles Gallery
Exhibition dates: 6 November – 4 December 2020
Townsville City Galleries is happy to be reopening Pinnacles Gallery to the public, in time for MAKE, an exhibition of TAFE students. Boasting an array of approaches and media, MAKE promises to be a wonderful return to the long-missed gallery space, and an exciting glimpse into the future of Townsville's emerging artists.
EXHIBITION LAUNCH | Friday 6 November 2020 | 4-6pm
To be officially launched by Susan Kinobe, Executive Director, Corporate Services TAFE Queensland
No RSVP, however, COVID Safe implementations are in place including capacity restrictions. Attendance will be on a first come, first serve basis.
Enquiries: 07 4727 9011 or galleries@townsville.qld.gov.au
Image: Jamie Banks, Out of the Box [detail] 2020, charcoal on cartridge paper, 59 x 42 cm. Courtesy of the Artist