North Queensland Ceramic Awards
2022 biennial North Queensland Ceramic Awards
The biennial North Queensland Ceramic Awards has long aimed to increase public exposure to a high standard of pottery from around the nation. A showcase for both well-known and emerging artists, this competition displays the diversity of ceramic art currently being produced in Australia.
The City of Townsville Art Collection Award of $10,000 continues to provide both opportunities for artists to become a part of one of the nation's most significant ceramic collections, as well as ensuring the continued growth of this important subsection of the City of Townsville Art Collection.
Selected works will be on display at Perc Tucker Regional Gallery from 22 July to 25 September 2022 and will be eligible in various categories beyond the major City of Townsville Art Collection Award.
Publication
Gain an insight into the North Queensland Ceramic Awards in the 2022 digital publication below!
Physical publications with images only are also available at Perc Tucker Regional Gallery for $10, while stocks last.
Celebratory Video
Townsville City Galleries is pleased to present a video celebrating the 2022 North Queensland Ceramic Awards!
Be sure to check out this fantastic exhibition on display at Perc Tucker Regional Gallery until 25 September 2022.
Here's to the 2022 North Queensland Ceramic Awards!
North Queensland Ceramic Awards Virtual Tour
You can now view the 2022 North Queensland Ceramic Awards and Pat Hoffie's Hi-Vis from the comfort of your home!

To view the tour:
Use the tool in the bottom right corner to see different views of the gallery or move between floors.
Zoom in and out using your mouse or finger controls.
North Queensland Ceramic Awards Prize Winners
City of Townsville Art Collection Award - $10,000 Acquisitive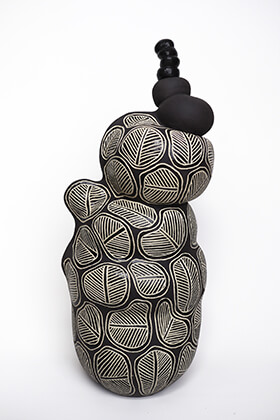 Sally Walk
A Little Off Centre 2022
Midfire clay with black slip and clear glaze
65 x 23 x 30 cm
About the Artist
Sally Walk is a Melbourne based ceramicist who has been working in clay for 30 years. She has exhibited extensively nationally and internationally. Most recently at Taoxichuan in Jingdezhen China, and Yingge Ceramics Museum in Taiwan. In 2015 she was awarded the Lorenzo il Magnifico Award – Ceramics at the Florence Biennale. Her work is held in private and public institutions internationally. Walk is also a member of the International Academy of Ceramics. In her ceramic work she uses form and texture to explore the idea of facades and the way the outer self is used to facilitate belonging. These aspects of human nature manifest in her work as spikes, spots, carving, heavy texture, and present as organic adornments to the surface of her work. Walks ceramics are totems of human nature and its foibles – and the power to sculpt our raw, foundational materials into new and varied forms.
About the Work
Repeated Melbourne lockdowns have taken me on a journey from a focus on perfection in ceramic technique to a new perspective on my understanding of what is perfection, one where it is acceptable to be a little 'off centre'. There is a deliberate relinquish of control, finding the beauty in the hidden spaces of morphed organic forms. I am directly influenced by my surroundings – especially the beauty in patterns that are apparent in both natural and human made objects and environments. These patterns and my perception of them is also influenced by my reflections on the human condition. I am forever trying to understand my place in the world and so my work is very much a symbolic discovery of self. A love of line and strong contrast is ever present in my work, with the use of black utilised as a metaphor for strength and determination.
Judge's Comments
The major acquisitive piece was selected by Dianne Peach for the City of Townsville Art Collection. Dianne wanted the work to speak about ceramics in a particular way, explaining that she wanted it to be something that people would notice and create conversation and to challenge them to explore what ceramics is all about.
Dianne chose a work by Melbourne-based artist Sally Walk, favouring her striking black and white piece A Little Off Centre. The work's coil-built shape gave an asymmetrical almost humanoid appearance which Dianne favoured. The simple technique of black and white decoration was striking, and it was a work that Dianne kept coming back to.
Emu Sportswear Award - $1,000 Acquisitive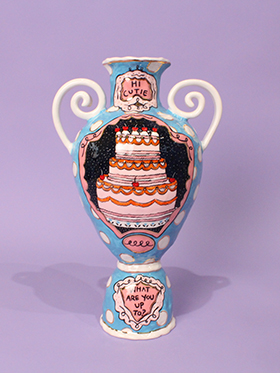 Bonnie Hislop
Opening Lines On Dating
Apps With Pictures Of Carbs: Hi Cutie 2022
Ceramic, glazes, lustre
31.5 x 12 x 19 cm
About the Artist
Bonnie Hislop is a Meanjin based ceramicist specialising in hand building and ceramic illustration. Grounded in technical skill, her practice has evolved from creating illustrative functional ware to large scale sculptural vessels. Bonnie uses her forms to critically engage with the world around her and documents the human experience. Working from her studio in Yeerongpilly, Bonnie meticulously hand crafts her forms through an involved and often uncertain process that comes with working with this medium. She unites bright colours and satirical concepts to engage her audience in a dialogue with the physical world around them. Her work intersects traditional representations of ceramics with a craft aesthetic to create a contemporary interpretation of the ceramic medium. Her practice aims to encapsulate universal experiences of frustration, angst, grief, emotional fatigue as well as tenderness, intimacy and desire. The performative, brightly coloured ceramics forge an existence through joy and curiosity.
About the Work
This series of vessels is a satirical first-hand interpretation of the often comical and frustrating experience that is online dating. Bonnie references Marie Antoinette in both form and use of the decorative cake motif. The connection to the quote 'Let them eat cake' insinuates a certain sense of apathy in the approach to the works. Each one features a (paraphrased) 'opening line' received by the artist on an online dating app from a prospective suitor. She reduces the opening lines from the bold offering of wit and charm with which they are intending to infer the phrases are being directed to the cakes themselves. This further implies they are cute or saccharine, appealing on the surface, a sweet comforting treat, yet unnecessary and not particularly satisfying or sustaining. In this way she questions these apps and this specific example of the evolution and continuation of the 'pick-up line'.
Judge's Comments
Dianne Peach enjoyed the humorous, tongue in cheek, work by Bonnie Hislop. Dianne felt that 'Hi Cutie' was created using a very contemporary style, saying that the work touched on a topical subject whilst leaving a feel-good impression. Imitating wheel work in its form, the slight irregularity in the hand-built technique emphasised the work's free form. The illustrated nature of the work engages the viewer, allowing them to read and appreciate the meaning behind it.
Jackson Family Award, In memory of Betty Jackson - $1,000 Acquisitive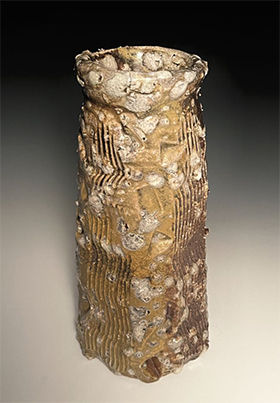 Len Cook
Flower Container 2021
Local clay Feldspar inclusions. Anagama
fired. Naturally deposited wood ash glaze
24 x 9 x 9 cm
About the Artist
I have been a potter for more than 40 years. My work is represented in regional galleries from Cairns to the Gold Coast. I enrolled in a course at Monash (Gippsland Campus) with Owen Rye as my supervisor where I achieved a Grad Dip in Visual Arts. I have built many wood-firing kilns in various places and have worked with like-minded potters. I have developed clays specifically for wood firing. I sell all of my work in my new purpose-built gallery here in Paluma.
About the Work
This piece was fired in my anagama kiln for 100 hours. Made of local clay with coarse feldspar chunks. My inspiration for this piece came from a visit to Iga in Japan. The potters in this region make pieces, that to my mind, remind me of pots that are not made but born. They also remind me of rugged rocks and imagine having flowers growing from the fissures in the surface.
Judge's Comments
This rough and rugged, almost toad like, piece appeared to have beauty bestowed upon it. Dianne Peach commented that the title 'Flower Container' gave new meaning to the work and inspired the viewer to appreciate the rough surface. Len Cook's work was selected by Dianne as a beautiful example of anagama work. Dianne was intrigued by the long, 100-hour, process to produce the work, and found the look of felt spa chips melting to be beautiful.
Rainford Family Award - $500 Acquisitive

Liz Ranger-Craven
Nature's Goddesses 2022
Stoneware, transparent glaze over underglaze painting, lustres
27.5 x 26 x 25 cm
About the Artist
Liz Ranger-Craven immigrated to Australia from South Africa in 2011, and currently resides in Mackay. She studied art, majoring in Printmaking and Sculpture (1986). This was where her love for ceramics began. Liz has participated in various exhibitions over the years receiving numerous awards and public artwork commissions. Clay has enabled her to explore her creativity. Her pieces primarily consist of bold shapes covered in intricate surface design and texture; the form and surface decoration relay a story in unison. Her work is an ode to materials, she feels by creating these pieces she aligns herself with a way of life as ancient as humankind, using what our planet provides. This translates into the importance and value of protecting our natural environment. Her unique hand-built pieces reflect her printmaking and sculpture background, portraying her roots and passions.
About the work
Depicting three deities; forces of nature and interwoven with their environments. Both a part of and distinct from their surroundings. Our natural environment is made up of many facets, complex and breathtaking. This vessel emphasises the importance of humankind taking responsibility for our natural environment, treasuring it. These works are inspired by Klimt's paintings, his decorative surfaces and use of colour.
Judge's Comments
Dianne Peach was drawn to the worked-over surface of Liz Ranger-Cravens work 'Nature's Goddesses'. The piece appears to be scored, under glazed, and worked over a myriad of times. The chosen coil build adds to the complexity of the work, and the undulations reinforce the overall presentation. This high-fired work displayed good integrity and the work had a nice sound to it. The laying of decoration also illustrated a story while remaining visually attractive.
Judge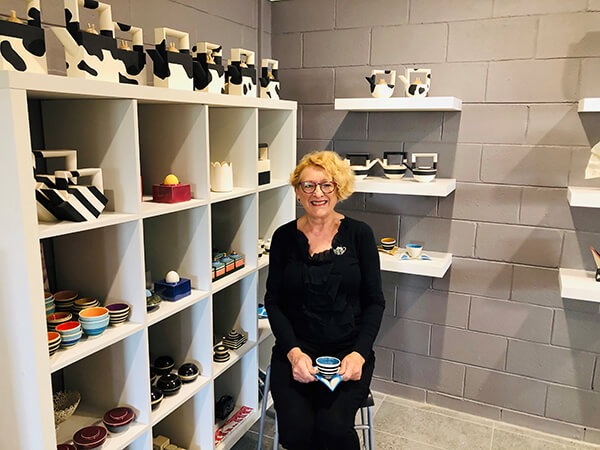 Dianne Peach is a renowned ceramic artist who studied ceramics at the Central Technical College in Brisbane, then established her own pottery studio and began teaching in 1966.
She began by making finely thrown bottles and bowls but became interested in the contrast between function and form and now combines slab, tube and slipcast elements to make precisely built geometric pieces decorated formally using stains and underglazes. She has exhibited widely and her work is represented in a range of public and private collections.
Dianne's work is characterised by exacting craftsmanship of her original and innovative designs using a range of clay types and construction methods. A master thrower and a creative hand builder Dianne is continually experimenting with alternative techniques and materials to add to her more than 50 years' experience with clay and the formation of her mainly vessel-based forms. Progressing from a functional aesthetic of glazed stoneware her work now is more sculptural and decorative, often referencing contemporary political or social statements to present objects with meaning. The type of clay, decoration, and firing methods are chosen to enhance the subject matter and may range from low to high fire using wood, oil, gas, or electricity.
Having trained under Milton Moon, David Smith, and Roy Churcher at Brisbane's CTC, Dianne compliments her studio practice with tutoring and workshop presentations, having a keen interest in education and the passing on of skills to emerging artists. She has contributed to curriculum development for secondary and tertiary institutions in Queensland and currently teaches at Brisbane Institute of Art.
Her work is represented in the Australian National Gallery, most State Galleries, and in numerous provincial and private collections here and overseas. She has served on the Crafts Board of the Australia Council, '85-'88, is a Foundation & Life Member of Ceramic Arts Queensland, and in 2004 was named the State's inaugural "Ceramics Icon" by Crafts Queensland.
Image credit: Dianne Peach in her studio. Courtesy of the Artist.
Photographer: Katherine Kerr.
---