The Percivals
The Percivals 2022
Having begun in 2007, The Percivals is an open competition for artists. While showcasing the outstanding and innovative work currently being produced by Australian artists, the competitions have also given many emerging artists an opportunity to engage with portraiture and share their expressions of themselves and those close to them.
Publication
Gain an insight into the Percival Portrait Painting Prize, and the Percival Photographic Portrait Prize in the 2022 digital publication below!
Physical publications with images only are also available at Perc Tucker Regional Gallery for $20, while stocks last.
Exhibition Dates
23 April – 3 July 2022
The Percival Portrait Painting Prize, Percival Photographic Portrait Prize, and the Percival Animal Portrait Prize is exhibiting at Perc Tucker Regional Gallery until the 3 July.
The biennial Percival Portrait Painting Prize is North Queensland's premier portrait competition. Having begun in 2007, it developed to incorporate the Percival Photographic Portrait Prize in 2014.
The Percival Portrait Painting Prize is an acquisitive award of $40,000, and the Percival Photographic Portrait Prize is an acquisitive award of $10,000, meaning the winning painting and photograph become part of the City of Townsville Art Collection. The Percival Animal Portrait Prize is an award of $1000, and this year there was the addition of the Judge's Award in the animal category of $400, kindly donated by Dr Chris Pretorius of Kings Road Veterinary Surgery.
This year we have 127 paintings in the Percival Portrait Painting Prize, 76 photographs in the Percival Photographic Portrait Prize, and 47 artworks in the Percival Animal Portrait Prize. Make sure to check out all of the incredible artwork at the Gallery or in the virtual tour!
The Gallery is open Tues-Fri 10am-5pm and Sat-Sun 10am-1pm (please note we are closed on public holidays).
What's On
We have lots happening at the Gallery during The Percivals 2022, including workshops, tours, talks and interactives!
To find out more about what's happening, download The Percivals 2022 Program Guide.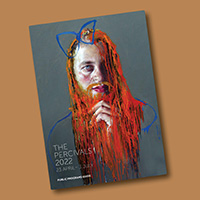 Virtual Tour and Celebratory Videos
Townsville City Galleries is pleased to present a video celebrating the Percival Portrait Painting Prize and the Percival Photographic Portrait Prize, and another video celebrating the Percival Animal Portrait Prize 2022!
Here's to The Percivals 2022!
Navigate the virtual tour from the comfort of your own home and view the Percival Animal Portrait Prize, the Percival Portrait Painting Prize, and the Percival Photographic Portrait Prize! To move from the ground floor to the first floor, head to the elevator and click on the link to the first floor. When on the first floor, to head back downstairs, just do the same and click on the link at the elevator.
Percivals 2022 Prize Winners
Percival Portrait Painting Prize - Acquisitive Prize, $40,000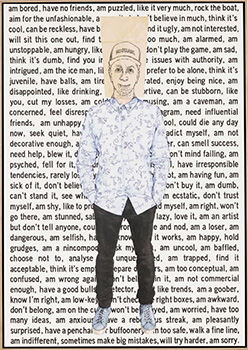 About the work
With bashful humour, my self-portrait titled I… sets out to activate repressed impulses, embody alienation, disrupt convention and invert structures of power. In the spirit of opposition, my masked portrait is a type of anti-selfie, swerving around the bottleneck of narcissism and attention seeking. I… is my manifesto and therapy at once, both image and text confronting my position as an artist and mortality. Stream of consciousness self-analysis meets jarring institutional critique, I have found my zone of contemplation. My portrait uses a self-reflexive humour as a strategic tool with which to analyse cultural production and entertain myself. The brand of humour I use, an externalising of my doubts and fears, satisfies a misguided urge to be vulnerable and sincere. I… is an insight into my psyche, relying on a parallel, removed mode of presenting one's bodily self.
About the artist
Michael Lindeman was awarded a BFA, Hons (First Class) in 1998 and an MFA from Cofa, UNSW, in 2004.
Lindeman has exhibited widely, both nationally and internationally. Solo exhibitions include Art Habits (2021), An Awkward Dance (2018) and Studio Chatter (2015), Sullivan+Strumpf, Sydney; The Creative Act, The Delaware Contemporary, USA (2018); LA International Biennial, 18th Street, L.A. (2001); and The Lounge, Casula Powerhouse Arts Centre, Sydney (2000). In 2007 he was awarded a residency through ISCP, New York.
In 2010, Lindeman won both the Fisher's Ghost Art Award, Campbelltown Arts Centre, and the Sulman Prize, AGNSW, Sydney. He was a finalist for the Archibald Prize in 2011 and 2013 and the National Self-Portrait Prize, University of Queensland Art Museum, in 2013. In 2013 and 2020, he was awarded the Arts Projects Grant, and the New Work Mid-Career Grant in 2016 from the Australia Council for the Arts.
Judge's comments
"This work by Michael Lindeman, I just kept coming back to and I found it quiet compelling. It's called I… and for every phrase behind you, add I… and you get the thoughts that are going through his head. That is a really brave and revealing thing to do, to reveal your inner thoughts. I was drawn to his honesty and I was drawn to the sophistication of the work. The reason why is that the portrait seems quite simple in many ways, but it has a great deal of complexity.
The portrait is a self-portrait of Michael and it has text in the background. He is straight away introducing some complexity between the image and the text. It identifies issues about identity, and you see in the portrait that Michael does depict his face, but he does so by covering up his face with a paper bag."
– Percival Portrait Painting Prize judge Professor Elisabeth Findlay
Percival Photographic Portrait Prize - Acquisitive Prize, $10,000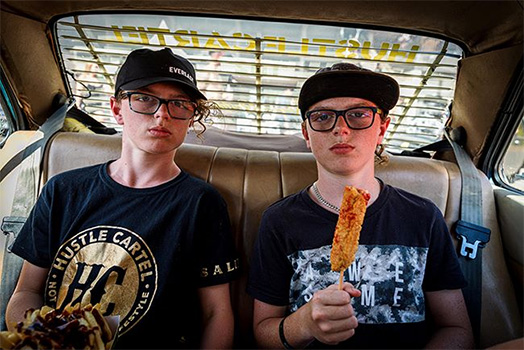 About the work
Teenage twins Jerry and Jackson, or as their father introduced them to me as 'Double Trouble', sit in the back seat of their fathers souped-up Torana at the Summernats Car Festival in Canberra, Australia. Amongst the many young men that attend, there are plenty who are in the company of their father and in many ways they see it as a kind of rite of passage.
About the artist
I am a photographer and filmmaker from Newcastle, Australia.
Recent achievements include:
Grande Bruto Head On Photo Festival exhibition at Ambush Gallery, Sydney November 2021
Australian Life 2021 - Finalist
Mullins Conceptual Photographic Prize - Finalist
Urban Photo Awards - Portrait, Finalist
The Mono Awards - People, 4th place
Head On Photo Festival Portrait Awards exhibition.
Judge's comments
"Here are some of the things I considered when making my judgement of David Cossini's work Double Trouble.
The scale of the image suits the subjects. The work is almost life size, which emphasizes engagement of the viewer with the stares of the subjects. The focus on the faces and the natural lighting also keeps us looking at the subjects, who are actively engaged with the making of the photograph, the lenses of their glasses shifting the scale of their eyes so it feels like we are being stared at by the photograph. We are looking through two lenses to see them – the camera and their own glasses. The image portrays the awkwardness of teenage years, a point where we separate from being a child but not yet an adult also where we bond most closely with those our own age. Twins being a visual example of this.
You can keep looking at this photo and find new details – a trait of photography where we are invited to look and investigate in a way you are not allowed in real life. Imagine being stared at in the way we stare at a photograph. You can see the details of the car they are sitting in, the beaten seats and old fashioned blind in the window, the unworn seat belts, is it a place to escape and eat, coming or going, plenty of open questions to ask. There is an outside world, it is adult and far away.
It is both a (double) portrait of two young men but also a universal portrait of adolescence, with all its awkwardness but also certainty, the stamp of cultural proximity that fashion brings, the group with who they need to identify.
It is a work I kept coming back to."
– Percival Photographic Portrait Prize judge Dr Carl Warner
Percival Animal Portrait Prize - $1,000 Prize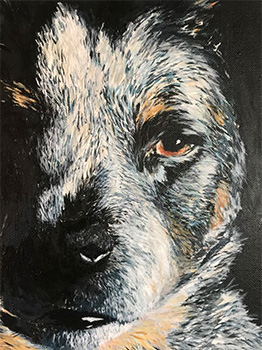 Judge's comments
"There is lots of emotion in Eliza Dedini's work Intrinsic. The work displays a very good level of technique and allows the viewer to feel a strong and lasting connection with the painting."
– Percival Animal Portrait Prize judge Dr Chris Pretorius
Percival Animal Portrait Judge's Award - $400 Prize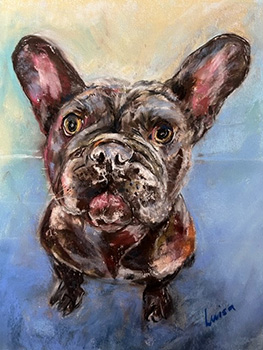 Judge's comments
"You can feel the vulnerability in Luisa Dellebaite's work Silvi. The artwork brings out an emotional response in the viewer and displays a great level of technique."
– Percival Animal Portrait Prize judge Dr Chris Pretorius
Judge's Award donated by Dr. Chris Pretorius.
Judges
Painting Shortlisting Panel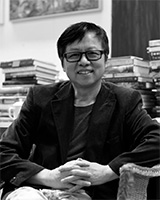 Jun Chen
Artist, Archibald Prize Finalist
Born in China in 1960, Chen now lives in Brisbane. He normally paints fugitive and landscape. He has been finalist in the Archibald Prize on nine occasions, in the Sulman Prize five times and in the Wynne Prize five times as well. In addition, his portrait of late Sydney art dealer, Ray Hughes was highly commended by the judges in the 2017 Archibald Prize.
Chen graduated from Guangzhou Academy of Fine Art in China in 1986 and also has a Master of Fine Art from the Queensland University of Technology in 1996. Chen migrated to Australia in 1990. His work is collected by Art Gallery of New South Wales, National Portrait Gallery, Parliament House, Museum of Brisbane, Townsville City Galleries, Gold Coast Art Gallery, Logan Art Gallery, Guanshanyue Museum China, the University of Queensland Art Gallery, QUT Museum and many private Australian and international collectors.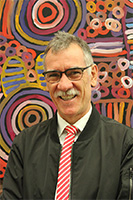 Professor Stephen Naylor
Chair Academic Board, James Cook University, Australia
Professor Stephen Naylor has been an active participant in education, learning & teaching and the creative arts for more than 40 years. Currently he is Chair of the Academic Board of James Cook University (JCU) and serves on a number of Boards including the Advisory Board for TEQSA Panel of Experts Australia. As a Board member he provides expertise on governance, contemporary Art in a global context and a strong understanding of both community art and art training in tertiary education.
His creative arts background drove his professional practice for more than 20 years where he worked in the area of furniture design, alternative building mediums, painting and contemporary sculpture. Since that time he has focused on research into Australian contemporary creative arts and international exhibition platforms
Ross Searle
Heritage Museums Galleries consultant
Ross Searle has worked in key positions in regional galleries in Queensland, Victoria, and New South Wales since 1982. During his most recent directorship at the University of Queensland Art Museum, he established a new gallery in a $10 million refurbished venue. Ross Searle also implemented the Art Museum's development of a National Collection of Artists' Self Portraits and a biennial self-portraiture prize.
Previously he was the Director of the Perc Tucker Regional Gallery in Townsville, a position he held for ten years, which saw the Gallery rise to national prominence due to its dynamic exhibition program and the consolidation of its extensive collections. He has made a national and international contribution to the development of many significant exhibitions and publications.
In 2007 he established a specialist consultancy, and his clients include national and international art museums.
Photographic Shortlisting Panel
Christina Papadimitriou
Visual Art and Photography Teacher, Founder of Wearable Art Creatives
Christina Papadimitriou is an art and photography teacher, an artist and photographer, and founder of Wearable Art Creatives.
Passionate about education and providing opportunities for young emerging photographers, Papadimitriou established a photography studio at her local high school and found authentic real-life experiences for students to participate in and develop their skills and confidence. Papadimitriou has exhibited in numerous exhibitions over 30 years, but her focus now is on developing art projects that inspire people of all ages and abilities to be creative and to have an avenue to share that creativity with the wider community.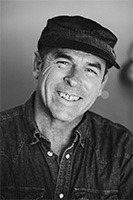 Andrew Rankin
Photographer, Andrew Rankin Photography
Andrew Rankin has worked as a photographer for over forty years in Melbourne, Sydney, and North Queensland. Photographic assignments have taken him all over Australia along with New Zealand, Asia, USA, and Africa. He is a passionate supporter of the arts and his work has been exhibited in numerous solo and group exhibitions. Rankin has also worked as a sessional lecturer at James Cook University and has presented several photographic workshops to the public.
Painting Prize Judge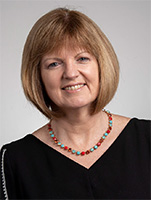 Professor Elisabeth Findlay
Director of Queensland College of Art
Professor Elisabeth Findlay is the Director of Queensland College of Art (QCA) at Griffith University. She is an art historian with a longstanding passion and interest in portraiture. Her research focuses on issues surrounding portraiture and the complexities of identity. She has published widely on Australian colonial portraiture. She currently teaches a course at QCA on the history and theories of portraiture, tracing the development of the genre from antiquity through to the contemporary era. Prior to her academic career she worked as a freelance curator and writer, including working with the National Portrait Gallery and Perc Tucker Regional Gallery.
Photographic Prize Judge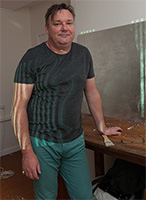 Dr Carl Warner
Artist, photographer, and lecturer
Carl Warner is well-known for his abstract compositions and photographic assemblages derived from urban surfaces, the materiality of public space, and the contested spaces of landscape. Warner uses the camera to record the detail he observes in the urban, industrial, and natural environment, but does so in a way which renders this surface reality abstract. Carl completed a Ph.D. researching visual systems such as the Claude glass, camera lucida, and camera obscura, used to aid the drawn and painted pre-photographic representation of landscape and illustration of the natural sciences.
Animal Prize Judge
Dr Chris Pretorius
Veterinarian at Kings Road Vet Surgery
Dr Chris grew up on a working farm in rural South Africa, he studied Veterinary Science and qualified in 1989 from the University of Pretoria. He worked for the Department of Agriculture for 4 years before opening his own clinic, and later a second clinic, treating all creatures great and small. He moved over to Australia in 2005 with his wife and three children. First living and working in Ballarat, Victoria, before moving to Townsville in 2006. Initially he worked at Kelso Veterinary clinic, then bought a share in another Vet Clinic in Townsville where he was a partner and part owner for 9 years. Then 10 years passed and in February 2016, Chris opened his own clinic Kings Road Vet Surgery. Chris has an interest in all procedures but has a real passion for all orthopaedic surgeries, especially cruciate and hip surgeries. He is a very down-to-earth, practical vet who truly cares about his patients and their family. Chris has 2 dogs; Bobby the Pomeranian, Murphy the Pomeranian cross Chihuahua and 2 horses; Power and Jolene. When Chris isn't at work, he is usually spending his free time camping with his family or riding his horses.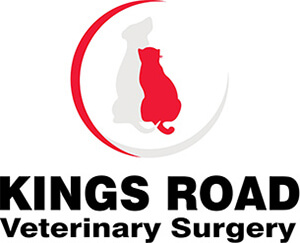 Exquisite Portraits
Check out the giant-sized Exquisite Portrait interactive blocks in The Percivals exhibition!
Featuring artworks created by talented local artists, Barb Shand, Baylee Griffin, and Fiona Cochrane, twist these giant artworks and be reflected into the artwork! Become part of the art and see what Exquisite Portraits you can create!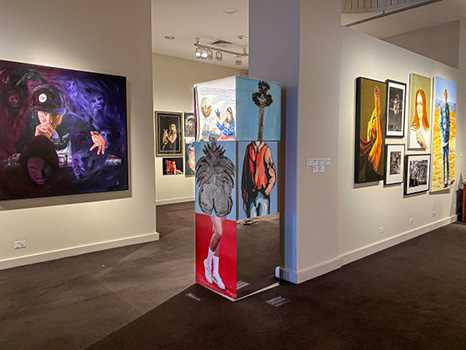 Resources
Free Activity Books and Interactive Guides have been designed in response to The Percivals 2022.
These resources are available at Perc Tucker Regional Gallery for all ages, including children, students, teachers and members of the public.
Pick up your FREE copy, or click on the images below to download a copy to print at home.
Printed copies are limited, so get in quick while stocks last!
Guided Tours
Free guided tours are available for school and community groups on Tuesdays to Fridays.
To book your gallery tour, please email galleries@townsville.qld.gov.au with contact details, the number of participants, and preferred date and times.
Please note: Bookings are high during this period. We will try and accommodate your preferred date but may need to offer alternative dates and times based on availability.