Exhibitions
Perc Tucker Regional Gallery has two floors which contain two main exhibition spaces and five Community Access Spaces. On display are works by North Queensland artists, national touring exhibitions and international touring exhibitions.
---
Jim Paterson: I'm Neither Here Nor There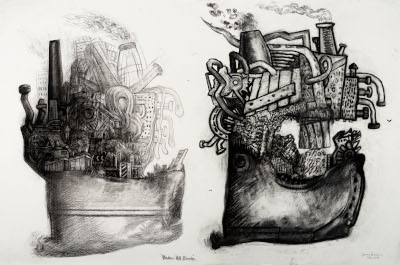 Jim Paterson is one of Australia's best, yet most elusive draftsmen, with a career that spans decades. With a visionary style that is grounded as much in his own imagination as the recurring industrialised sites of Broken Hill and the Port of Melbourne, Paterson's work is in turns profoundly personal, universal, political and fantastic, cut with understated humour, mechanical, biological and geographic hybrids, and an eye for the strangeness of the everyday. I'm Neither Here Nor There is a selection of Paterson's recent works, many of which have never before been exhibited.
Curated by Tara Callaghan and Jonathan McBurnie, and produced in partnership with Broken Hill Regional Gallery.
Exhibition dates
14 February 2020 – 29 March 2020
Image: Jim Paterson, Broken Hill Boats, 2014, charcoal and conté on paper, 112 x 76cm. Courtesy of the Artist
---
Stanley Wany: Inwards

Stanley Wany's stunning, intricately rendered images create profound tales reflecting the ironies, the contractions, and the oddity of life. Unravelling on the page, memories of a journey originating from the depths of the unconscious combine to create Inwards, a series of pen and ink presenting tales from the mind as tapestries of symbolic, mythological, and contemporary images.
Inwards is comprised of a selection of works on paper, groupings of which create 7-feet-long friezes, embodying the artist's desire to use drawing to communicate emotions, feelings, and ideas. Though the juxtaposition of images may at first seem random, each choice is made in full awareness of the meanings conveyed by these symbols and their combinations.
Exhibition dates
14 February 2020 – 29 March 2020
Image: Stanley Wany, You'll Never Hear Surf Music Again, 2019, ink on paper, 30.5 x 366 cm. Courtesy of the Artist
Upcoming Exhibitions
Reflections: The TNQ7 Film Archive Project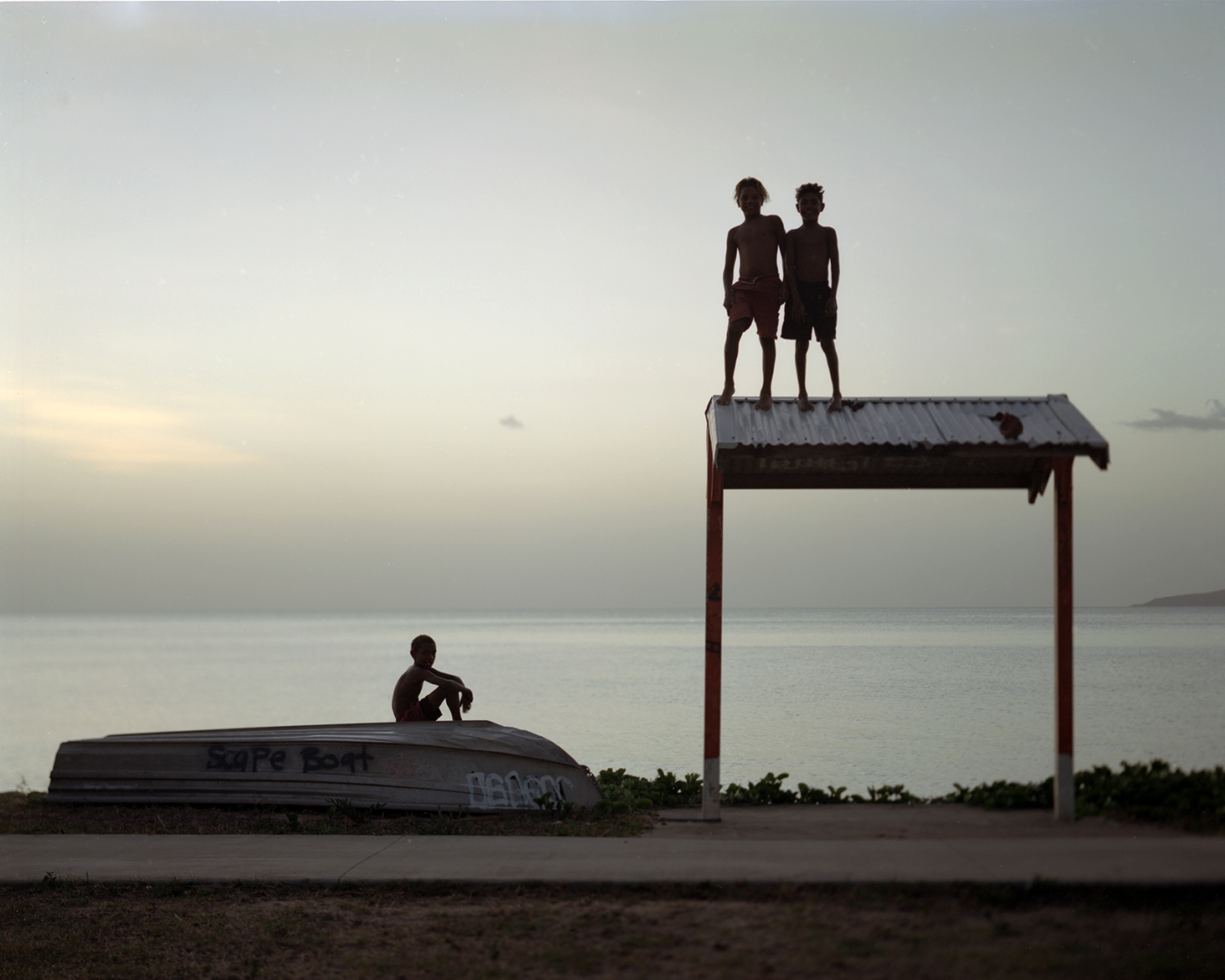 Reflections: the TNQ7 Film Archive Project is a partnership between Townsville City Council Galleries and Libraries. The Project comprises of eight local artists who, facilitated by the Libraries team, have been given access to the historic TNQ7 Film Archive in order to find and respond to footage that is of significance to the artist and our city. The archive consists of approximately 8625 tapes of archival footage, and this exhibition aims to highlight the value of its digitization for future generations.
Reflections: the TNQ7 Film Archive Project includes works by Neil Binnie, Elijah Clarke, Rob Douma, Kathy Cornwall, Sheree Kinlyside, Hannah Murray, Anneke Silver, and Kellie Williams.
Exhibition dates
3 April – 17 May 2020
Exhibition Launch
To be officially launched by Katie Pittock, Local History Librarian, Townsville City Libraries
Friday 3 April 2020
6pm for 6.30pm
Perc Tucker Regional Gallery
Image: Elijah Clarke, Stories from Bwgcolman (8) 2019, printed scan from 4x5 negative, framed, 40.64 x 50.8 cm
---
Stewart MacFarlane: Outside Looking In
Fifty years ago, 1970, in Adelaide, Stewart MacFarlane entered art school, aged 16 (The South Australian School of Art). He'd always known he was going to be a painter. It consumed him more than anything else at the time, apart from pop music. But there was no school for pop music, so art school it was. He was forever chasing the perfect image, the illusive masterpiece. The perfect image never really came, but each new canvas would bring him a flicker of hope that this could be the one.
Outside Looking In spans these decades of exploration, reflecting MacFarlane's consistent fascination with the world, with people and places, and how light falls on it all. Inspired by his heroes of the Modern Art world- Van Gogh, Picasso, Drysdale, Nolan, and Boyd- as well as his Contemporary idols- Americans, Edward Hopper, Fairfield Porter, and Alex Katz, his figurative influence and vision has remained constant. As the dialogue of the art world has gradually become narrower and politically driven, MacFarlane prefers to remain on the outside looking in; a figurative, narrative painter from an earlier time.
Exhibition dates
3 April – 17 May 2020
Exhibition Launch
To be launched in conjunction with Reflections: the TNQ7 Film Archive Project
Friday 3 April 2020
6pm for 6.30pm
Perc Tucker Regional Gallery
RSVP: ptrg@townsville.qld.gov.au
Image: Stewart MacFarlane, The Evening, 2014, oil on canvas, 167 x 122 cm. Courtesy of the Artist
Past exhibitions
We have delivered many high calibre exhibitions over the years. Take a look at some of the previous exhibitions below.