Exhibitions
Perc Tucker Regional Gallery has two floors which contain two main exhibition spaces and five Community Access Spaces. On display are works by North Queensland artists, national touring exhibitions and international touring exhibitions.
---
North Queensland Ceramic Awards 2020
Exhibition Dates: Friday 31 July - Sunday 20 September, 2020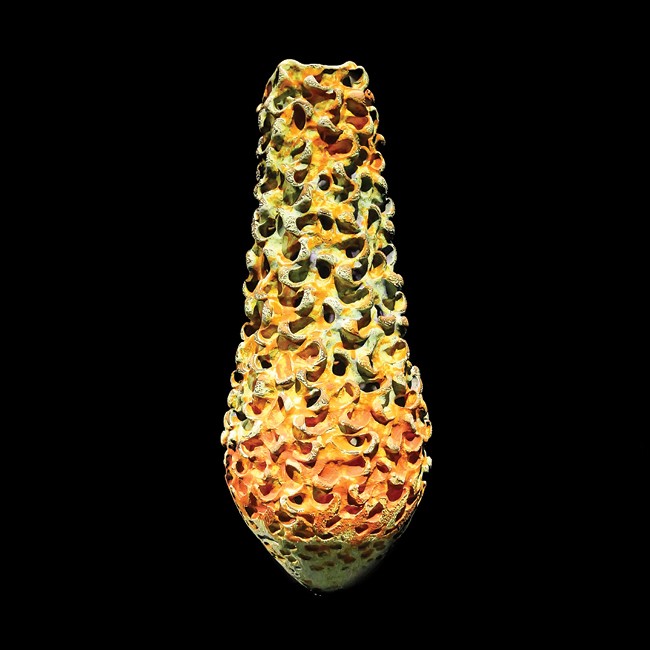 The biennial North Queensland Ceramic Awards has long aimed to increase public exposure to a high standard of pottery from around the nation. A showcase for both well-known and emerging artists, this competition displays the diversity of ceramic art currently being produced in Australia.
The City of Townsville Art Collection Award of $10,000 continues to provide both opportunity for artists to become a part of one of the nation's most significant ceramic collections, as well as ensuring the continued growth of this important subsection of the City of Townsville Art Collection.
Selected works will be on display at Perc Tucker Regional Gallery from 31 July - 20 September 2020 and will be eligible in various categories beyond the major City of Townsville Art Collection Award.
---
Recent Exhibitions
The Percivals
Having begun in 2007, The Percivals is an open competition for artists. While showcasing the outstanding and innovative work currently being produced by Australian artists, the competition has also given many emerging artists an opportunity to engage with portraiture and share their expressions of themselves and those close to them.
The Percivals categories:
The biennial Percival Portrait Painting Prize is North Queensland's own portrait competition.
The Percival Photographic Portrait Prize returns for the fourth instalment since it first debuted in 2014.
The Percival Animal Portrait Prize is coordinated and awarded by Townsville City Galleries, coinciding with the Percival Painting Portrait Prize and the Percival Photographic Portrait Prize.
The exhibition will be held at the Perc Tucker Regional Gallery.
Exhibition dates
Friday 22 May – Sunday 19 July 2020
For more information, visit The Percivals webpage.
Image: Jenny Rodgerson, Balancing in the big red coat, 2017, oil on linen, 180 x 150 cm.
Winner of the acquisitive Percival Portrait Painting Prize 2018, Perc Tucker Regional Gallery, Townsville. City of Townsville Art Collection.
Reflections: The TNQ7 Film Archive Project
Exhibition dates
3 April – 17 May 2020
Take a virtual tour of the exhibition!
Reflections: the TNQ7 Film Archive Project is a partnership between Townsville City Council Galleries and Libraries. The Project comprises of eight local artists who, facilitated by the Libraries team, have been given access to the historic TNQ7 Film Archive in order to find and respond to footage that is of significance to the artist and our city. The archive consists of approximately 8625 tapes of archival footage, and this exhibition aims to highlight the value of its digitization for future generations.
Reflections: the TNQ7 Film Archive Project includes works by Neil Binnie, Elijah Clarke, Rob Douma, Kathy Cornwall, Sheree Kinlyside, Hannah Murray, Anneke Silver, and Kellie Williams.
Image: Elijah Clarke, Stories from Bwgcolman (8) 2019, printed scan from 4x5 negative, framed, 40.64 x 50.8 cm
Stewart MacFarlane: Outside Looking In
Exhibition dates
3 April – 17 May 2020
Take a virtual tour of the exhibition!
Fifty years ago, 1970, in Adelaide, Stewart MacFarlane entered art school, aged 16 (The South Australian School of Art). He'd always known he was going to be a painter. It consumed him more than anything else at the time, apart from pop music. But there was no school for pop music, so art school it was. He was forever chasing the perfect image, the illusive masterpiece. The perfect image never really came, but each new canvas would bring him a flicker of hope that this could be the one.
Outside Looking In spans these decades of exploration, reflecting MacFarlane's consistent fascination with the world, with people and places, and how light falls on it all. Inspired by his heroes of the Modern Art world- Van Gogh, Picasso, Drysdale, Nolan, and Boyd- as well as his Contemporary idols- Americans, Edward Hopper, Fairfield Porter, and Alex Katz, his figurative influence and vision has remained constant. As the dialogue of the art world has gradually become narrower and politically driven, MacFarlane prefers to remain on the outside looking in; a figurative, narrative painter from an earlier time.
Image: Stewart MacFarlane, Self Portrait, 2017, oil on canvas, 42 x 402 cm
Virtual Tour
Artist Talk
Past exhibitions
We have delivered many high calibre exhibitions over the years. Take a look at some of the previous exhibitions below.