Previous North Queensland Ceramic Awards
2020 biennial North Queensland Ceramic Awards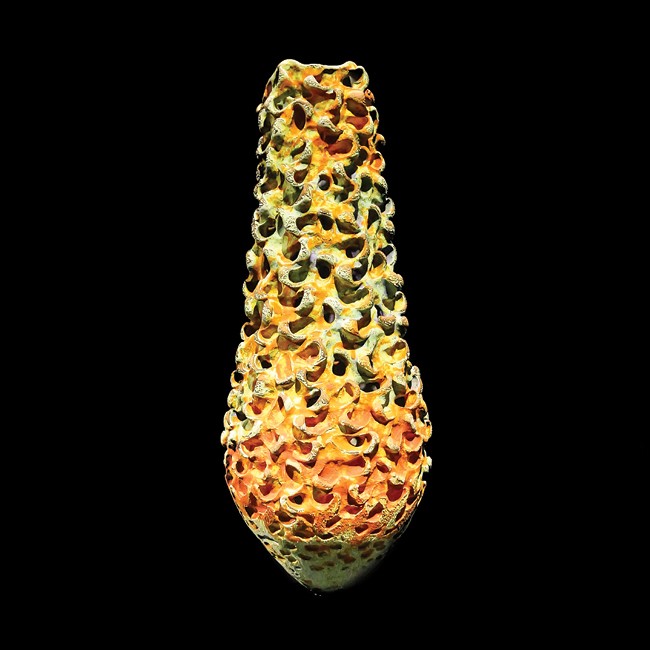 The biennial North Queensland Ceramic Awards has long aimed to increase public exposure to a high standard of pottery from around the nation. A showcase for both well-known and emerging artists, this competition displays the diversity of ceramic art currently being produced in Australia.
The City of Townsville Art Collection Award of $10,000 continues to provide both opportunity for artists to become a part of one of the nation's most significant ceramic collections, as well as ensuring the continued growth of this important subsection of the City of Townsville Art Collection.
Selected works were displayed at Perc Tucker Regional Gallery from 31 July - 20 September 2020 and were eligible in various categories beyond the major City of Townsville Art Collection Award.
Image: Simone Fraser, Landscape Series (single) 2017, clay and dry glazes, 63 x 27 cm
Major acquisitive prize winner of the City of Townsville Art Collection Award, 2018 Biennial North Queensland Ceramic Awards, Townsville.
City of Townsville Art Collection
Exhibition dates
Friday 31 July - Sunday 20 September 2020
---
The North Queensland Ceramic Awards virtual tour
Use the tool in the bottom right corner to see different views of the gallery or move between floors.
Zoom in and out using your mouse or finger controls.
Winners
NQ Ceramic Awards 2020 Winners Announcement
View the official announcement of the winners of the 2020 biennial North Queensland Ceramic Awards announced by Councillor Liam Mooney.
City of Townsville Art Collection Award - $10,000 (Acquisitive)
Mahala Hill

Armoured Mist Frog 2020

Bone china, porcelain, stoneware, volcanic glaze
8 x 17 x 15 cm
Pack & Send Townsville Award - $1,500 (Acquisitive)
Mollie Bosworth

It's Not Dark Yet 2019

Porcelain, metallic salts
Two Parts; 18 x 27 x 16 cm
Loloma Jewellers Award, in memory of Betty Jackson - $1,000 (Acquisitive)
Annette Bukovinsky

Fall 2020

Porcelain and bitumen
34 x 12.5 x 3.5 cm
Emu Sportswear Award - $1000 (Acquisitive)
Warren Ogden

Monolith 2020

BRT, blue/purple stoneware glaze
43 x 30 x 16 cm
Rainford Family Award - $500 (Acquisitive)
Cecily Willis

Striped Pyjamas 2020

Red stoneware clay and low fired dry glaze
Two parts; 26 x 26 x 9.5, 21 x 21 x 8 cm
Artist Talks
Mahala Hill
Warren Ogden
Important Updates
Please read as key information has changed.
Venue
Due to unforeseen circumstances, the North Queensland Ceramic Awards will now be installed at Perc Tucker Regional Gallery, no longer at Pinnacles Gallery.
Conditions of entry
Terms and conditions have changed. Please read the updated Conditions of Entry.
Delivery instructions
Read the updated Delivery & Collection Instructions and download the Delivery Label Template.
Key Dates
| | |
| --- | --- |
| Applications Close | Monday 20 April 2020 |
| Artists Advised of Selection | Monday 4 May 2020 |
| Delivery of Art Works | by 4pm, Friday 3 July 2020 |
| Virtual Exhibition Dates | 31 July – 20 September 2020 |
| Announcement of winners | Friday 31 July 2020 |
| Collection of Artworks | Between 9am - 4pm, Wednesday 23 September 2020 |
Judge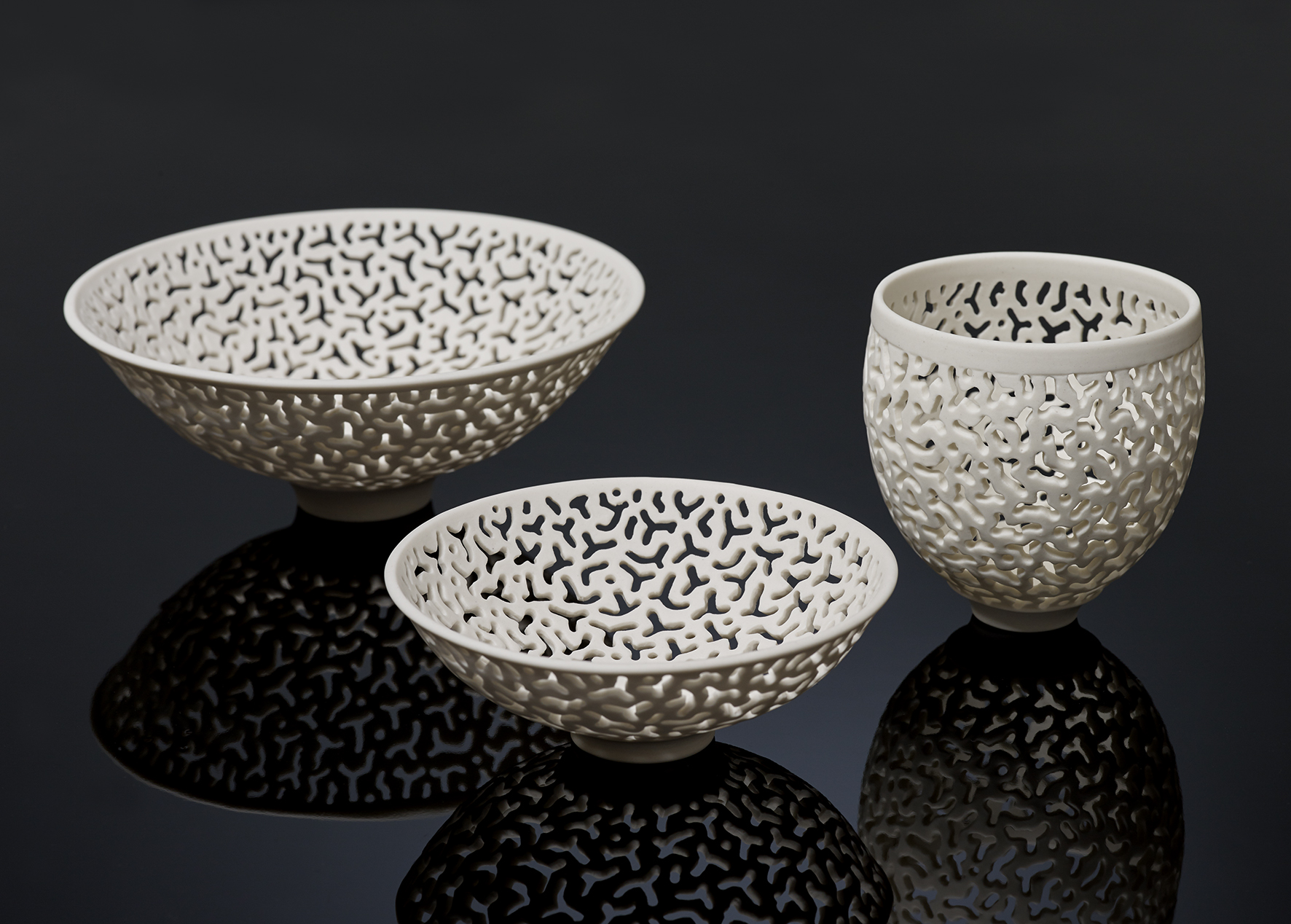 Sandra Black is a ceramic artist who has been influential over many years for her imaginative work in porcelain and bone china, and especially her innovative techniques in piercing and carving clay.
Sandra Black has now been working for around 45 years as a ceramic artist, with at least 31 solo exhibitions in Australia, New Zealand and the USA. She has participated in over 280 invitation exhibitions in many countries including India, Japan, Switzerland, Netherlands, Canada, China, UK, New Zealand, Germany and Singapore. She has taught consistently in a range of places and contexts nationally and internationally and has won awards such as the Fletcher Challenge Award in New Zealand.
Her work has been published in numerous prestigious international journals and books including "Masters of Porcelain" published by Lark books in 2008. Her work is held in many public and private collections throughout Australia and overseas.
Image: Sandra Black, 3 Etched Bowls, thrown and pieced cool ice porcelain, various sizes. Photograph: Victor France
Judges Talk