Ross River Dam to Douglas Water Treatment Plant Pipeline Renewal
| | |
| --- | --- |
| Investment | $60 million |
| Jobs | 150 |
| Goal | 4. A sustainable destination that embraces and participates in the arts, sports and events and recreational activities. |
| Strategic Purpose | A water security initiative renewing the pipeline connecting Ross River Dam and the Douglas Water Treatment Plant, which will increase the resilience of this key asset. |
| Status | Underway |
Project Overview
Townsville City Council is investing $60 million to renew the Ross River Dam to Douglas Water Treatment Plant (WTP) pipeline.
This key water infrastructure asset is essential in Townsville's water supply, providing approximately 85% of the city's water. The existing pipeline runs adjacent to Riverway Drive and crosses Ross River just prior to the treatment plant. It experienced an unexpected failure in December resulting in a temporary disruption to water supply.
The Ross River Dam to Douglas WTP Pipeline Renewal project will increase the resilience of this key asset, further enhancing Townsville's water security now and into the future.
The 9.5km duplicate pipeline will cross Ross River closer to the dam and run parallel to the river through the Department of Defence's Mount Stuart Training Area before connecting to the Douglas Water Treatment Plant.
This project is part of Council's $177 million investment in water infrastructure and services in 2021/22, continuing our strong focus on water security and ensuring Townsville's water supply for decades to come to support future development of the city.
The pipe trench excavation and pipelaying is continuing, with approximately 800 metres of pipe laid at the end of October. A sheet pile coffer dam has been built and pipeline installation across the Ross River has commenced. A controlled blast of a section of buried rock is scheduled to occur on 18 November 2022. Concrete pours have commenced and will be conducted at regular intervals in the upcoming months.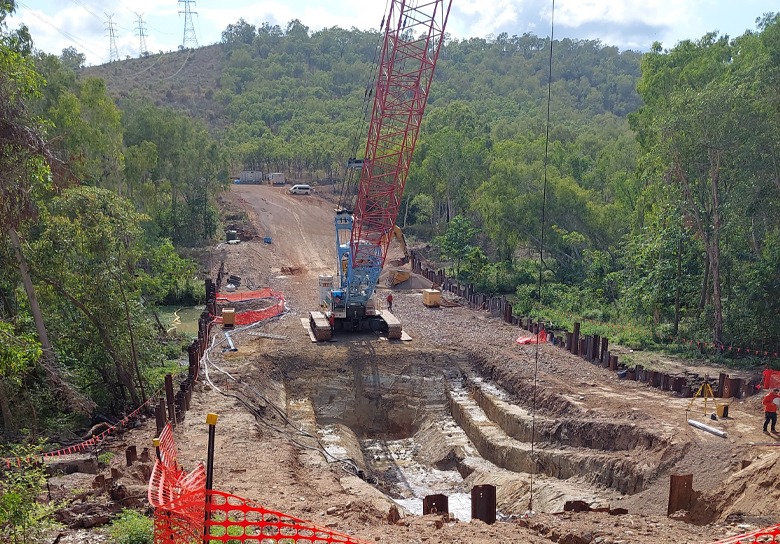 Public Comment Process
Ross River Dam to Douglas Water Treatment Plant Pipeline Renewal (EPBC 2021/9002)
The Ross River Dam to Douglas Water Treatment Plant Pipeline Renewal was determined to be a controlled action under the Environment Protection and Biodiversity Conservation Act 1999 with assessment by preliminary documentation. The controlling provisions for the proposed action are Listed threatened species and communities (sections 18 and 18A) and Commonwealth land (sections 26 and 27A).
The public were invited to review and provide comment on Council's Environment Protection and Biodiversity Conservation documentation for this project from 7 - 18 February 2022. Submissions are now closed.
One submission was received on the Project from the North Queensland Conservation Council (NQCC).
The key items from the submission included the rehabilitation of impacted habitat for the Black-throated Finch and offsetting of impacts to Black-throated Finch. Council have responded to the submission, providing further information on justification and timing of rehabilitation efforts, and the expectations of the outcomes of the financial offset process.
Final Preliminary Documentation
Final Preliminary Documentation was available at several locations from 21 March 2022 to 4 April 2022. A decision on whether the proposed action can be approved would generally be expected within forty (40) business days of this final submission being lodged.
Online Industry Briefing
Council hosted an online briefing for contractors, suppliers and consultants in September 2021.
The first of several tender packages for businesses to participate in the Ross River Dam to Douglas Water Treatment Plant Pipeline Renewal project have been issued.
Council awarded a contract to Steel Mains to supply and deliver the pipe and fittings for the project. This contract will enable construction to start this year, which will enhance Townsville's water security.
Council is committed to enhancing the city's water security as Townsville's population continues to grow.