Cr Liam Mooney
Contact Details
Business phone: 13 48 10
Mobile phone: 0434 925 510
Email: Liam.Mooney@townsville.qld.gov.au

Committee Chairperson
Arts and Culture Advisory
Committee Member
Community and Cultural Development
Planning and Development
Townsville Water and Waste
Representative
Townsville Youth Council
Concerto and Vocal Competition
Dancenorth
Divisional Newsletter - Division 9
We respect your privacy.
Townsville City Council (Council, we, our, us) collects and manages personal information in the course of performing its activities, functions and duties. We respect the privacy of the personal information held by us. The way in which council manages personal information is governed by the Information Privacy Act 2009 (Qld). We are collecting your personal information in accordance with Local Government Act 2009 so that we can contact you regarding your enquiry. We will not disclose your personal information outside of Council unless we are required to do so by law, or unless you have given us your consent to such disclosure. For further information about how we manage your personal information please see our Information Privacy Policy.
Past newsletters
Divisional Map
Council divisions were reviewed by the Local Government Change Commission in 2019, with the boundary changes commencing at the March 2020 elections.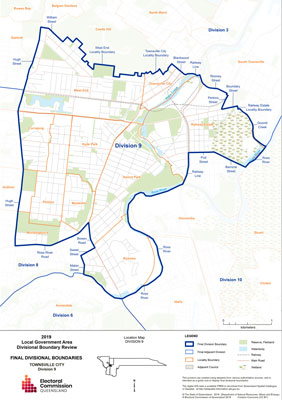 Profile
Liam Mooney is a born and bred Townsville local, who has lived in and around Division 9 his entire life.
Liam has represented Townsville and North Queensland in a wide variety of fields, from music, to performing arts, to soccer, and swimming.
Over the years, Liam has been actively involved in community theatre, instrumental music, and the performing and visual arts as a whole. Liam and his partner both have a passion for the arts, both with a long list of volunteer experience in community theatre.
It is this passion as a volunteer that allowed Liam to enter the entertainment industry professionally, where he has over 15 years' experience in the events and entertainment industry.
Liam has held committee and production team positions with community theatre and music organisations and is an advocate for the Arts and Events Industry.