Cr Paul Jacob
Contact Details
Business phone: 13 48 10
Mobile phone: 0439 850 312
Email: Paul.Jacob@townsville.qld.gov.au
Committee Member
Governance and Finance
Community Health and Environment
Townsville Water and Waste
Advisory Committee
Innovation and Business Advisory Group – representative
Community Safety Advisory Committee – member
Divisional Newsletter - Division 2
We respect your privacy.
Townsville City Council (Council, we, our, us) collects and manages personal information in the course of performing its activities, functions and duties. We respect the privacy of the personal information held by us. The way in which council manages personal information is governed by the Information Privacy Act 2009 (Qld). We are collecting your personal information in accordance with Local Government Act 2009 so that we can contact you regarding your enquiry. We will not disclose your personal information outside of Council unless we are required to do so by law, or unless you have given us your consent to such disclosure. For further information about how we manage your personal information please see our Information Privacy Policy.
Past newsletters
Divisional Boundary as at March 2020
Council divisions were reviewed by the Local Government Change Commission in 2019, with the boundary changes commencing at the March 2020 elections.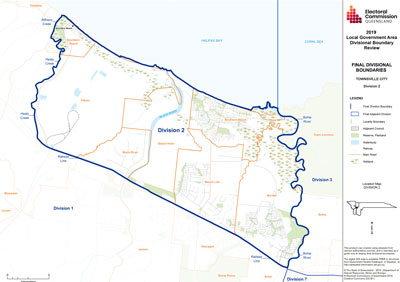 Profile
Paul Jacob was born in Sydney and has lived in Townsville for over 23 years. He graduated from Birrong Boys High School and has an equivalent diploma of Electronics and Communications.
Paul has worked for the Overseas Telecommunication Commission, specialising in satellite communications, the Department of Defence, James Cook University and Townsville Hospital.
He founded and chaired the Townsville City Council Watch Group, was a foundation member of the Townsville Ratepayers Association and President of the Northern Beaches Community Consultative Group.