Cr Ann-Maree Greaney
Contact Details
Business phone: 13 48 10
Mobile phone: 0448 378 111
Email: Ann-Maree.Greaney@townsville.qld.gov.au

Committee Chairperson
Community and Cultural Development
Arts and Culture Advisory
Regional Arts Development Fund (RADF)
Arts Acquisition Working Group
Committee Member
Planning and Development
Community Health, Safety and Environmental Sustainability
Representative
Townsville Breakwater Entertainment Centre Management
Australian Local Government Women's Association
Community Information Centre
Divisional Newsletter - Division 3
We respect your privacy.
Townsville City Council (Council, we, our, us) collects and manages personal information in the course of performing its activities, functions and duties. We respect the privacy of the personal information held by us. The way in which council manages personal information is governed by the Information Privacy Act 2009 (Qld). We are collecting your personal information in accordance with Local Government Act 2009 so that we can contact you regarding your enquiry. We will not disclose your personal information outside of Council unless we are required to do so by law, or unless you have given us your consent to such disclosure. For further information about how we manage your personal information please see our Information Privacy Policy.
Past newsletters
Divisional Map
Council divisions were reviewed by the Local Government Change Commission in 2019, with the boundary changes commencing at the March 2020 elections.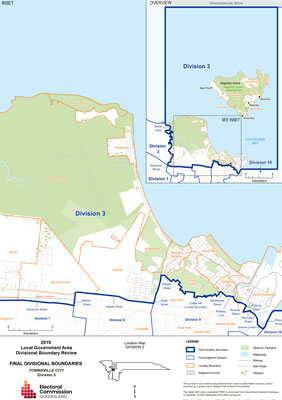 Profile
Ann-Maree Greaney is a long- term resident of Townsville who was first elected to Council in 2016.
During her first term of Council Ann-Maree was Committee Chair of Community Health and Environment and sat on the Planning & Development and Community and Cultural Development committees. She also chaired the Sister Cities Committee and was a member of the City Image Advisory Committee.
A former employee at Townsville City Council, as Special Events and Protocol Officer, Ann-Maree was a key member of the team that delivered and implemented numerous major events over an 11 year period.
Educated at Holy Spirit School and St Margaret Mary's College, she obtained her Diploma of Education from James Cook University and successfully completed an Executive Certificate in Event Management from the University of Technology, Sydney.
Ann-Maree's career has also seen her work for the ARC Factory that included delivering the fundraising dinner with Diana, Princess of Wales for the Victor Chang Cardiac Institute as well as Marketing Executive with the National Rugby League in Sydney.
Prior to becoming a Councillor, she took on roles with Tec-NQ where she was responsible for securing $2 million worth of federal funding for a regional training accommodation facility for apprentices and as the Fundraising and Marketing Manager for the Townsville Hospital Foundation raising much needed funding to support the redevelopment of the Children's Ward.
Ann-Maree is also a Member of the Australian Institute of Company Directors.
Ann-Maree and her husband have two teenage sons and their dog, Humphrey.