Cr Kurt Rehbein
Contact Details
Business phone: 13 48 10
Mobile phone: 0439 847 860
Email: Kurt.Rehbein@townsville.qld.gov.au

Committee Chairperson
Infrastructure Services
Heritage Advisory
Committee Member
Community & Cultural Development
Business Services and Finance
Representative
Local Disaster Management Group (Deputy Chairperson)
Townsville Citizens Brass Band Association
North Queensland Regional Roads and Transport Group
NQ Domestic Violence Resource Services
Divisional Newsletter - Division 7
We respect your privacy.
Townsville City Council (Council, we, our, us) collects and manages personal information in the course of performing its activities, functions and duties. We respect the privacy of the personal information held by us. The way in which council manages personal information is governed by the Information Privacy Act 2009 (Qld). We are collecting your personal information in accordance with Local Government Act 2009 so that we can contact you regarding your enquiry. We will not disclose your personal information outside of Council unless we are required to do so by law, or unless you have given us your consent to such disclosure. For further information about how we manage your personal information please see our Information Privacy Policy.
Past newsletters
Divisional Map
Council divisions were reviewed by the Local Government Change Commission in 2019, with the boundary changes commencing at the March 2020 elections.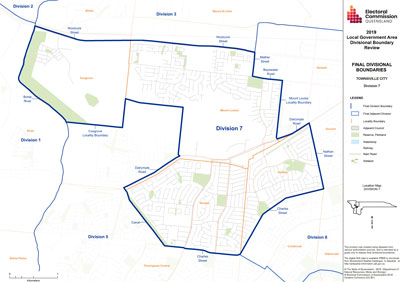 Profile
Kurt Rehbein wants to help drive Townsville's economy through planning and teamwork, while focusing on tackling crime, keeping rates affordable and supporting local businesses.
Prior to being elected to council, Kurt worked as a cabinetmaker, RAAF Military Dog Handler and as a Fire Fighter. He has seen the city grow from a relatively small town to a thriving 'Capital of the North', hosting huge events with beautiful places to visit.